Greetings Fellow Travel Writers and Bloggers!
. . . and WELCOME all new subscribers. Thanks for joining us.


Editorial: Looking Back on 2019
We ended the year with a bang at our annual Travel Writing and Photography Retreat in Hoi An, Vietnam just two days ago.

The goal, for our aspiring travel writers, was to help them bring their stories to life.

Every morning we held travel writing & photography class sessions. In the afternoons and evenings we explored this fascinating ancient UNESCO World Heritage city, enjoying its magic ambiance.

Our Retreat writers learned the insider trade secrets for writing good travel stories. Topics included how to develop story angles to make them marketable, how to craft compelling ledes, how to write stories in the active voice, how to make writing more descriptive, how to avoid those awful travel clichés . . . and much more.

Travel photography was another retreat highlight. Linda showed us tips on how to create a sense of place through images, and techniques on how to improve photos so editors will love them. Her morning and evening photo shoots helped everyone practice these techniques while collecting photos to accompany their stories.

But it wasn't all work and no play. Mid-week we had a private cooking class with Miss Lulu at Vy's Market & Cooking School. We learned to prepare five different Vietnamese dishes, all Hoi An specialties and they were delicious! We ended our cooking lesson with a bananas flambé dessert doused in coconut milk and rum. Yum!

Our week ended with a group dinner at the Secret Garden restaurant and we were delighted when a few people dressed up in clothes they had custom-made in Hoi An. It was a festive occasion! (See photo at end of editorial.)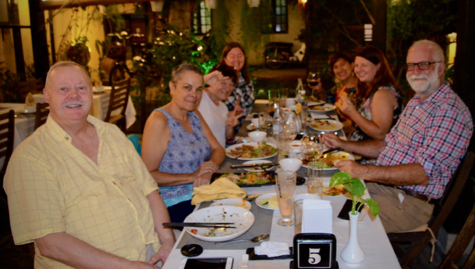 Looking Back on 2019
2019 was a fun year as Linda and I continued our S.E. Asia travel and long-stay in Vietnam. Our goal for the year was to explore more of Vietnam. We did that and ventured further, too.
Da Nang, Vietnam, has now been our home base for three years. Our neighborhood is like a village and we socialize every day with local & expat friends.
Our apartment is only six blocks from the famed 16-mile long My Khe Beach (aka Danang Beach, China Beach). It's frequented by locals and tourists alike. Linda takes beach walks several days a week, and sometimes I join her – especially if there's the promise of a meal at one of the beachside resorts along the way.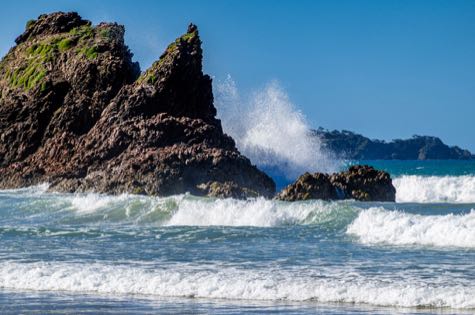 In February & March, we journeyed to New Zealand to catch up with friends, my brother, two sisters, and their numerous offspring. We had a blast! It was gratifying to be invited to stay with our nieces & nephews. They took good care of us & hosted us like we were celebrities.

We stayed on the North Island, in Rotorua with my nephew, in Auckland with my niece, & with another niece further north on a beautiful beach near Whangarei. In April we did the long haul from Vietnam to Vancouver, Canada. Visit Vancouver Tourism gave us press passes to all their major tourist attractions and we enjoyed seeing the sights while we recovered from jet lag.

We traveled south to Seattle on Amtrak to host our fourth annual Travel Writing & Marketing Master Class. I love teaching the enthusiastic attendees everything I know about marketing and selling their freelance travel stories. And it was fun catching up with my friends in Seattle.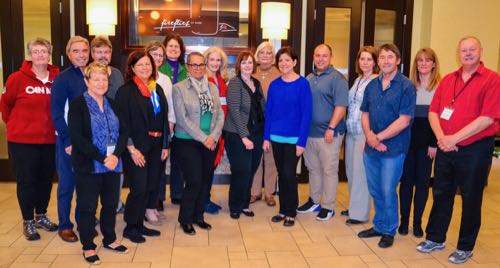 From Seattle, we popped over to Denver to tour the Forney Museum of Transportation, researching an article for a car magazine. We continued across the country to Detroit, the Motor City, for a tour of The Henry Ford Museum of Innovation, on another assignment.

Our 3-day Detroit stay was courtesy of Visit Detroit Tourism. We stayed at the historic Dearborn Hotel that Henry Ford built for his airline customers. Although it's been refurbished by Marriott Hotels, it's retained its old-fashioned touch.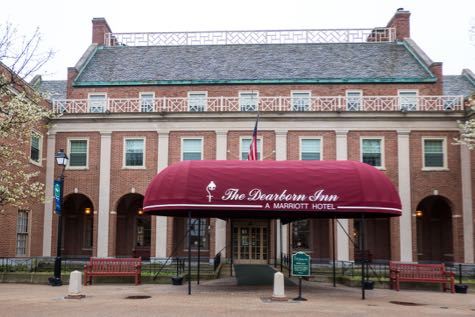 Next we stopped in Columbus, Ohio to visit one of Linda's sisters for a couple of days. We drove from Columbus for a short stay in a boutique luxury treehouse at The Mohicans, a treehouse resort in Ohio's Mohican State Park.

Our treehouse was perched 20 feet up in a whispering pine forest. It had 2 bedrooms, a living room, and a kitchen & balcony for dining under the stars. It was jam-packed with everything you need for a quiet and restful getaway. Movie star Matthew McConaughey & his family stayed in the same treehouse just a few weeks earlier. (He liked it, too!) And we enjoyed a multi-course food tasting, compliments of the Mohican's talented chef.

We highly recommend The Mohicans to anyone looking for a quiet getaway and travel writers wanting to write about some very unique treehouses. Click on the image below to visit their website: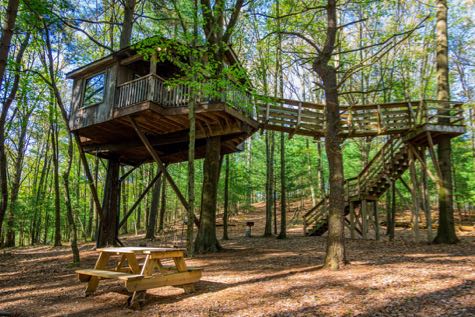 We drove through rural Ohio to NE Ohio, where we visited another of Linda's sisters. We squeezed in a third travel assignment at the Packard Automobile Museum in Warren, Ohio. That's where our North American trip came to an end. We were beat and ready for the long flight back to Vietnam. But the trip was worth it - the assignments brought in $3600 cash with some generous comps in Detroit and Vancouver.

Back in Vietnam, in June, we headed to Phong Nha for a few days. Phong Nha is known primarily for its caves and is mostly visited by Vietnamese. We stayed a few kilometers out of town at Phong Nha Farm Stay where we enjoyed good food, engaging company, comfortable rooms, hot showers and friendly hosts.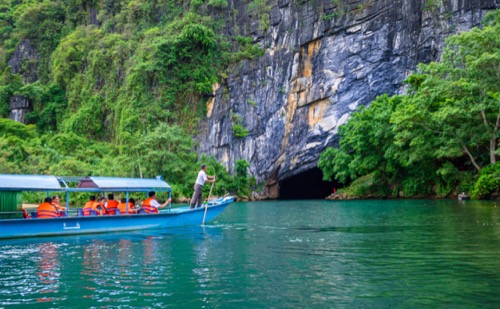 The Danang summer is usually hot, but the 2019 summer heat was especially relentless. So, in July we headed to the mountain city of Dalat. It's a greenhouse for most of Vietnam's fruits, vegetables, and flowers.

Dalat's known as the city of Eternal Spring because of its cool year-round weather. At 4,500-feet altitude we escaped Da Nang's summer heat for a while and enjoyed perfect 75 degree (F) days. We liked it so much we've decided to spend the summer of 2020 there.
October brought us to Hoi An to book the meeting rooms, plan our group dinners, and organize tours around the old town, for our December, 2019 Travel Writing & Photography Retreat.

A few days later we flew across to Chiang Mai, Thailand, to renew Linda's visa. We got our share of spicy Thai food and we cleaned up a couple of tourist attractions that we never got around to when we lived there in 2016: the Art In Paradise 3D gallery & the Hell Temple, just outside town.

As you read this we're packing for a train trip north to Hue to explore the ancient citadel, shrines and temples. We also plan to explore some of the ruins outside the city. I'll take a day trip to visit the Demilitarized Zone.

There's still a lot of Vietnam to see, and next year we'll continue to explore this beautiful country.

What travel do you have planned for 2020? What travel stories will you pitch?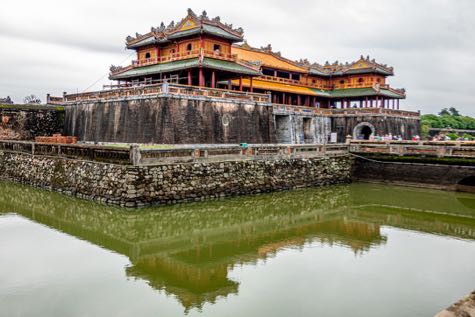 Finally, I'd like to thank all of you for subscribing to this newsletter, taking classes, reading our free content, using our books & reference guides, and following my travel writing career. It's been a great pleasure working with you.

Linda and I wish you health, happiness and much writing success in the New Year.

Merry Christmas and Happy Holidays!

Roy & Linda

Photo below: 2019 Travel Writing & Photography Retreat
---
Coming in 2020
We thought you'd like to know what plans we've got in the works for next year as "next year" is only 2 weeks away (gasp!)

Workshops:

We're mixing things up for next year's workshops and retreats. We've listened to requests from readers, workshop participants, and Facebook friends.

We're bringing our Travel Writing & Photography Retreat to New Orleans in June, 2020. This gives you the opportunity to take this course if you can't travel internationally next year.

Our popular Travel Writing and Marketing Master Class will also be held in June, 2020 in New Orleans.

New Orleans ranks as the most unique city in the U.S., so it will be an inspirational backdrop and give participants lots of story ideas to work with during the retreat. We'll spend time writing about New Orleans & learning ways to improve your writing craft.

We'll still offer our Travel Writing & Photography Retreat in December in Vietnam. There's nothing like being in the World's Best City while taking the retreat and enjoying this UNESCO world heritage site.

We'll have more details for you in the coming weeks as we finalize hotel details, but here are the tentative dates. Mark your calendar NOW!

- Travel Writing & Photography Retreat, New Orleans, June 7-10, 2020


- Travel Writing & Marketing Master Class, New Orleans, June 12-14, 2020


- Travel Writing & Photography Retreat, Vietnam, December 13-19, 2020


If you want to get on our workshop interest list, you can sign up here. We'll send you workshops updates when we finalize the details.

Workshops in 2020 - Interest List Signup

Group Coaching

Many of you have also asked when we're going to offer group coaching. We're working out the details while we're on vacation (ha!) All we can say at this point is we're planning to make it affordable, fun, helpful and productive for you. We'll be releasing the final details soon. Stay tuned!

Group coaching will be limited to the first 25 registrants.

Click here to get on the Group Coaching Interest List

---
This Week's Featured Post
My 5-Step Sales Process For Travel Writers
Pitching travel stories can be a mystery to new writers.  When I first started travel writing, I had no clue how to go about pitching travel stories to magazine editors.  Completely lacking experience, I felt totally lost about how to sell my stories. 



If you're a new travel writer, you're probably in the same boat.  So, for you novice travel writers out there, here is my five-step process for pitching travel story ideas to print magazines.

And, for veteran travel writers, this just might be a good review to help get you refocused.

READ THE ARTICLE


---
Upcoming Posts
December 17 - January 5: On Vacation!
January 6, 2020: The Fastest Way To Launch Your Travel Writing Career
January 13, 2020: 7 Reasons Why Aspiring Novelists Should Write For Magazines
January 20: 5 Marketing Mistakes that Travel Writers Make


---
Pitch Travel Write: Most Requested Links about Productivity: Sell More Stories, Do It Faster

Here are seven ways to increase your travel writing productivity and take control of your time.

Here are six tips to increase your productivity and create more time for writing.

It's important to sell multiple story angles about a place. This article gives you four reasons it makes sense.


---
Inspirational Travel Quote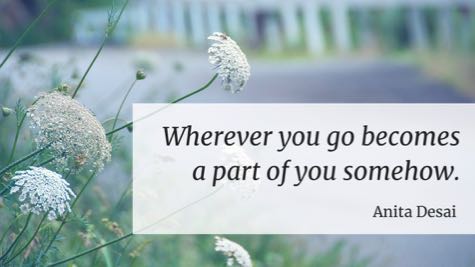 ---
RESOURCES FOR TRAVEL WRITERS
Featured Book of the Month: Rock Star Travel Writers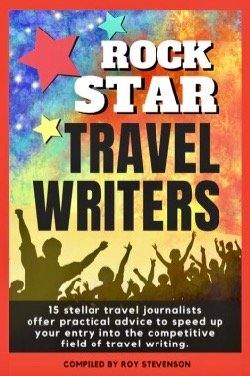 Have you ever wondered how travel writers manage to get their stories published in the top shelf travel magazines?

Our book, Rock Star Travel Writers, reveals—through a series of in-depth interviews—insider tips, tricks, and secrets that leading travel journalists use to land assignments in the most prominent travel glossies, and be paid well for their efforts.

I wish I had this information when I started out on my travel writing journey! If I'd known, early in my career, what the successful travel writers were doing to get published in top flight magazines, this knowledge would have sped up my entry into this competitive field.

This stellar lineup of highly respected travel journalists offers excellent practical advice and encouragement to help you move up the travel writing food chain.

And, for the novices reading this book, I've included a special section about four "Budding Rock Star Travel Writers". These budding rock stars are starting to consistently accumulate paying print bylines. They're already picking off some impressive publications. They're poised to move up into the travel writing big leagues—it's only a matter of time.

For the novice writers reading this, the budding rock stars are only a few steps ahead of you! It can be done - and you can read all about it in Rock Star Travel Writers.


---
At Your Service
Coaching and Consulting
Travel Writing & Marketing Master Class
Travel Writing and Photography Retreat
Online Courses
Vietnam 1-1 Retreat & Consulting
Expat Consulting
email: pitchtravelwrite@gmail.com
If you know someone who will enjoy this newsletter,
please forward or sign up
---
Friend me on Facebook
My Facebook page is about freelance travel writing. I frequently post about:
• travel writing & blogging conferences,
• links to other well produced travel websites and blogs,
• links to my travel articles,
• travel writing themes,
• links to reputable travel writer's groups, associations, and newsletters,
• magazine covers stories and back stories,
• links to resources pages,
• links to travel writing archives,
• links to coaching and mentoring resources,
• and plenty of other useful information to get you up to speed.



Link to Roy's Personal Facebook page
---


That's all for this year. Until next year - just keep pitching!

Roy

Roy Stevenson
Pitch Travel Write
www.pitchtravelwrite.com













---