Greetings Fellow Travel Writers and Bloggers!
. . . and WELCOME all new subscribers. Thanks for joining us.


Editorial: Our 2019 Travel Writing & Photography Retreat Has Begun!
Yesterday, five U.S. travel writers & photographers descended on Vietnam's UNESCO World Heritage City of Hoi An. These writers are participating in our week-long Travel Writing & Photography Retreat, from December 8-14.

Last night's meet & greet was good fun, making new friends and reuniting with old ones. Janet De Acevedo Macdonald and her husband, Ian, are here for their second year in Hoi An.

We'll be working and playing all week. Class time will be five mornings this week from 9 am - Noon. Afternoons and evenings are free to write, relax and explore this historic town. And we'll go out for two photo shoots to collect images for our articles and capture the essence of Hoi An.

Hoi An boasts a finely-honed tourist machine. Plenty to do here, ranging from cycling tours around the countryside to visiting a pottery village. You can row in a basket boat through a nipa palm forest, or take a workshop and learn how to make lanterns or noodles. You can take a sunset boat trip on the Thu Bon River, have foot & body massages, and do some souvenir shopping. And gorgeous little coffee shops and restaurants are everywhere. Mid-week we'll break from writing for a cooking class. The class includes a boat trip down the Thu Bon River with our chef to the bustling local market, then we'll learn how to prepare 5 Vietnamese dishes like mango salad with prawns, Banh Xeo (crispy pancakes with pork, prawns & bean sprouts), white rose dumplings, and other local delicacies.

We also have two group dinners. And at the end of the week each of the participants will share their article with the group and show the photos that go with it.

But, it's not all work. We'll play, too, and have some fun posing for photos with the group tasked with a "banana shirt" challenge. And we've got prizes for these activities.

Our base for the week is the luxurious five-star Hotel Royal Hoi An - can't wait to enjoy the Royal's breakfast buffet. It's one of the best I've ever seen.

We'll post photos with an update in next week's newsletter.
(Photo: By Deb Sittko)
---
Coaching Registration is OPEN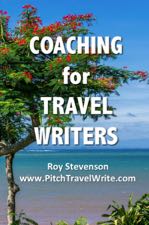 If you're interested in working one-on-one with me to achieve your travel writing goals, registration is now open for my coaching and mentoring program.

I'm only taking 5 new clients at this time - and there are 2 slots remaining. There are three packages available:
• 4-month program
• 6-month program
• 12-month program


Registration is limited to 5 people so you're assured of getting a quality coaching experience.

I've got 1 slot left so if you want to be one of my new coaching clients, don't delay! You can sign up here.

Did you know if you sign up for my 12-month coaching & mentoring program you also get the following complimentary benefits:

▪ Complimentary registration for our Travel Writing & Marketing Master Class in the spring of 2020, (valued at $1697)! Note: This applies to our 12-month coaching clients only and covers course fee only. It does not include travel expenses. These benefits are non-transferable.

• Digital products (eBooks and reference guides) valued at more than $225

That's right! Twelve-month clients get a full year of one-on-one coaching, plus more than $1900 of additional complimentary benefits.

You can learn more and register here

If you're ready to make progress with your travel writing, join me in one of my coaching programs.

Best wishes for your travel writing success, Roy
---
This Week's Featured Post
The Memorable People You Meet On Travel Writing Assignments
Let's face it, it's the people you meet on your assignments that make travel writing rewarding. Engaging with new people is one of the best perks. And including people in your story is an important technique to make your article more interesting.

The more articles you write, the more people you'll get to meet. And I've encountered a wide variety of people, having more than 1,000 published bylines.

Here are a few of the people I've met on writing assignments, in no particular order. If you're just breaking into travel writing, maybe this will inspire you. If you're a veteran - who are the people you've met that are unforgettable?

READ THE ARTICLE


---
Upcoming Posts
December 16: My 5-Step Sales Process For Travel Writers
December 17 - January 5: On Vacation!
January 6, 2020: The Fastest Way To Launch Your Travel Writing Career
January 13, 2020: 7 Reasons Why Aspiring Novelists Should Write For Magazines


---
Pitch Travel Write: Most Requested Links about Productivity: Sell More Stories, Do It Faster

Here are seven ways to increase your travel writing productivity and take control of your time.

Here are six tips to increase your productivity and create more time for writing.

It's important to sell multiple story angles about a place. This article gives you four reasons it makes sense.


---
Inspirational Travel Quote
---
RESOURCES FOR TRAVEL WRITERS
Featured Book of the Month: Rock Star Travel Writers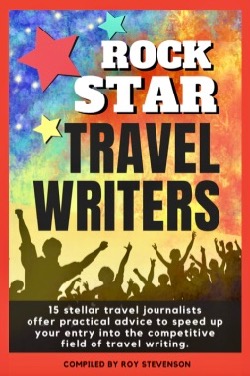 Have you ever wondered how travel writers manage to get their stories published in the top shelf travel magazines?

Our book, Rock Star Travel Writers, reveals—through a series of in-depth interviews—insider tips, tricks, and secrets that leading travel journalists use to land assignments in the most prominent travel glossies, and be paid well for their efforts.

I wish I had this information when I started out on my travel writing journey! If I'd known, early in my career, what the successful travel writers were doing to get published in top flight magazines, this knowledge would have sped up my entry into this competitive field.

This stellar lineup of highly respected travel journalists offers excellent practical advice and encouragement to help you move up the travel writing food chain.

And, for the novices reading this book, I've included a special section about four "Budding Rock Star Travel Writers". These budding rock stars are starting to consistently accumulate paying print bylines. They're already picking off some impressive publications. They're poised to move up into the travel writing big leagues—it's only a matter of time.

For the novice writers reading this, the budding rock stars are only a few steps ahead of you! It can be done - and you can read all about it in Rock Star Travel Writers.


---
We'd like to say THANK YOU to all our subscribers and social media followers. Running the PitchTravelWrite site would not be possible without your support. Thank you for following us, reading our posts, and emailing questions, comments, and compliments.

We value you more than you can know. Our goal is to help you break into travel writing, get paid for it, and land some cool press trips and free travel.

So keep emailing us - we love hearing from you!
---
At Your Service
Coaching and Consulting
Travel Writing & Marketing Master Class
Travel Writing and Photography Retreat
Online Courses
Vietnam 1-1 Retreat & Consulting
Expat Consulting
email: pitchtravelwrite@gmail.com
If you know someone who will enjoy this newsletter,
please forward or sign up
---
Friend me on Facebook
My Facebook page is about freelance travel writing. I frequently post about:
• travel writing & blogging conferences,
• links to other well produced travel websites and blogs,
• links to my travel articles,
• travel writing themes,
• links to reputable travel writer's groups, associations, and newsletters,
• magazine covers stories and back stories,
• links to resources pages,
• links to travel writing archives,
• links to coaching and mentoring resources,
• and plenty of other useful information to get you up to speed.



Link to Roy's Personal Facebook page
---


That's all for this week.

Until next week, just keep pitching!

Roy

Roy Stevenson
Pitch Travel Write
www.pitchtravelwrite.com













---