Greetings Writers!
I'm off to San Diego this week for the Great Escape Publishing Ultimate Travel Writer's Workshop. It's always a lot of fun to see old friends and meet new people - including some of you!
I will be speaking about "Using Your Assignments to Travel Like a VIP" and "How to Use Niche Markets All Over the World to Sell More and Work Less". Plus I'll be coaching part of the group on how to make their stories better. It will be an exciting three days.
For those of you who will be in San Diego with me, be sure and introduce yourself. I can't wait to meet you!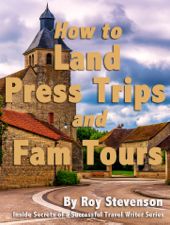 This week I will be releasing my latest eBook How to Land Press Trips and FAM Tours.
Be watching your email for a separate announcement and BIG subscriber discounts!
If you are an owner of the previous version of this eBook "Free and Low Cost Travel", you will receive a link this week for a free download of the revised (and renamed) version.
(If you don't receive your link by the end of the week, drop me an email at pitchtravelwrite@gmail.com and let me know.)
---
In this issue is a post (Part 2) about expanding your writing genres. The focus, this week, is on ways to help you write with authority, even when you're not an expert in the field.
If you've been thinking about writing in a new genre that's a special interest of yours, but you're worried that you don't know enough about the topic, this article is for you.
---
---
September 8 Travel Writing Tips:
Expand Your Writing Genres
and Write With Authority
In the last post I wrote about why it's important to expand your travel writing genres. You have a lot to gain and nothing to lose by breaking into related fields.

Writing about different topics prevents single-topic boredom, stretches our writing skills, and provides a 'hedge' against tough times when your travel articles aren't selling well.

Admittedly, we all feel uncomfortable about breaking into new fields. We feel we might not have the knowledge to write with authority.

But, I can assure you that you don't need extensive knowledge, degrees, or education to write about practically any topic short of the most scientific and technical.

For most of us, plasma fusion rockets would be a stretch. And I'm not suggesting you look for assignments on alien topics of no interest to you.

But, you'd be surprised at what you can write about if you know what to do, and how to go about it.

Here are five things to help you to write with authority even when you're not the expert:

Continue reading the article ...
---

Please share this e-zine with friends, family or anyone who may be interested in travel writing and can benefit from some free marketing and travel writing information.

That's all for now.

Until next time, you keep pitching....

Roy

Roy Stevenson
Pitch Travel Write
www.pitchtravelwrite.com


Please note: Some products mentioned in this e-zine may result in my receiving a small referral fee if you decide to purchase the product. I only recommend products and services that I believe are high quality and can help you be more successful as a freelance writer. Please let me know if you have any questions.
---