Greetings Writers!
We've recently had a few days of rain here in Seattle, after a long, sunny summer. One downpour, three days ago, reminded me of the tropical rainstorms in Singapore, where we lived for a few years.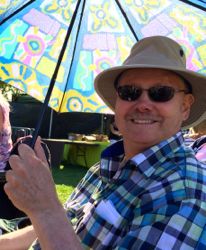 The rain absolutely bucketed down and we must have had one inch in a couple of hours!

Myth Buster: Despite its reputation for rain, Seattle is only the 44th rainiest city in the U.S. in annual rainfall.

We're still recovering from our 4-day Fam tour of San Diego in September. As I mentioned in the last e-zine, we stayed on after presenting at the Great Escape Publishing Ultimate Travel Writer's Workshop.

Many of our new subscribers are recent 'graduates' of this workshop, so WELCOME to my newsletter!

---

This week, I'm looking forward to another conference: Write On The Sound writer's workshop in Edmonds, Washington.

I'll be presenting on "Breaking Into Travel Writing" on Sunday October 5, at 3:15pm.

I'm covering many topics that can be found in my various eBooks and on my website.

The topics include:
· The different types of travel writing articles
· What's hot and selling right now in travel writing
· Writing for print versus online media (advantages and disadvantages)
· Different techniques for researching and preparing your travel articles
· How to dream up viable travel ideas to pitch to magazines
· What to do when you get to your destination
· What to look for at your destination to make your travel articles enticing
· How photos can earn you extra income
· How to find magazines that will be interested in your travel stories.
· What magazines you should consider to get started in travel writing.
 
I've heard that some of you will be attending this conference. Please track me down so we can chat about travel writing. This is your chance to pick my brains about marketing your travel stories.

And, speaking of picking my brain…

I field several emails every week from travel writers asking me to create and send them distribution lists for travel magazines and online travel websites. Although I love hearing from my travel writing brethren, I simply don't have time to prepare travel magazine lists for you. (I'm busy selling and writing my own articles!)  

However, I do have a simple solution . . .  

I've recently published two excellent books that provide you with print and online media lists. These books are:
100 Print Magazines That Want to Publish Your Travel Articles ($14.95) , and,
Fifty Websites that Want to Publish Your Travel Stories ($7.95).

Both of these books are a steal at the prices offered. And they're all you'll need to create your own comprehensive distribution lists for pitching your travel stories.

If only I had access to these kinds of lists when I got started in travel writing - it would have saved me a couple years worth of effort!

---
  In this issue is an article about bad advice I've seen served up by travel writing "experts", along with my advice and some best practices.

If you aren't getting the results you want, maybe you're following some of the bad advice out there. Read this article to find out...
---
September 29 Travel Writing Tips:
Turning Bad Advice into Best Practices
I'm always looking for new ideas on how to market my travel writing articles and how to make my efforts more productive. 

Over the years, I've made a point of reading every new book about how to succeed at travel writing. 

I have at least seven recently published books on my shelf, plus another half dozen general publications about freelance writing. 

What strikes me when reviewing some of these books, is how shockingly bad or outdated some of the advice is in these published books. 

Some of the advice offered in these books is laughable, and some of it is simply counterproductive in today's fluid freelance travel writing market.

Now, I don't profess to know everything about marketing travel stories.  And different techniques work for different people.

But, with my articles in 190 different publications,  I've developed a strong sense of what marketing techniques work and which ones don't work. 

To help you recognize the bad advice that's out there and save you some time and trouble, I've compiled a list -- along with my advice and some best practices for what to do instead.

Here are some howlers that I've seen lately:

Continue reading the article ....
---

Please share this e-zine with friends, family or anyone who may be interested in travel writing and can benefit from some free marketing and travel writing information.

That's all for now.

Until next time, you keep pitching....

Roy

Roy Stevenson
Pitch Travel Write
www.pitchtravelwrite.com


Please note: Some products mentioned in this e-zine may result in my receiving a small referral fee if you decide to purchase the product. I only recommend products and services that I believe are high quality and can help you be more successful as a freelance writer. Please let me know if you have any questions.
---