Greetings Writers!
I've been hearing from a lot of people who attended the Ultimate Travel Writer's Workshop in San Diego. Some enthusiastic writers are already getting out doing what they learned about in the workshop - pitching articles and selling them!
Many thanks to those of you who are staying in touch and for all the positive comments.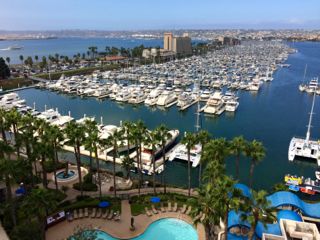 We just wrapped up our Fam tour of San Diego as I write this post. San Diego is a world class destination with a lot of solid tourist attractions. What we love about the city is that all the attractions are fairly close together and easy to get to, especially if you're staying in the downtown area. For military buffs, it's a very rich lode.

We hit some brutally hot weather while we were there - record temperatures in the high 90's and low 100's in a city known for it's pleasant, moderate temperatures. Still, we toughed it out and saw all the attractions on our busy itinerary.

Our coping strategy was to get wet as often as possible and find ways to catch some ocean breezes. Not hard to do on the water rides at Sea World, or while taking in the city on a harbor cruise. We didn't have time for stand-up paddling, kayaking, sailing or playing in the ocean waves. Next time.

---

Speaking of coping strategies, that's what this issue is about. In freelance travel writing sometimes things happen that can throw you off balance: your favorite editor moves to a new job, or the magazine changes it's editorial thrust. What do you do?

Here are some strategies I've used when these things happen. Maybe they'll work for you, too.
---
September 22 Travel Writing Tips:
Coping Strategies for Travel Writers
After I'd been freelance writing for three or four years, things were chugging along swimmingly. I had established solid relationships with several magazines. I thought these gigs would go on forever.

Then, suddenly, things started changing. Some of the editors I came to depend upon left their jobs. And left me with a new editor who didn't know me or my work.

Other magazines changed their editorial thrust. The kinds of articles I had been sending their way were no longer part of their editorial vision for the magazine.

Changes are always a shock, but there are coping strategies you can use to recover as quickly as possible. Here's what I do in these situations:

Breaking in a New Editor

So, you've been left high and dry. One of your favorite editors, one you know on a first name basis, has moved onto greener pastures.

You suddenly feel left out in the cold. She was so easy to work with - all you needed to do was give her a call and discuss a few story ideas and you got an assignment. Now what?

Really, your only choice is to break in the new editor and see what happens.

How do you do it? My standard practice is to send the new editor an email introducing myself.

Here's what I include in the email:

Continue reading the article ...
---

Please share this e-zine with friends, family or anyone who may be interested in travel writing and can benefit from some free marketing and travel writing information.

That's all for now.

Until next time, you keep pitching....

Roy

Roy Stevenson
Pitch Travel Write
www.pitchtravelwrite.com


Please note: Some products mentioned in this e-zine may result in my receiving a small referral fee if you decide to purchase the product. I only recommend products and services that I believe are high quality and can help you be more successful as a freelance writer. Please let me know if you have any questions.
---