Greetings Fellow Travel Writers and Bloggers!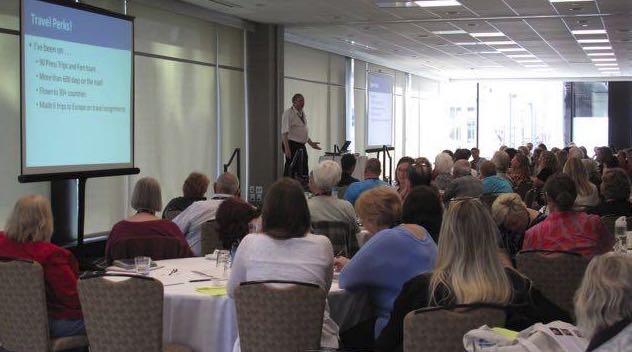 Yesterday I flew back into Seattle after presenting at Great Escape Publishing's Ultimate Travel Writer's Workshop in Denver.
My talk was about how I've managed to get more than 1000 articles published in 190 different magazines, newspapers, trade journals, specialty magazines, in-flights, on-boards, and websites. Talking about my favorite topic - marketing - was fun and well-received.
I really enjoyed meeting all of the enthusiastic and excited aspiring travel writers at the workshop - including several subscribers and Facebook friends. It was great to finally put a face to the name and talk with you.
I must have answered a thousand questions about freelance travel writing. And many of you were so excited that you signed up for my free weekly e-zine while you were at the workshop - so a big welcome to new subscribers!
The article this week is about one of the main reasons we love travel writing - getting invitations for press trips. This article will tell you how to get on the CVB lists for local and regional press trips so you can enjoy this very enjoyable travel writing perk.
Enjoy!

---
Featured Article:
How to Get Invited on Press Trips and Fam Tours
Once you've established a few travel writing bylines in print and online, it's time to reach out to some of the local tourist agencies and get on their press trip and FAM Tour invitation lists.

FAM tours are a great place for the beginning travel writer to start because you may not necessarily need letters of assignment for them. I say this with reservations, because I personally recommend you always have advance assignments when applying for press trips.

Many Convention & Visitors Bureaus (CVBs) and Public Relations (PR) agencies organize periodic Familiarization Tours, or FAM tours. They are also known as local or regional Press Trips.

On a FAM Tour, a CVB hosts a small group of writers or tour operators for a few days to show them what the region has to offer to visitors. There are usually three to seven writers on the trip, although it varies for every trip. FAM Tours are usually two days to five days long, although they can last longer.

You can choose to participate in FAM Tours in your own region or somewhere else in the U.S. The CVB or PR agency does all of the organizing. They arrange meals, the tour bus or van, accommodations, and visits to attractions.

You, the writer, simply go along for the ride, shepherded around by one or two reps from the CVB who try hard to impress you with their attractions. They'll take you to the nicest restaurants, put you up in the best hotels, and show you the most interesting attractions.

Sounds great, doesn't it? 


Continue reading the article ...
---

Please share this e-zine with friends, family or anyone who may be interested in travel writing and can benefit from some free marketing and travel writing information.


They can sign up for this e-zine at this link.
---

'Friend' Me!
If you haven't already done so, please 'Friend' me (Roy Stevenson Freelance Writer) on Facebook. My posts are generally travel writing-related and I try to keep it fun.

My Saturday morning 'Where's Roy' Facebook post has been particularly popular! I post a travel photo—usually with me in it—and you have to guess where the heck I am. A few friends and subscribers have proved particularly adept at this.

That's all for now.

Until next time, you keep pitching....

Roy

Roy Stevenson
Pitch Travel Write
www.pitchtravelwrite.com


Please note: Some products mentioned in this e-zine may result in my receiving a small referral fee if you decide to purchase the product. I only recommend products and services that I believe are high quality and can help you be more successful as a freelance writer. Please let me know if you have any questions.
---