Greetings Fellow Travel Writers and Bloggers!
---
If you've been reading this newsletter each week, you already know we're living in Chiang Mai, Thailand. We've been here since June 2016.

If you're a new subscriber – WELCOME!

Many subscribers and Facebook friends have asked why we chose Thailand. At our going-away party in Seattle our close friends wondered the same thing.

They asked us, "Why would you leave your comfortable life in the most beautiful city in the U.S.?"

My Inspirational Quote Of The Week goes a long way to explaining our dramatic life-changing decision to shift to S.E. Asia:
---
Inspirational Quote of the Week

"Life begins at the end of your comfort zone." - Neale Donald Walsch, American author of the popular "Conversations With God" series.


---

Walsch's quote sums up our move very nicely. Bored with living comfortably, we both felt it was time for a radical change of scenery. And being a travel writer and photographer team—used to visiting exotic and distant destinations—we don't do things by half measures.

So we cleaned out our Seattle home, rented it out, sold our cars, packed up our suitcases, and left the U.S. indefinitely.

What we didn't expect to happen during this process was the tremendous feeling of liberation when we divested ourselves of all our material "stuff". It was like a huge weight had been lifted off our shoulders. We felt free.

Now in our fourth month in Chiang Mai, I can tell you that we're constantly out of our comfort zone and we're definitely not bored!

Every day brings new discoveries, new foods, new tastes, new sights, new friends—new everything.

This past week, for example, we visited the Hmong Hillside tribal village high up in the mountains overlooking Chiang Mai. Then we walked around the gorgeous botanical gardens at the Royal Summer Palace, a little further down the mountain. Our final activity that day was walking up the infamous 300 steps to Wat Doi Sutep, the city's most famous and prestigious Buddhist temple. Perched on a mountaintop above the city, Wat Doi Sutep's towering bright golden Chedi dominates all. And that was just Monday!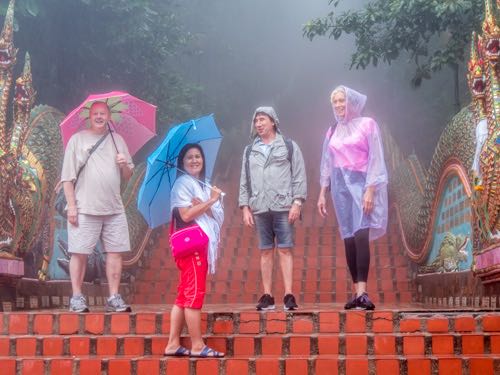 On Thursday we took a bus to Lamphun, to see the Salam Yom Festival. Because it's relatively unknown to westerners there were only a couple of dozen "farang" (foreigners) at this event, milling around the beautiful Wat Haripunchai temple with thousands of locals—who seemed quite impressed that any westerners were even attending their special festival.

The Salam Yom Festival certainly came under the, "Now there's something you don't see every day" category, even for our seasoned travel writer/photographer team. Groups of Thais had constructed tall tapering cone-shaped pillars, 30 feet high, decorated with long colorful fluttering ribbons and streamers. The bases of these pillars were festooned with fruit and vegetables and other bizarre offerings like plastic kitchenware(?).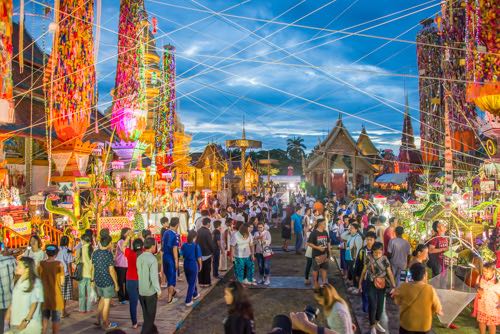 Standing right in the middle of the temple compound, with towering golden bell-shaped Chedis, and austere Viharns (temple sermon halls) as a backdrop, the pillars presented a surreal scene.


Outside the temple we watched fire dancers and some traditional Thai cultural dancers. We watched the awards ceremony for the team with the best pillar. Naturally we didn't understand what the dignitaries were saying, but we thoroughly enjoyed the whole event. It was a hoot, and despite the heat, the Thais at this festival were having lots of fun.

Then there was Friday night's Funkadelic Mad Hatter Party to farewell an Australian writer from our Chiang Mai Writer's Group. Held at the Lost Lounge Vegetarian Café, this event resembled a 1960s party in Marrakesh. With enormous psychedelic paintings of Buddha decorating the walls and low tables and cushions for us to sprawl on, this place would have given anyone who survived the hippie era some serious flashbacks. And we all wore weird hats.

Referring back to Neale Walsche's quote above, for a moment, I remind you that when you're on travel writing gigs, to actively step outside your comfort zone and experience your destination. You don't have to give away your belongings and move to the other side of the world, like we did. But wherever you go, move beyond your comfort zone. Try something new. Talk to strangers. Do something out of character.

I promise that when you step out of your comfort zone it will stimulate and enrich your travel writing. And that's one of the twelve things I talk about in today's featured post.

---
Featured Post: Twelve Characteristics of Successful Travel Writers
This week's featured article highlights the twelve characteristics of successful travel writers, one of which is getting out of your comfort zone and taking an active approach to travel.

How many of these twelve characteristics do you possess? All of them? Some of them?

Which ones are your strengths - and where do you need to do some work?

Read the article to see how you measure up ...


---
Resources for Travel Writers
The Complete Guide to Query Letters for Travel Writers
100 Print Magazines that Want to Publish Your Travel Articles
50 Websites that Want to Publish Your Travel Stories
How to Land Press Trips and Fam Tours
How to Break Into the Luxury Travel Writing Market
The Complete Guide to Marketing & Selling Your Travel Articles


Testimonial for The Complete Guide To Query Letters For Travel Writers book:

"Hi Mr. Stevenson,
I have actually already downloaded your ebook with the letter templates and within three days have had an offer from a fairly big magazine in the UK, so a massive thank you!

I'm traveling around the new North Coast 500 in the north of Scotland in a campervan in March. I enquired about writing an article about the wild and remote beaches, as there are more than 100. It is for Coast magazine in the UK. The editor asked if the camper was photogenic and when he saw it he said he would be interested in commissioning a piece and will get back to me this week.

I can't believe your letter templates worked so well. Can't say thanks enough. Wish you could do a seminar over in the UK!"


— Nikola Holland, Scottish Travel Blogger
---
Facebook invitation ...
You are invited to join me on Facebook:

If you're interested in my travel writing advice and in reading short snippets about my new lifestyle in S.E. Asia, please feel free to "Friend" me at my Facebook site.

My posts feature unusual and fun things about our new lifestyle here in Thailand, and I also throw in tips and advice about breaking into travel writing—plus a few stories about my published travel articles. Some of my posts are even funny! Facebook link to Roy's account

---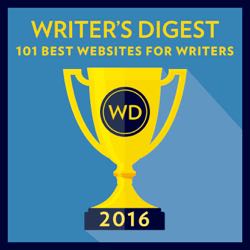 ---
Please share this e-zine with friends, family or anyone you know who is interested in travel writing. They can get free marketing and travel writing information by signing up for my e-zine at this link:

Sign up for my weekly e-zine ...

That's all for this week.

Until next week, you keep pitching.

Roy

Roy Stevenson
Pitch Travel Write
www.pitchtravelwrite.com

---