Greetings Fellow Travel Writers and Bloggers!
One of the best travel writing perks is meeting all sorts of interesting people on our journeys.
Here are but a few of the hundreds of fascinating people I've met on my travels. I have . . .
… Visited the famous Rosslyn Chapel, Scotland, with a personal tour by the chapel curator. Our tour took in the main carvings in the Chapel and its atmospheric basement, made famous by Dan Brown's book, The DaVinci Code.
… Exchanged cultural views and friendship with the head Abbot at Wat Phra Singh, Chiang Mai's most historic Buddhist temple, Thailand. Later, I saw the Abbot leading the prayers and chanting while the monks sat down to lunch.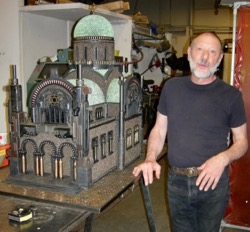 … Spent a day with renowned sculptor Al Farrow, in Marin County, San Francisco. Al has created some large and potent recreations of cathedrals, synagogues, and mosques with powerful messages. His large studio is a fascinating cross between an arms and munitions depot and a mausoleum, with non-functional guns, bullets, artillery shells, hand grenades, small arms, and other military paraphernalia strewn around, with drawers containing human bones.



… Talked puppetry with Martin Gobsch, one of the few remaining professional marionette puppet makers in the world, in his Erfurt studio, Germany. Martin's handcrafted marionettes are fully articulated, and represent goblins, fairies, elves, and other characters from renowned German fairy tales. Most of them "perform" in his Puppet Theater.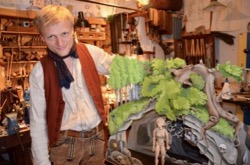 … Toured around Port Orchard's famous Elandan Gardens Bonsai Tree Park, by tree sculptor Daniel Robinson, Washington State, U.S.A. Daniel's exquisite work with his bonsai trees remains relatively unknown outside the region, but is, in this writer's opinion, one of Washington State's finest tourist attractions.
... Meeting extraordinary people like these is always a great thrill and one of the reasons I've stayed in the game for ten rewarding years.
What gives you a thrill? What keeps you in the game of travel writing?


---
This Week's Featured Post
Six Ways to Increase Your Productivity, Save Time & Earn More
Most freelance writers work alone. You're doing every kind of task - from administrative to marketing to writing.  And chances are you don't enjoy every task required for freelance writing.

Finding smart ways to minimize the amount of time you spend on less enjoyable tasks is important. That's where an increase in productivity can help you accomplish your work efficiently, and do it without feeling overwhelmed. 

How can you create more time in your day for the things you really want to do? How can you earn more money with less effort?



Here are six ideas that will save you huge chunks of time and help you to earn more money.


Read the article ... Six Ways to Be More Productive, Save Time & Earn More

---
In case you missed it ...
Here's last week's post Web Resources for Travel Writers:

Read the article ...


---
Upcoming PitchTravelWrite Feature Posts
September 25: A Travel Writing Letter to Myself, Back in Time
October 2: Querying Multiple Story Ideas in One Pitch
October 9: Where to Find Introductory Travel Writing Courses
October 16: Seven (More) Ways to Increase Your Travel Writing Productivity


---
Travel Writing Networking Tip of the Week
TravMedia.com is as close to one-stop shopping that travel writers can find.

Here's how it can help you . . . • Travel writers can list their upcoming trips and destinations for potential match-ups with magazine editors.
• You can list your biography.
• You can list places you've traveled to.
• You can place links to your latest travel stories to show them off.
• You can follow other travel writers, and have them follow you.
• You can correspond with other writers and TravMedia.com members.
• You can access a calendar of events around the world.
• You can receive Editor Alerts for article assignments.
• You can receive listings and updates about all aspects of tourism from hotels & resorts to international tourism boards.
• Plus a few other things!


I've landed several on-board assignments with numerous cruise line magazines through TravMedia.com and scored a few press trips from TravMedia.com announcements.

Link to Travmedia.com


---
We've Been in the News!
Writer Cristine Peets mentioned one of our PitchTravelWrite articles (The Bright Side of Rejection Letters) in her article, "Dealing With Dumping a Client or Getting Dumped: It's all Going to be OK".

Here's the link to her article ...

Link to Christine Peets article

And here's a link to our original article in case you haven't read it ...

Read the Brighter Side of Rejection Letters


---
Inspirational Travel Quote of the Week
---
Have You Planned Your Travel Calendar for 2017?
Have you planned your travel writing calendar for 2017 yet? We at PitchTravelWrite.com spent days preparing lists of:


24 Travel Writing and Blogging Conferences
11 Travel Writing and Blogging Workshops
11 Special Travel Writing Groups, Meetings & Events
5 Travel Shows (and a link to access many more)

Get organized now: Use these lists to plan your travel writing & blogging events for 2017.


---
Resources for Travel Writers
Books and Reference Guides:
The Art & Craft of Travel Writing

Beginner's 3-pack Reference Guides

The Complete Guide to Query Letters for Travel Writers

100 Print Magazines that Want to Publish Your Articles

Fifty Websites that Want to Publish Your Travel Stories

Advanced Travel Writing 2-Pack Reference Guides

How to Land Press Trips and FAM Tours

How to Break Into the Luxury Travel Writing Market

The Complete Guide to Marketing and Selling Your Travel Articles

Digital Bookstore - Guides, Manuals and Special Reports

---
Friend Me on Facebook:
My Facebook page is about freelance travel writing. I frequently post:
• travel writing & blogging conferences,
• links to other well produced travel websites & blogs,
• links to my travel articles,
• travel writing themes,
• links to reputable travel writer's groups, associations, and newsletters,
• magazine cover stories with the back stories about my published articles,
• links to resource pages,
• links to travel writing archives,
• links to coaching & mentoring resources,
• and plenty of other useful information to get you up to speed about travel writing.



If you haven't 'friended' me yet on Facebook, please feel free to do so here:

Link to Roy's Personal Facebook page

---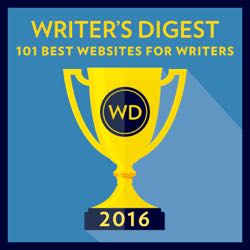 PitchTravelWrite.com was named in 2016's Writer's Digest 101 Best Websites for Writers list.

We're the ONLY travel writer's website on the list! We urge you to forward our newsletters on to your friends that might be interested in taking up travel writing.

PitchTravelWrite.com Testimonials

"I think you should know that I have been sending your link to many a travel journalist as your site is one of the most helpful I've seen to date. I even sent it to my sister who writes mostly about gardens and she was totally blown away by the amount of information you are giving away for free." —Karin Leperi, Freelance Travel Writer

"This site is more like a book than a website. It is one of the best (if not THE best) travel-writing sites I've seen in a long time. It is packed! And most of the articles will be useful to any freelancer, not just travel writers." —Moira Allen Anderson, Writing- World.com


---
Please share this e-zine with friends, family or anyone you know who is interested in travel writing. They can get free marketing and travel writing information by signing up for my e-zine at this link:

Sign up for my weekly marketing tips ...

That's all for this week.

Until next week, just keep pitching!

Roy

Roy Stevenson
Pitch Travel Write
www.pitchtravelwrite.com

---