Greetings Writers!
We just wrapped up an exciting 3 days in San Diego at the Great Escape Publishing Ultimate Travel Writer's Workshop.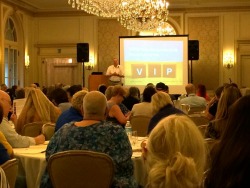 As usual, it was an intense three days - full of lots of good information.
I'm sure all the attendees felt like they had been hit by a firehose. But I noticed that everyone was thoroughly engaged and really excited.
I'm expecting that after they give the information a little time to settle, they'll move forward and we will see some really successful new travel writers getting their stories out there in the world.
More than 150 people attended - of all ages and so many interesting backgrounds. It was great fun to meet the PitchTravelWrite subscribers, too. It's always so good to meet you face-to-face at these events.
And I met many new friends who have become subscribers. For new subscribers to this e-zine - WELCOME!

---
I'm staying on in San Diego for a few days for a self-guided Fam tour. My wife and I are visiting many major attractions in the area plus a few military museums. Can't wait!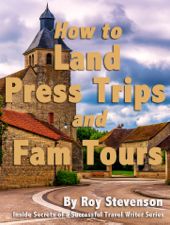 We decided to extend the discount period for my latest eBook How to Land Press Trips and Fam Tours for a few days.
You can order this book for $10 off with the discount code PTFT10. The discount code will be active until midnight on Wednesday, September 17th, 2014.

Learn more at this link.




This week's post is for beginning travel writers. We all make some mistakes when we're first getting started so I've laid out the seven most common mistakes - and how to avoid them.
Enjoy!
---
---
September 15 Travel Writing Tips:
Seven Travel Writing Mistakes - and How to Avoid Them
Learning the art and craft of freelance travel writing requires generous amounts of patience and time.

Like with any new endeavor, beginning travel writers tend to make certain mistakes. Of course, there's nothing wrong with mistakes. We learn a lot by making them.

But some of the mistakes set a new writer up for rejection and disappointment. Too much of this at the beginning of your journey, and you might decide to quit before you give yourself a chance to meet with any success.

Some mistakes can easily be avoided if you understand why it's a mistake, and what to do instead.

Here's my take on seven mistakes that many freelance writers make when first starting out and, more importantly, what to do to avoid them:

Mistake #1:
Starting at the Top of the Food Chain.


As humans we're already at the top of the food chain. We're used to this position and we like it there.

At the top of the food chain in travel writing are all the top shelf magazines we drool over: Islands Magazine, Travel & Leisure, Conde Nast Traveler, National Geographic Traveler, and a few others. We all want to be published in these magazines.

But setting your sights on these magazines when you're first starting out in travel writing is a way to set yourself up for disappointment.

Certainly there are a few people who fluke their first article and get it published in a top shelf magazine. But, until you've established some credible bylines, most editors won't take you seriously.

Although a new writer might be equally as talented as an experienced writer, an editor is more likely to want to work with the experienced writer. The experienced writer not only can dream up good story ideas, this writer also can deliver a quality article and meet deadlines. Editors like this.

Before pinning your hopes on a glitzy magazine, it's helpful to collect some bylines farther down the food chain.

Continue reading the article ...
---

Please share this e-zine with friends, family or anyone who may be interested in travel writing and can benefit from some free marketing and travel writing information.

That's all for now.

Until next time, you keep pitching....

Roy

Roy Stevenson
Pitch Travel Write
www.pitchtravelwrite.com


Please note: Some products mentioned in this e-zine may result in my receiving a small referral fee if you decide to purchase the product. I only recommend products and services that I believe are high quality and can help you be more successful as a freelance writer. Please let me know if you have any questions.
---