Greetings Fellow Travel Writers and Bloggers!
. . . and WELCOME to all new subscribers!
Editorial: "Beware bearers of false gifts and broken promises"

So goes the famous saying. And boy, does this phrase ever apply to travel writing courses! Many unwary novices have been lured to hyped up, half-baked, travel writing courses that deliver little in return.
Workshops are a great way to find out if you have the aptitudes and attributes necessary to break into travel writing. What better way to find out if you have the chops to enter this competitive and exciting field than taking a workshop?
But, there are travel writing courses and there are travel writing lite courses. Let the buyer beware!
Some jazzy workshops out there give an overview of travel writing and its perks, but never quite teach the nuts-and-bolts of how to sell and write publishable travel articles. And they certainly don't show aspiring travel writers how to reap the travel benefits that so many of us enjoy.
There are workshops that funnel their attendees into buying expensive "how to" manuals or other courses. Or, they offer vanity "club" memberships that sound enticing but deliver nothing. There are programs that encourage you to write free articles for travel websites but don't teach you how to improve your writing or get paid to write. They simply waste your money.
You don't need to take an expensive travel writing course to get your stories published on travel websites. You can save yourself a lot of time and money by purchasing our low-cost ($7.95) reference book, Fifty Websites that Want to Purchase Your Travel Stories . I promise you that some of the travel websites listed there will publish your travel stories. A few will even pay you, and you won't need to take an over-priced course.
The good news is that most travel writing courses and instructors are on the level. They're taught by dedicated, well-published journalists who have impressive bylines. They sincerely want you to get your travel stories published and reap those wonderful travel benefits. Those are the ones to spend your money on.


---
This Week's Featured Post
Writing for Inflights, Onboards, InTrain & InRoom Magazines
Many top travel writers consider their in-flight magazine bylines among their most prized. Having written for two in-flights and three on-boards, I certainly consider these magazine brands as the travel writer's holy grail.

This week's feature post tells you all you need to know about writing for inflights. It includes an in-depth description of what in-flight magazines and their close cousins, on-boards, and in-rooms, are all about. And there's lots of pitching advice about what kinds of story ideas they look for, how to approach them, and where to find a list of airline magazines, writers guidelines and more.

If you'd like to add inflights to your list of bylines, you'll want to read it.

READ THE ARTICLE
---
Travel Writing & Photography Retreat
December 9-15, 2018
Hoi An, Vietnam
This workshop is completely full.
To put your name on a waiting list in case a slot opens up, go to this link to get your name on the list.

ADD MY NAME TO THE WAITING LIST
---
NEW! Online Course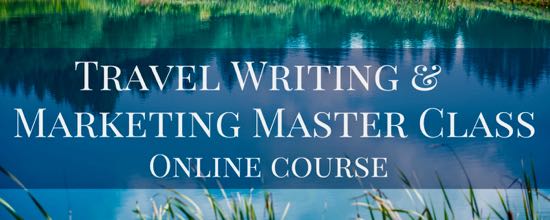 Our 2018 Travel Writing & Marketing Master Class is now available as an online course. We recorded it LIVE, for the people who weren't able to attend in person.

If you're an aspiring travel writer, or you haven't had much luck selling your articles to print magazines, this Online Travel Writing & Marketing Workshop is for you.

Everything from the classroom sessions at the Live Master Class held in Seattle in April, 2018 is included – except now you'll get to experience it in the comfort of your own home. And you can "attend" class at your own pace.

Now you can get exactly the same information, techniques, tips, and tricks that participants heard in the live Travel Writing & Marketing Master Class for half the price of the Live class - and without the travel costs!

LEARN MORE AND REGISTER
---
Upcoming Posts
September 17: Tips to Avoid Cliches in Travel Writing
September 24: How Writing Executive Summaries Can Help You
October 1: Six Ways to Increase Your Productivity
October 8: How to Get Invited on Press Trips


---
We've Been In The News
Here's my latest guest post on TravelWritersExchange about how novice travel writers overthink their way out of getting published by making assumptions. Overthinking things and worrying about "what ifs" is one of the most seductive traps that befall aspiring travel writers. And these self-doubts cost them, big time!

Link to article on Travel Writers Exchange

---
How to Dream Up Story Ideas that Sell
It's getting harder and harder to be a generalist travel writer trying to do what thousands of other generalist travel writers are doing, writing superficial Top Ten "listicles". To be published in paying print media you have to be really creative to come up with unique story ideas that editors haven't heard before.

Many of my freelance writer friends tell me they have difficulty coming up with multiple story ideas about one place. It takes some groundwork to become savvy at recognizing and mining gold nugget travel story ideas. The following articles point you in the right direction for dreaming up saleable travel stories.

Although there will always be a market for basic roundup articles, the competition is fierce. Editors are looking for new ideas and fresh perspectives.
Many Types of Travel Stories

For novice freelance writers, trying to figure out what story to pitch to an editor is a daunting task because they have no frame of reference.  Often, beginners lack confidence in their story ideas. So where do you start?
Six Ways to Generate Story Ideas that Sell

The best travel story is a result of writing about your personal interests or passions. Anything that interests you will result in an article that has more meaning, more emotion, and a deeper level of knowledge to share with your readers. 
Writing Genres and Your Travel Writing Niche

There are some common travel writing themes for travel articles. Here are a few of them.
The Best Travel Story Taps Into Your Interests and Passions

Round-up travel stories have many similarities.  These are high-level descriptions, or "roundups", of what a city or destination has to offer.
Roundup Travel Stories are the Most Fun to Write

A huge factor in selling story ideas and getting them published is the quality of your idea. So where, and how, do travel writers start their quest for a salable story? 
6 Tips for Dreaming Up Story Ideas that Sell

---
Inspirational Travel Quote of the Week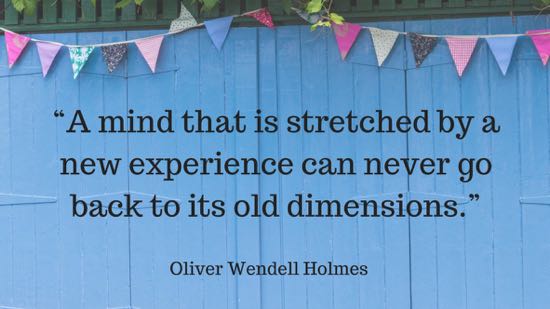 ---
Featured Book of the Month
THE COMPLETE GUIDE TO MARKETING AND SELLING YOUR TRAVEL ARTICLES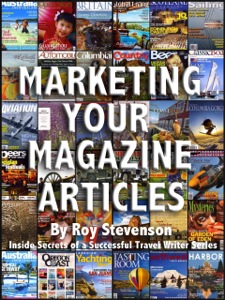 Everything you need to know about selling your travel articles. If you can't sell your travel stories, you don't get to write them.

My freelance travel writing manual, The Complete Guide to Marketing and Selling Your Travel Articles tells you how to select salable story ideas, how to write query letters, how to pitch your ideas the right way, how to find magazines that will be interested in your story, and how you can start selling your travel articles to magazines immediately and reap the fantastic travel benefits.

Here's what travel writer Mike Gerrard said about my marketing manual.

"I bought this book direct from the author's website and even though I'm a full-time travel writer myself, I learned a heck of a lot from it. We all have our weak spots, and mine is definitely pitching and writing query letters. This book pushed me into action, showed me lots of the author's own query letters that worked, and has now given me a 'to do' list for pitches I want to send. Just reading it reminded me of trips I've done in the last year or two that I could sell more pieces from, and also stuff that's on my own doorstep that I could and should be pitching. Whether you're a professional or a complete beginner, I highly recommend this book."

Here's travel writer Chris Backe's review of my marketing manual:

"Roy is a machine – at least, that's the only conclusion I have come up with. Having written for over 190 magazines (and reaching the 100 mark in 25 months), you would expect him to have a well-oiled machine and strong sense of process to keep things running. And you'd be right – his six-step 'chain-link' process is made out to be intentionally simple and easy to follow. That said, pitching, researching, and collecting good information still requires a fair bit of hard work, and the book offers no shortcuts. The specifics focus around coming up with good ideas, the correct questions to ask, finding the right publications for your ideas.

Creating distribution lists (one for each genre) makes pitching easier, while he encourages no fewer than 17 "essential elements" of a good query letter. Parts of these will sound old-fashioned to the younger set, ("no pictographs of inkwells, suitcases… smileys, [or] pink fonts…"), but will distinguish you as a professional. Chapter eight gets into some of the terminology used as rights go, along with the delightful problem of how to handle multiple acceptances.

At $99 it's far from the cheapest set of information out there – but getting your first night in, say, a four-star hotel room in Europe means the book has already paid for itself. Highly recommended."

BUY THE BOOK


---
Friend me on Facebook
My Facebook page is about freelance travel writing. I frequently post about:
• travel writing & blogging conferences,
• links to other well produced travel websites and blogs,
• links to my travel articles,
• travel writing themes,
• links to reputable travel writer's groups, associations, and newsletters,
• magazine covers stories and back stories,
• links to resources pages,
• links to travel writing archives,
• links to coaching and mentoring resources,
• and plenty of other useful information to get you up to speed.



Link to Roy's Personal Facebook page
---
Please share the e-zine with friends, family or anyone you know who's interested in travel writing. They can sign up for the newsletter and get free marketing tips each week at this link:

Sign up for my weekly marketing tips

That's all for this week.

Until next week, just keep pitching!

Roy

Roy Stevenson
Pitch Travel Write
www.pitchtravelwrite.com













---