Greetings Fellow Travel Writers and Bloggers!
---
At Home in Chiang Mai

As we walk around our new home in Chiang Mai, Thailand, we see some things that are familiar and some things that are downright strange. Among the more familiar sights are Coffee Shops—they're everywhere. Just in our neighborhood, Nimmanhaemin, there are 40 coffee shops and 50 restaurants!




Among the stranger sights are Buddhist monks walking around draped in their bright orange robes. The young monks are especially adorable. We often see them in shopping malls, admiring iPhones and other gadgets.

One of the more colorful modes of transportation here is the bicycle rickshaw, referred to locally as samlor, which literally translates as "three wheels". There aren't a lot of them around Chiang Mai. They mainly cater to tourists looking for a novelty ride to attractions and temples.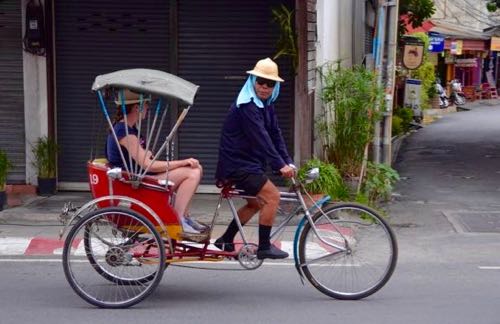 Here's a shot I took of one samlor "driver" carting around a tourist (above). He was looking directly at me when I snapped this photo.

A few days later I saw the same guy at the bustling Warorot Market, which is apparently his home base. Check out the hilarious photo of him relaxing between rides—this photo was not posed (below). Bet you don't see the Tour de France cyclists doing this between stages!

And for those of you in the U.S. celebrating Labor Day today, I hope you're getting some rest today, too.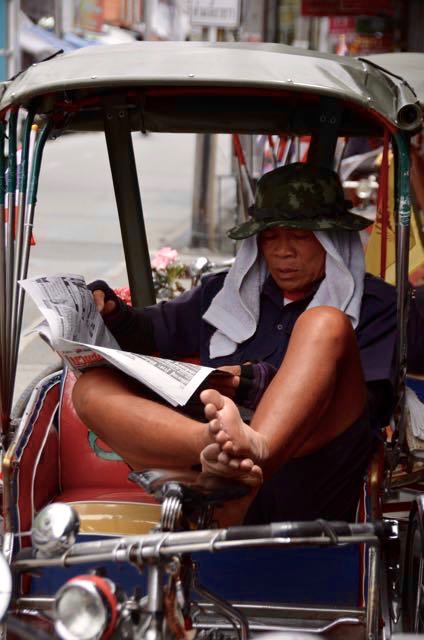 ---
Featured Post: Nine Ways to Earn More by Investing In Yourself
Are you struggling to break into travel writing? Are you wondering why other people get their travel stories published but you're not having much luck?

Do you wonder where you can network with DMOs to link up for press trips?

Have you ever met the editors that are rejecting – or accepting – your articles?

Many of the thousands of aspiring travel writers I've met seem reluctant to spend money investing in themselves. But if you want to polish your travel writing and get your stories published, there are things you can do to improve your success rate and earn more money.

My post this week highlights nine ways you can invest in yourself that will pay off in the long run - and often in the short run, too.

Read the article ...


---
Inspiring Travel Writing Quote of the Week
The Inspiring Travel Writing Quote of The Week is one of Mark Twain's most famous phrases, and doesn't need any explaining. I would have very much liked to meet this fine writer. His stories still thrill thousands of kids (and adults) today.

"Travel is fatal to prejudice, bigotry, and narrow-mindedness, and many of our people need it sorely on these accounts. Broad, wholesome, charitable views of men and things cannot be acquired by vegetating in one little corner of the earth all of one's lifetime."
- Mark Twain



---
Resources for Travel Writers
The Complete Guide to Query Letters for Travel Writers
100 Print Magazines that Want to Publish Your Travel Articles
50 Websites that Want to Publish Your Travel Stories
How to Land Press Trips and Fam Tours
How to Break Into the Luxury Travel Writing Market
The Complete Guide to Marketing & Selling Your Travel Articles


Testimonial for The Complete Guide To Query Letters For Travel Writers book:

"Hi, Roy - I enjoy your blog and though I've been a journalist for years, I hadn't done much travel writing. I bought your e-book about query letters and fired off my first query to a tourism board a few months ago. I got a weekend's worth of sponsored travel, two solid stories and the confidence to keep pitching. I've since been handed two more fam trips, one of which I pitched because I wanted to run a half-marathon in another region. I figured I may as well write about the area to get another clip and have part of my trip sponsored. Cheers for your practical advice."


—Dawn Picken, Freelance Travel Writer
---
Facebook update ...
One last note – if you've been trying to friend me on Facebook in the last few weeks, and didn't succeed – please try again.

It turns out there was a setting on my account keeping people from connecting with me. My apologies to everyone who encountered this problem.


---

Watch my Facebook posts for short photo stories about our new life in Thailand. Go here to "friend" me or just snoop around my Facebook site—it has some interesting travel writing tips, too: Facebook link to Roy's account
---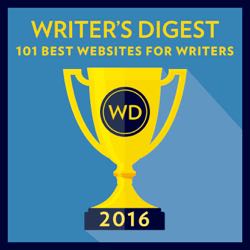 ---
Please share this e-zine with friends, family or anyone you know who is interested in travel writing. They can get free marketing and travel writing information by signing up for my e-zine at this link:

Sign up for my weekly e-zine ...

That's all for this week.

Until next week, you keep pitching.

Roy

Roy Stevenson
Pitch Travel Write
www.pitchtravelwrite.com

---