Greetings Fellow Travel Writers and Bloggers!
. . . and WELCOME to all new subscribers! Thanks for joining us.
Editorial: What It's Actually Like to Be A Travel Writer

Nearly everyone has a totally skewed idea about the travel writer's life.
The most popular misperception is that we gadabout the most romantic and exotic destinations, staying for free in luxury resorts and villas, being force fed the finest culinary delights.
Many think we're constantly escorted on free private guided tours of the raciest tourist attractions by fawning, obsequious PR reps who cover our every expense.
Yet others believe we hang out in digital nomad cafés in trendy places like Chiang Mai, Thailand, or Tallinn, Estonia. Surrounded by hip digital nomads, we all studiously pretend to ignore each other while getting work done.
Nearly everyone thinks we sip third wave coffee from the Vietnam highlands grown by colorfully clad ethnic hill people while our fingers dance around our keyboards, churning out posts and prose that will delight and entrance our avid tribe of readers, magazine editors, fans, and followers.
And at the end of each idyllic day, we flop out in a hammock strung between two palm trees, swaying gently in the breeze, looking out over a pristine sandy beach with azure water sparkling like diamonds in the distance. To complete this stereotypical scenario we'll have a frosty Mohito or craft beer in hand while we type out our travel stories and get paid for them.
While I regularly enjoy these perks as part of my job, they're just the tip of the iceberg. When all my hard work comes together I live the Life of Reilly, far above my station for a few short days or weeks.
On many assignments I travel like a happy, carefree millionaire, feted and courted like a rock star, cadging gourmet meals in immaculate white table clothed restaurants. I'm regularly escorted ahead of the masses of sweaty tourists to the VIP entrances at attractions. And, I've certainly been on the receiving end of countless massages and spa treatments in plush resorts and spas, and been pampered to wretched excess.
But the reality of travel writing is far less exciting and much more mundane! That's 90% of the iceberg below the surface.
To live the good life described above for a few months each year, many would regard my daily non-travel tasks as drudgery.
Here are a few things I do daily to eke out a crust as a freelance travel writer and land those glamorous travel gigs:
• I spending hours online & thumbing through Writer's Market, tracking down magazines to pitch
• I write & send out hundreds of query letters to editors
• I crank out articles with multiple deadlines hanging over my head
• I email magazine editors with my completed manuscripts
• I answer editors questions or rewrite my manuscripts when requested
• I send completed manuscripts to PR reps and museum curators for fact checking
• I send out "Request for Travel Assistance" emails to Destination Marketing Organizations (DMOs), asking for assistance with travel costs
• I scan through my previously published articles to see what I can re-sell
• I post self-promotional material on social media
• I sit through cramped air flights and suffer from jet lag
• I try to appear intelligent and alert when I'm interviewing someone while I'm jet lagged

This carefree travel comes at a price. It isn't free. Travel writing is a job, like any other. It's not all beer and skittles, as my Kiwi mates would say. We work for those travel perks!
This week's featured post shows my 12-day press trip through S.W. Germany as an example of planning and organizing an international tour. It's the icing on the cake that we all work so hard for – and the 10% that gives our travel writing life its sparkle.


---
This Week's Featured Post
How to Plan & Organize an International Press Trip
One way to plan an international press trip starts with attending a media exchange event. When you have access to large numbers of "regular" travel publications, it's time to register and start attending these events.

In this article I'm using my 12-day press trip in SW Germany as an example. It's the easiest way to show the steps involved for organizing an international press trip.

The German National Tourist Office (GMTO) designed and coordinated my itinerary. The S.W. Germany Tourist Board, Visit Berlin, and the Historic Highlights of Germany organization also sponsored it.

The 12 days of travel unfolded with clockwork precision. Not one hitch! German tourism promotion groups are very well organized.

Here's how to go about planning and organizing an international press trip – and the 7 steps it takes to make dream press trips happen.

READ THE ARTICLE


---
Upcoming Posts
October 22: Another PTW Success Story: Sandy Bornstein
October 29: How to Break Into the Cruising, Yachting & Sailing Market
November 5: Travel Writing Success Secret: Research Before You Travel
November 12: Creating Killer Ledes to Your Travel Stories


---
Travel Writing e-Course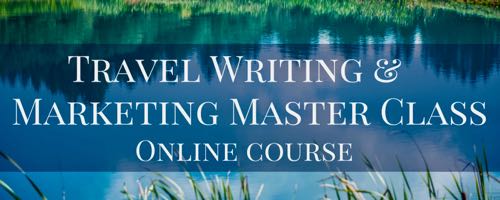 Our Travel Writing & Marketing Master Class is available as an online course. It's meant for people who aren't able to wait until next April to see it Live, or for people who missed this year's class.

If you're an aspiring travel writer, or you haven't had much luck selling your articles to print magazines, this Online Travel Writing & Marketing Workshop is for you.

Everything from the classroom sessions at the Live Master Class held in Seattle in April, 2018 is included – and you'll get to experience it in the comfort of your own home, and at your own pace.

Now you can get exactly the same information, techniques, tips, and tricks that participants heard in the live Travel Writing & Marketing Master Class for half the price of the Live class - and without the travel costs!

LEARN MORE AND REGISTER
---
Pitch Travel Write: Most Popular Links
Do You Write in Diverse Genres?
My advice is to write in as many genres as you can. If I had just written in one genre, I couldn't have had anywhere nearly as much success. My expertise is writing travel stories for multiple genres.

You'll pitch and sell more stories about your interests and passions. And you should strive to get your stories published in as many different magazine genres as you can.

Each specialty area or genre has a limited number of outlets to publish your stories. When you increase your writing genres, your market increases exponentially.

Writing in multiple genres expands your writing envelope and prevents you getting bored with one subject.  Financially you'll be better off because it's easier to sell more stories when you write in multiple genres.

Here's more reading on this subject on PitchTravelWrite:

Writing Genres and Your Travel Writing Niche
4 Reasons to Expand Your Writing Genres and How to Do It
Query Multiple Story Ideas and Earn More
Types of Travel Stories
The Best Travel Story: Tap Into Your Interests and Passions

---
Inspirational Travel Quote of the Week
---
Featured Book of the Month
NEW BOOK! ROCK STAR TRAVEL WRITERS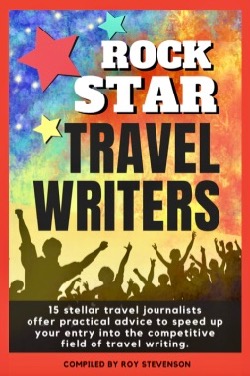 Have you ever wondered how some travel writers consistently get their stories published in the top shelf travel magazines?

In my new book, Rock Star Travel Writers, you'll learn the insider tips, tools, tactics and habits that ten leading travel journalists use to land assignments in the world's most prized travel glossies.

The unique tribe of mentors in Rock Star Travel Writers generously share their journeys and dispense invaluable techniques, insightful habits, and practical advice with you.

What qualifies these journalists to offer expert advice on the art and science of travel writing?

The proof is in their bylines. Here's a partial list of their publications: National Geographic Traveler, AFAR, BBC Travel, Lonely Planet, Condé Nast Traveler, American Express, Robb Report, Saveur, Business Jet Traveler, Forbes Travel Guide, National Geographic Adventure, Australia & New Zealand Magazine, plus in-flights like American Way, Open Skies, Hemispheres, Silkwinds and Delta Sky, and newspapers such as the New York Times, Wall Street Journal, USA Today, the Bangkok Post and South China Morning Post — to name just a few.

Reading their profiles will help answer your most challenging questions about travel writing and will give you plenty of ideas on how to achieve extraordinary results and bylines.

You'll be able to put their advice into practice and transform your travel writing career, starting immediately!

You won't find this wealth of information from a group of elite travel journalists anywhere else.

You can purchase this book for $19.95 ($5 off the regular price) when you use discount code ALRS5 at checkout.


---
Friend me on Facebook
My Facebook page is about freelance travel writing. I frequently post about:
• travel writing & blogging conferences,
• links to other well produced travel websites and blogs,
• links to my travel articles,
• travel writing themes,
• links to reputable travel writer's groups, associations, and newsletters,
• magazine covers stories and back stories,
• links to resources pages,
• links to travel writing archives,
• links to coaching and mentoring resources,
• and plenty of other useful information to get you up to speed.



Link to Roy's Personal Facebook page
---
Please share the e-zine with friends, family or anyone you know who's interested in travel writing. They can sign up for the newsletter and get free marketing tips each week at this link:

Sign up for my weekly marketing tips

That's all for this week.

Until next week, just keep pitching!

Roy

Roy Stevenson
Pitch Travel Write
www.pitchtravelwrite.com













---