Greetings Fellow Travel Writers and Bloggers!
We're currently between trips, catching our breath and catching up with our writing. We've just got back from Phnom Penh, Cambodia, and are off to Singapore in a couple of weeks for a travel writer's conference.
It's been a busy year for travel, with trips to Siem Reap, Cambodia, and Seattle, USA, earlier in the year. In February, we moved to Da Nang, Vietnam, from our previous base in Chiang Mai, Thailand.

We also visited Vientiane and Luang Prabang, Laos a couple months ago. And we'll be going on a press cruise to Myanmar's Mergui Islands before year's end. Whew!

We're certainly getting to know SE Asia well. Doing slow travel, living in one place for a while and using it as a base to explore neighboring countries has been our objective all along.

Many readers have asked why we chose S.E. Asia.

It all goes back to 2002-04, when we lived in Singapore. Linda was on an expat assignment with her employer and we fell in love with the lifestyle. We were exposed to exotic foods and a diverse blend of ethnicities. We were able to travel around the region and visit different cultures – only an hour or two away!

Our appreciation for the friendly people and the diversity compelled us to return to SE Asia. So in June, 2016, we got rid of most of our worldly possessions, rented out our home in Seattle, and here we are!

There's so much to see, and this time we're able to explore the region in depth. SE Asia has an energetic vibe that is stimulating. Each country is at a different stage of development and we're enjoying watching them unfold. Every day is a new adventure, and we're definitely not getting bored.



---
This Week's Featured Post
Where to Find Introductory Travel Writing Courses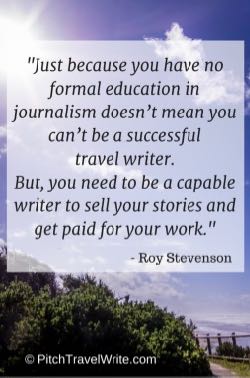 Travel writing courses can help accelerate your travel writing career, especially if you don't have a writing background. Many travel writers come to this profession after spending years in a different profession. 

For example, I spent most of my career as an exercise physiologist - a far cry from travel writing!

Just because you have no formal education in journalism doesn't mean you can't be a successful travel writer. But, you do need to be a capable writer to sell your stories and get paid for your work.

There are dozens of travel writing courses around the world to choose from. Here's how to track them down. This post will also give you some insight into my travel writing journey and how taking a writing course launched me from complete rookie to full time professional travel writer.


Read the article ...

---
In case you missed it ...
Here's last week's post Four Reasons to Sell Multiple Story Ideas about a Destination

Read the article


---
Upcoming PitchTravelWrite Feature Posts
October 16: Seven (More) Ways to Increase Your Travel Writing Productivity
October 23: How to Choose a Reputable Travel Writing Course That's Right for You
October 30: Five Rules for Selling Articles and Getting Travel Perks
November 6: Fascinating People You Meet on Travel Writing Assignments



---
Travel Writing Networking Tip of the Week
Trisha Miller's Travel-Writers-Exchange.com is "a community of travel writers, bloggers, and journalists. We exchange tools, tips, and resources, and provide a forum to help our community expand their online reach and find new opportunities.

"This site serves as a resource for all travel writers – a place to find information, inspiration, education, encouragement, advice, networking, and possibly travel writing opportunities."

"We offer a Forum for increased interaction with other travel writers, and we'll regularly invite guest bloggers to share their experiences in this exciting and growing field."

Trish sends out the occasional newsletter with special announcements, so be sure to sign up for her newsletter while you're there.

Link to Travel Writers Exchange


---
We've Been in the News!
Roy was quoted in this article about when it's okay to write for free in freelance writing. Great article written by Pam Baker, one of Roy's coaching clients.

Link to Pam Baker's article


---
Inspirational Travel Quote of the Week
---
Have You Planned Your Travel Calendar for 2017?
Have you planned your travel writing calendar for 2017 yet? We at PitchTravelWrite.com spent days preparing lists of:


24 Travel Writing and Blogging Conferences
11 Travel Writing and Blogging Workshops
11 Special Travel Writing Groups, Meetings & Events
5 Travel Shows (and a link to access many more)

Get organized now: Use these lists to plan your travel writing & blogging events for 2017.


---
Resources for Travel Writers
Books and Reference Guides:
The Art & Craft of Travel Writing

Beginner's 3-pack Reference Guides

The Complete Guide to Query Letters for Travel Writers

100 Print Magazines that Want to Publish Your Articles

Fifty Websites that Want to Publish Your Travel Stories

Advanced Travel Writing 2-Pack Reference Guides

How to Land Press Trips and FAM Tours

How to Break Into the Luxury Travel Writing Market

The Complete Guide to Marketing and Selling Your Travel Articles

Digital Bookstore - Guides, Manuals and Special Reports

---
Friend Me on Facebook:
My Facebook page is about freelance travel writing. I frequently post:
• travel writing & blogging conferences,
• links to other well produced travel websites & blogs,
• links to my travel articles,
• travel writing themes,
• links to reputable travel writer's groups, associations, and newsletters,
• magazine cover stories with the back stories about my published articles,
• links to resource pages,
• links to travel writing archives,
• links to coaching & mentoring resources,
• and plenty of other useful information to get you up to speed about travel writing.



If you haven't 'friended' me yet on Facebook, please feel free to do so here:

Link to Roy's Personal Facebook page

---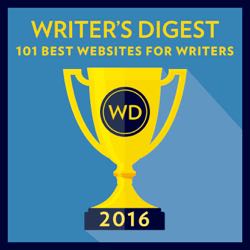 PitchTravelWrite.com was named in 2016's Writer's Digest 101 Best Websites for Writers list.

We're the ONLY travel writer's website on the list! We urge you to forward our newsletters on to your friends that might be interested in taking up travel writing.

PitchTravelWrite.com Testimonials

"I think you should know that I have been sending your link to many a travel journalist as your site is one of the most helpful I've seen to date. I even sent it to my sister who writes mostly about gardens and she was totally blown away by the amount of information you are giving away for free." —Karin Leperi, Freelance Travel Writer

"This site is more like a book than a website. It is one of the best (if not THE best) travel-writing sites I've seen in a long time. It is packed! And most of the articles will be useful to any freelancer, not just travel writers." —Moira Allen Anderson, Writing- World.com


---
Please share this e-zine with friends, family or anyone you know who is interested in travel writing. They can get free marketing and travel writing information by signing up for my e-zine at this link:

Sign up for my weekly marketing tips ...

That's all for this week.

Until next week, just keep pitching!

Roy

Roy Stevenson
Pitch Travel Write
www.pitchtravelwrite.com

---