Greetings Writers!
I shared this post on Facebook a few days ago, and it was so popular I thought I'd share it with you, too.
Being on the road for 140+ days/year, I've stayed at hundreds of hotels, spas, and lodges, many of them high end luxury resorts.

Over the past few years I've accumulated an immense pile of soaps, shampoo, conditioner, mouthwash, hand lotion, and toothbrushes, in overflowing plastic bins.

Realizing that I will never use them all, I finally figured out what to do with them. I packed up dozens of "toiletry kits" into plastic bags and delivered them to a couple nearby homeless shelters.

One shelter was for homeless men, and the other for homeless and battered women. While I was delivering the toiletries I met a few of the people in the shelters and was moved by their sad stories. I was shocked to learn that many of them had good careers until things went wrong in their lives, and suddenly they were out on the street.

The toiletry packets were so well-received by the shelters, I thought I'd share the idea with other travel writers who find themselves overwhelmed by their own collection hotel toiletries.
---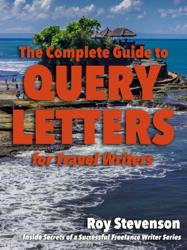 We're pleased to announce The Complete Guide to Query Letters for Travel Writers is now available on Amazon.com in the Kindle store.

Several of our readers expressed a desire for a Kindle version to read on their tablets.

You can read the customer reviews and purchase the Kindle version at this link.




Of course, we still offer it on my website, www.PitchTravelWrite.com, in PDF format for those who prefer this format.

If you want to print the book on your home printer so you have it for easy reference, the PDF format makes it easy to do this.


The PDF version is available at this link.

---

In this issue:

Travel writers are always looking for magazine leads so you have plenty of places where you can pitch your story ideas.

The article this week discusses some resources for finding magazine leads so you can compile your lists quickly and easily ...


---
Fast and Easy Ways to Find Magazine Sales Leads

Finding print magazine sales leads to pitch your story ideas is one of the cornerstones to getting your work published. After all, if you can't find outlets for your stories you won't get published.

This has always been a simple, straightforward, and enjoyable process for me. I love wading through magazine racks at my local Barnes & Noble and newsagents and consulting my well-thumbed Writer's Market. And I enjoy doing an online search for magazines in the genres that I write about.

I never stop looking for fresh magazine leads, so I was delighted when a new travel writer that I'm coaching told me about a useful online resource for magazine and newspaper leads. When I took a look at it, I was impressed with what I found, and I think you'll find it useful, too.

Continue reading the article ....
---

Please share this e-zine with friends, family or anyone who may be interested in travel writing and can benefit from some free marketing and travel writing information.

That's all for now.

Until next time, you keep pitching....

Roy

Roy Stevenson
Pitch Travel Write
www.pitchtravelwrite.com


Please note: Some products mentioned in this e-zine may result in my receiving a small referral fee if you decide to purchase the product. I only recommend products and services that I believe are high quality and can help you be more successful as a freelance writer. Please let me know if you have any questions.
---