Greetings Fellow Travel Writers and Bloggers!
We've just returned from a week-long stay in Phnom Penh, Cambodia. If you're looking for a fun S.E. Asian city that offers enough quality tourist attractions to keep your attention for four or five days, Phnom Penh will do the trick.
What does this city have to offer? Plenty, as it turns out!
The Royal Palace complex is a spectacular example of grand Cambodian architecture, while the adjoining Silver Pagoda offers all sorts of delightful Buddhist treasures like the central Wat Preah Keo, towering memorial Chedis, Buddha's footprint, and my favorite, the mural gallery.
While the guidebooks barely mention the Silver Pagoda's 604-meter-long mural gallery, it was the most jaw-dropping sight of all. These vivid, beautifully decorated frescoes of scenes from the Ramayana line the inside of the Silver Pagoda's four walls.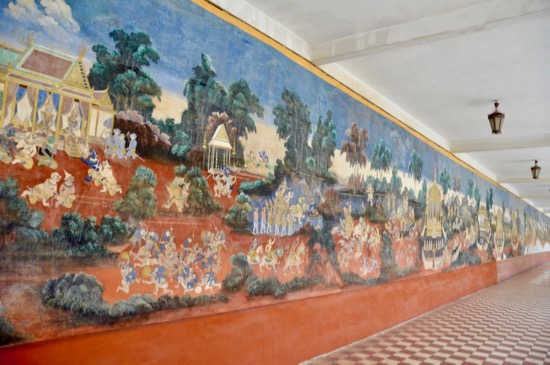 Among Phnom Penh's more sobering sights is the Tuol Sleng Genocide Museum, that tells the tragic story of the seventeen thousand innocent Cambodians who were in the wrong place at the wrong time. Rounded up by madman Pol Pot's Khmer Rouge squads, these innocent men, women, and children, were tortured into signing meaningless confessions. Then they were driven a few kilometers out of town to the infamous Choeung Ek killing fields, where they were brutally murdered. We visited both these somber places on the same day. Although we found them shocking and disturbing, they were a reminder of the incalculable damage and misery that insane dictators have wreaked, even as recently as 1979.

We also visited some of Phnom Penh's writing landmarks; the Foreign Correspondents Club (now a restaurant, bar and hotel), the plush Writer's Bar at the Raffles Hotel Le Royal, where Somerset Maugham, Charles DeGaulle, Charlie Chaplin, and Jacqueline Kennedy hobnobbed, and Monument Books, a fine bookstore with an excellent selection of English books.

Other Phnom Penh attractions include the National Museum; the thriving Central Market; Phnom Chisor, a Buddhist temple high atop a mountain that offers a perfect panoramic view of the green Cambodian countryside; and the Phnom Tamao Wildlife Rescue Center where we saw birds, monkeys, crocodiles, elephants, and lions and tigers and bears, oh my.


---
This Week's Featured Post
Four Reasons To Sell Multiple Story Ideas About a Destination
Many of my freelance writer friends tell me they have difficulty coming up with multiple story ideas about one place.  



And on press trips, I've noticed that so many travel writers arrive with only one assignment in hand. No matter how many things they see on the press trip - and they see a lot - they usually only publish one article afterwards.



This breaks my heart.  So many opportunities to get published are being overlooked!  


I think it's important to sell multiple story ideas about a destination and I always do it.

Try it! If you're not sure why you should, here are four reasons it makes sense for every freelance writer, followed by strategies on how to do it ...


Read the article

---
In case you missed it ...
Here's last week's post Travel Writing Tips: A Letter to Myself, Back in Time where I talk about what I'd do differently if I was just starting out today ...

Read the article - Travel Writing Tips : Letter to Myself Back In Time


---
Upcoming PitchTravelWrite Feature Posts
October 9: Where to Find Introductory Travel Writing Courses
October 16: Seven (More) Ways to Increase Your Travel Writing Productivity
October 23: Choosing the Travel Writing Course That's Best for You
October 30: Five Rules for Selling Articles and Getting Travel Perks



---
Travel Writing Networking Tip of the Week
Want to improve your travel writing? Take a course through Nick O'Connell's online school, The Writer's Workshop.

Seattle travel writer and instructor, Nick O'Connell, has list of bylines to make even the pros drool: Newsweek, Gourmet, Condé Nast Traveler, Saveur, Food and Wine, The Wine Spectator, Outside, GQ, National Geographic Adventure, The New York Times, The Wall Street Journal, Commonweal, Alaska Airlines Magazine, Westways, Sierra, and others. These are $1/word glossies, and you've got to be an outstanding writer for these top shelf magazines to publish your work.

Nick also does presentations on the essential elements of travel writing as part of our Travel Writing & Marketing Master Class. I sat through Nick's seminars last April, and they were excellent! No matter what level you're at right now, Nick's advice can result in some positive changes to your writing style.

Link to The Writers Workshop


---
We've Been in the News!
We're honored to have PitchTravelWrite.com listed as one of the best resources for travel writers on Claire Shefchik's onmogul.com site.

Her article is called How to Publish Your Travel Writing On Major Sites.

Link to Claire Shefchik's article


---
Inspirational Travel Quote of the Week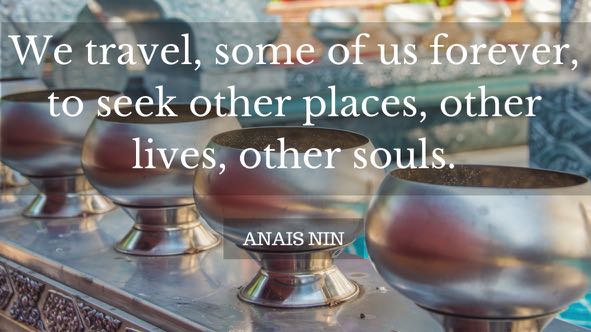 ---
Have You Planned Your Travel Calendar for 2017?
Have you planned your travel writing calendar for 2017 yet? We at PitchTravelWrite.com spent days preparing lists of:


24 Travel Writing and Blogging Conferences
11 Travel Writing and Blogging Workshops
11 Special Travel Writing Groups, Meetings & Events
5 Travel Shows (and a link to access many more)

Get organized now: Use these lists to plan your travel writing & blogging events for 2017.


---
Resources for Travel Writers
Books and Reference Guides:
The Art & Craft of Travel Writing

Beginner's 3-pack Reference Guides

The Complete Guide to Query Letters for Travel Writers

100 Print Magazines that Want to Publish Your Articles

Fifty Websites that Want to Publish Your Travel Stories

Advanced Travel Writing 2-Pack Reference Guides

How to Land Press Trips and FAM Tours

How to Break Into the Luxury Travel Writing Market

The Complete Guide to Marketing and Selling Your Travel Articles

Digital Bookstore - Guides, Manuals and Special Reports

---
Friend Me on Facebook:
My Facebook page is about freelance travel writing. I frequently post:
• travel writing & blogging conferences,
• links to other well produced travel websites & blogs,
• links to my travel articles,
• travel writing themes,
• links to reputable travel writer's groups, associations, and newsletters,
• magazine cover stories with the back stories about my published articles,
• links to resource pages,
• links to travel writing archives,
• links to coaching & mentoring resources,
• and plenty of other useful information to get you up to speed about travel writing.



If you haven't 'friended' me yet on Facebook, please feel free to do so here:

Link to Roy's Personal Facebook page

---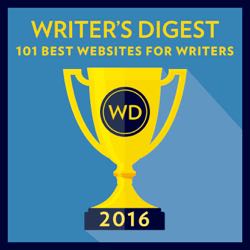 PitchTravelWrite.com was named in 2016's Writer's Digest 101 Best Websites for Writers list.

We're the ONLY travel writer's website on the list! We urge you to forward our newsletters on to your friends that might be interested in taking up travel writing.

PitchTravelWrite.com Testimonials

"I think you should know that I have been sending your link to many a travel journalist as your site is one of the most helpful I've seen to date. I even sent it to my sister who writes mostly about gardens and she was totally blown away by the amount of information you are giving away for free." —Karin Leperi, Freelance Travel Writer

"This site is more like a book than a website. It is one of the best (if not THE best) travel-writing sites I've seen in a long time. It is packed! And most of the articles will be useful to any freelancer, not just travel writers." —Moira Allen Anderson, Writing- World.com


---
Please share this e-zine with friends, family or anyone you know who is interested in travel writing. They can get free marketing and travel writing information by signing up for my e-zine at this link:

Sign up for my weekly marketing tips ...

That's all for this week.

Until next week, just keep pitching!

Roy

Roy Stevenson
Pitch Travel Write
www.pitchtravelwrite.com

---