Greetings Fellow Travel Writers and Bloggers!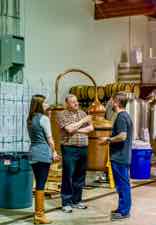 Who doesn't like going on press trips and Fam Tours? They're fun and they're free!
Last Thursday afternoon--all within 3 hours--I received invitations to three different travel writing events:
- a 5-day press trip to Ann Arbor, Michigan;
- a private VIP 3-day wine tasting tour of Central Washington's Tri-Cities area; and
- a cider-tasting event hosted by Washington's finest cider houses, accompanied by a gourmet meal from one of Seattle's best restaurants.
[The gourmet meal: Beef Rib with Delicata Squash Vinaigrette, True Cod Chowder with Yukon Potatos & Picholine Olive, Salumi and Pepper Salad with Chickpeas and Red Wine Vinaigrette, Hanger Steak with Roasted Peppers, White Peach Plum Salad with Watercress.]
On average, I field one or two press trip invitations like these every week.
Clearly I'm bragging! But if you set your sights on this goal and do the work, you can get press trip & Fam Tour invitations regularly, just as I do.
In past years, I've spent up to 140 days on the road, on regional, national, and international press trips.
These days, I politely decline most press trip invitations so I can concentrate on my writing and my website work. I limit press trips to places that I really, really want to visit.
That's right, I actually turn down free travel opportunities! This is a cool problem to have!
I receive emails every week from aspiring travel writers and bloggers asking how they can get invited on press trips. So, this week's featured article is a primer with 3 ways to help you find press trips - in the U.S. and internationally.
It's an excerpt from my eBook, How To Land Press Trips and Fam Tours.
If you're not a subscriber to the organizations mentioned in this article, you're missing out on some crucial press trip intel.
Enjoy!
---
20% off sale:
Since this issue is all about press trips, I'm offering subscribers a 20% discount off the regular price of my eBook How to Land Press Trips and Fam Tours if you purchase it within the next 3 days.

This offer is good through Wednesday, October 21 at midnight. Act now so you don't forget!

Use discount code: 3DPT at checkout.

Learn more and purchase How to Land Press Trips eBook
---
Featured Article:
3 Ways to Find Press Trips for U.S. and International Destinations
Once you have a few print and online travel bylines under your belt, and you've landed some local FAM tours, it's time to move up to national or international press trips. These press trips are the prestigious glamor gigs that we all covet like the Holy Grail. And they are, therefore, much sought after.

With press trips you are usually the guest of the tourist bureau of the region, state, or country you are touring. Public relations firms representing tourism boards and hotels and resorts will also host press trips.

Some tourism bureaus offer comprehensive, all-encompassing tours that take in most of a country's main tourist attractions. Other press trips offer themed or specialty tours such as culinary or cultural tours. Typically, your hosts pick up all travel expenses—including your airfare.

Although there are several types of press trips, they essentially follow the same format as local and regional FAM tours. The only difference, really, is that we tend to refer to national and international travel writer's tours as Press Trips.

Continue reading the article ...

---

Please share this e-zine with friends, family or anyone who may be interested in travel writing and can benefit from some free marketing and travel writing information.


They can sign up for this e-zine at this link.
---

'Friend' Me!
If you haven't already done so, please 'Friend' me (Roy Stevenson Freelance Writer) on Facebook. My posts are generally travel writing-related and I try to keep it fun.

My Saturday morning 'Where's Roy' Facebook post has been particularly popular! I post a travel photo—usually with me in it—and you have to guess where the heck I am. A few friends and subscribers have proved particularly adept at this.

That's all for now.

Until next time, you keep pitching....

Roy

Roy Stevenson
Pitch Travel Write
www.pitchtravelwrite.com


Please note: Some products mentioned in this e-zine may result in my receiving a small referral fee if you decide to purchase the product. I only recommend products and services that I believe are high quality and can help you be more successful as a freelance writer. Please let me know if you have any questions.
---