Greetings Fellow Travel Writers and Bloggers!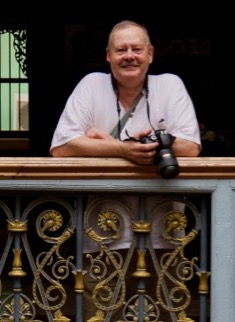 . . . and WELCOME to all new subscribers! Thanks for joining us.
Editorial: Penang, Malaysia


First off, I'd like to thank everyone for sending kind birthday wishes my way. They were much appreciated!
After a week in Georgetown, on Malaysia's Penang Island, I can say this rapidly developing tourist destination has not disappointed. We've had a crash course on how the island was developed by the British as a trading and commerce center—and gained insight into the early settlers and merchant's lives—at the Penang Peranakan Museum and the Colonial Penang Museum. Both well worth visiting! These museums are housed in beautiful old colonial buildings and filled with fascinating Chinese, English, Malayan, and Indian antiques.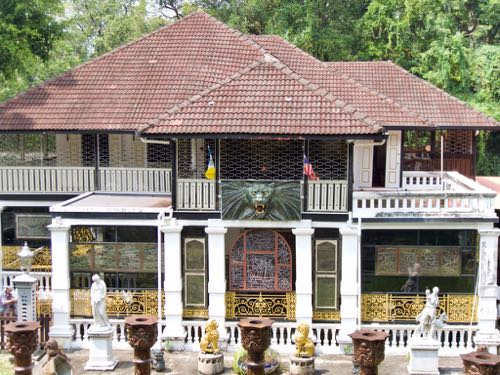 We toured the Asia Camera Museum and had a blast at the 3D Trick Art Museum with our friends Gabby and Adam of LocalNomads.com whom we have previously hung out with in Da Nang, Vietnam.

We've also trawled a few shopping malls and have been amazed at the world class shopping here in sparkling modern malls like Gurney Plaza, 1st Avenue Mall, Pranglin Mall, M Mall at Times Square, Komtar, plus local markets like the Chowrasta Market.

Penang Islanders are a curious mix of Chinese, Malay, and Indian ethnic groups, dating back several centuries, and all existing in harmony with each other. Even better, their food has evolved into a marvelous fusion of delicious dishes unique to the Peranakans (the name given to the combination of these races through intermarriage).



Peranakan foods like Popiah (fresh spring rolls), mee goreng (fried noodles), Nasi Ulam (mixed herbs rice), Nyonya Chicken Rendang (a flavorful chicken curry), Lor Bak (chicken meat roll), Cucur Udang (deep fried minced prawn & vegetable fritters), are now my all-time favorites. Nyonya food ranks first for me above Thai, Indian, and Vietnamese cuisine.
I also love Nyonya desserts like Bee Koe Moy (black glutinous rice with dried longan & coconut milk), Sago Gula Melaks (sago pearls with brown sugar & coconut milk), and Pengat (thick coconut syrup with yam, sweet potatos & bananas). All washed down with nutmeg juice (now my second favorite fruit juice after tamarind juice).
We have 4 more days here and will be visiting the Butterfly Park, Penang Hill, Botanic Gardens, Fort Cornwallis, and Linda will be doing a photo shoot of the Street Art murals sprinkled around town. Watch my Facebook posts for photos of these interesting places!


---
This Week's Featured Post
How to Get Invited on Press Trips
Once you've established a few travel writing bylines in print and online, it's time to reach out to some of the local tourist agencies and get on their press trip invitation lists.

But where do you start?

Here are four steps to take to help get yourself invited on press trips. Do these four things and you'll be getting invitations in no time.

Read the Article


---
In case you missed it: Six Ways to Increase Your Productivity
Last week's ezine had an error in the link. Our apologies.

Here's the correct link:

READ THE ARTICLE
---
Travel Writing e-Course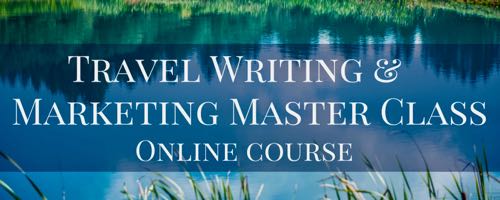 Our Travel Writing & Marketing Master Class is available as an online course. It's meant for people who aren't able to wait until next April to see it Live, or for people who missed this year's class.

If you're an aspiring travel writer, or you haven't had much luck selling your articles to print magazines, this Online Travel Writing & Marketing Workshop is for you.

Everything from the classroom sessions at the Live Master Class held in Seattle in April, 2018 is included – and you'll get to experience it in the comfort of your own home, and at your own pace.

Now you can get exactly the same information, techniques, tips, and tricks that participants heard in the live Travel Writing & Marketing Master Class for half the price of the Live class - and without the travel costs!

LEARN MORE AND REGISTER
---
Upcoming Posts
October 15: Organizing an International Press Trip: Roy's 12-day Press Trip in SW Germany
October 22: Another PTW Success Story: Sandy Bornstein
October 29: How to Break Into the Cruising, Yachting & Sailing Market
November 5: Travel Writing Success Secret: Research Before You Travel


---
Pitch Travel Write: Most Popular Links
Do You Write in Diverse Genres?
My advice is to write in as many genres as you can. If I had just written in one genre, I couldn't have had anywhere nearly as much success. My expertise is writing travel stories for multiple genres.

You'll pitch and sell more stories about your interests and passions. And you should strive to get your stories published in as many different magazine genres as you can.

Each specialty area or genre has a limited number of outlets to publish your stories. When you increase your writing genres, your market increases exponentially.

Writing in multiple genres expands your writing envelope and prevents you getting bored with one subject.  Financially you'll be better off because it's easier to sell more stories when you write in multiple genres.

Here's more reading on this subject on PitchTravelWrite:

Writing Genres and Your Travel Writing Niche
4 Reasons to Expand Your Writing Genres and How to Do It
Query Multiple Story Ideas and Earn More
Types of Travel Stories
The Best Travel Story: Tap Into Your Interests and Passions

---
Inspirational Travel Quote of the Week
---
Featured Book of the Month
NEW BOOK! ROCK STAR TRAVEL WRITERS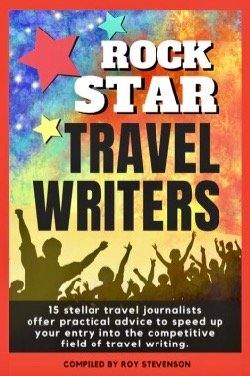 Have you ever wondered how some travel writers consistently get their stories published in the top shelf travel magazines?

In my new book, Rock Star Travel Writers, you'll learn the insider tips, tools, tactics and habits that ten leading travel journalists use to land assignments in the world's most prized travel glossies.

The unique tribe of mentors in Rock Star Travel Writers generously share their journeys and dispense invaluable techniques, insightful habits, and practical advice with you.

What qualifies these journalists to offer expert advice on the art and science of travel writing?

The proof is in their bylines. Here's a partial list of their publications: National Geographic Traveler, AFAR, BBC Travel, Lonely Planet, Condé Nast Traveler, American Express, Robb Report, Saveur, Business Jet Traveler, Forbes Travel Guide, National Geographic Adventure, Australia & New Zealand Magazine, plus in-flights like American Way, Open Skies, Hemispheres, Silkwinds and Delta Sky, and newspapers such as the New York Times, Wall Street Journal, USA Today, the Bangkok Post and South China Morning Post — to name just a few.

Reading their profiles will help answer your most challenging questions about travel writing and will give you plenty of ideas on how to achieve extraordinary results and bylines.

You'll be able to put their advice into practice and transform your travel writing career, starting immediately!

You won't find this wealth of information from a group of elite travel journalists anywhere else.

You can purchase this book for $19.95 ($5 off the regular price) when you use discount code ALRS5 at checkout.


---
Friend me on Facebook
My Facebook page is about freelance travel writing. I frequently post about:
• travel writing & blogging conferences,
• links to other well produced travel websites and blogs,
• links to my travel articles,
• travel writing themes,
• links to reputable travel writer's groups, associations, and newsletters,
• magazine covers stories and back stories,
• links to resources pages,
• links to travel writing archives,
• links to coaching and mentoring resources,
• and plenty of other useful information to get you up to speed.



Link to Roy's Personal Facebook page
---
Please share the e-zine with friends, family or anyone you know who's interested in travel writing. They can sign up for the newsletter and get free marketing tips each week at this link:

Sign up for my weekly marketing tips

That's all for this week.

Until next week, just keep pitching!

Roy

Roy Stevenson
Pitch Travel Write
www.pitchtravelwrite.com













---