Greetings Fellow Travel Writers and Bloggers!
---
… and welcome all new subscribers!

As I write this we're wrapping up our 9-day visit to Ho Chi Minh City, Vietnam. We've been busy researching hotels, excursions and restaurants to prepare for next year's travel writing and marketing workshop here. We even managed to squeeze in some sightseeing!

Last night we enjoyed a leisurely dinner cruise on the Saigon River. This city is very colorful at night, with buildings displaying an on-going light show.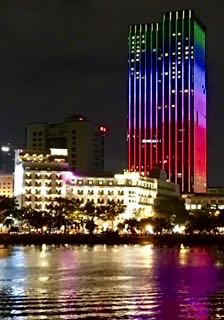 The white building in the foreground of this photo is one of my favorite hotels, the Majestic. I fell in love with this classy hotel the moment I walked in, and it's at the top of our list for our base for next year's workshop.

This 1925 French colonial hotel features art deco stained glass windows and furniture, elegant suites, and river views. People stay here to experience the feeling of the grand and giddy lifestyle of 1920s France.

We've also been having fun dining at authentic Vietnamese restaurants. Some of them are tucked away on the top floors of nondescript buildings. Others have no signs announcing their presence and we weren't sure we could even find them.

When we finally arrived at each one, we discovered delicious food and a vibrant atmosphere, full of local people and a few tourists enjoying themselves.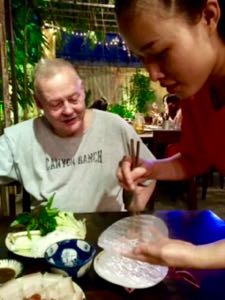 We didn't always know what to do with the food once it was served, but the waiters were always happy to show us how to wrap the food Vietnamese style.

We rummaged around local markets, visited a few museums and tonight we're attending a Vietnamese Water Puppet Show. This city has a lot to offer and much more than we could see on one trip. We're already looking forward to returning!

Yesterday we met a bright 32-year-old Vietnamese woman at the coffee shop next door. She was happy to answer our questions about life in Vietnam. And she told us her personal aspirations about how she wants to inspire young Vietnamese women and help them fulfill their potential. She said, "Learning English has saved my life because it opened up so many opportunities for me." She's writing a book hoping to empower young women to seek out education and improve their lives.

Sharing her dreams with us reminded me of this week's travel writing quote:
---
Inspirational Quote of the Week
"Perhaps travel cannot prevent bigotry, but by demonstrating that all peoples cry, laugh, eat, worry, and die, it can introduce the idea that if we try and understand each other, we may even become friends."
- Maya Angelou, Poet


---
Featured Post: Five Surprisingly Simple Statistics That Will Improve Your Travel Writing and Blogs
How readable are your travel stories?

How can you keep your travel writing and blogs so enjoyable that your followers will keep returning to your site?

Ten years ago, during the travel blogging gold rush era, all you needed to do was slap up a half-baked travel blog and hordes of people came to your site like lemmings to the sea.

Today, with intense competition in travel writing and tens of thousands of travel blogs and websites online, you need to differentiate your travel writing.

One way to stand out from the teeming travel writing masses is by writing strong and captivating travel stories that people enjoy reading.

How can you improve your travel writing?

Clearly, getting feedback from an expert and then adjusting your writing is the simplest and most effective way to improve. But before you turn your travel stories over to someone else for feedback and editing, you should take a few minutes to improve the readability of your story.

Are you using these five surprisingly simple statistics to improve the readability of your articles? Do you know which apps can help you?

Read this article and use these tools to take your travel writing and blogging to a new level.

Read the article ...


---
I'd Love to Hear Your Feedback
I'd like to thank all the writers who participated in our book sale three weeks ago. It was a big success with nearly a hundred downloads.

My mission is to provide high-value information to travel writers with actionable steps you can take to sell your articles, get published, and get comps. I want you to succeed.

Have my books helped you sell any of your articles to magazines? Have you landed any press trips using my advice?

If so, I'd love to hear about it.

Please drop me an email (PitchTravelWrite@gmail.com) and tell me about your success. I'd like to show off your achievements in our newsletter and on our website.

Thanks for your faith in my products. It is very much appreciated.
---
Resources for Travel Writers
The Complete Guide to Query Letters for Travel Writers
100 Print Magazines that Want to Publish Your Travel Articles
50 Websites that Want to Publish Your Travel Stories
How to Land Press Trips and Fam Tours
How to Break Into the Luxury Travel Writing Market
The Complete Guide to Marketing & Selling Your Travel Articles


Testimonial for this website, PitchTravelWrite.com:

"This site is more like a book than a website. It is one of the best (if not THE best) travel-writing sites I've seen in a long time. It is packed! And most of the articles will be useful to any freelancer, not just travel writers."


— Moira Allen, www.Writing-World.com
---
Facebook invitation ...
You are invited to join me on Facebook:

If you're interested in my travel writing advice and in reading short snippets about my new lifestyle in S.E. Asia, please feel free to "Friend" me at my Facebook site.

My posts feature unusual and fun things about our new lifestyle here in Thailand, and I also throw in tips and advice about breaking into travel writing—plus a few stories about my published travel articles. Some of my posts are even funny! Facebook link to Roy's account

---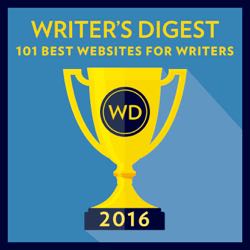 ---
Please share this e-zine with friends, family or anyone you know who is interested in travel writing. They can get free marketing and travel writing information by signing up for my e-zine at this link:

Sign up for my weekly e-zine ...

That's all for this week.

Until next week, you keep pitching.

Roy

Roy Stevenson
Pitch Travel Write
www.pitchtravelwrite.com

---