Greetings Fellow Travel Writers and Bloggers!
. . . and WELCOME to all new subscribers! Thanks for joining us.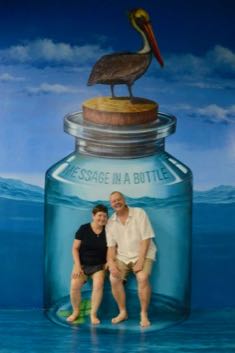 Editorial: Our Da Nang Resort Village Life
Sometimes Linda and I just have to put everything aside and take the time to appreciate our sweet life in Da Nang, Vietnam. We've got it pretty good here in the An Thuong Tourist District. It's like living in a sprawling, loosely knit resort village. We've got lots of amenities in our neighborhood and life is easy.
Three mornings each week, at 8 a.m., a small tribe of young Vietnamese women takes over our apartment. They clean it, make the beds, and freshen the towels while we head to breakfast. Around 3 pm a basket full of our laundered and folded clothes appears in our apartment. Magical!

We have a choice of several places for breakfast. We might stop at my favorite place, Cohibar. It's literally across the street - about 20 paces from our front door! If we're in the mood for a breakfast buffet, we go next door to the EcoGreen Hotel ($4.30), or around the corner to the Avatar Hotel ($6).
There are at least 25 restaurants within a 5-minute walk from our apartment. This formidable choice of restaurants includes Chinese, Korean, Vietnamese, Thai, Mexican, Japanese, Hawaiian, burger joints, pizza parlors, pub food (bangers & mash), BBQ restaurants, a German sausage restaurant, and a Taiwanese Taco fusion place that sells the best tacos I've ever munched on.
When we're in the mood for a Seafood blowout, we head to the Pullman Resort for their Sunday evening buffet extravaganza. We won't starve here in Da Nang!
Coffee shops also abound in our neighborhood. With two or three coffee shops on every street nearby, we have a lot to choose from. Their décor ranges from rustic to upscale/modern, and from airy French colonial rooms with wicker furniture to garden cafes with little plastic seats.

Two or three times each week we go across the Han River to Elite Fitness, a beautiful new fitness center. At mid-morning, we're usually the only ones there - it's like having our own private fitness club. The personal trainers fall over each other to help us.

A couple days a week we swim at the sparkling new My An Sports Center pool, four blocks from our apartment. Here, we meet a mix of locals, and expats from Australia, the U.S., England, and other points of the compass.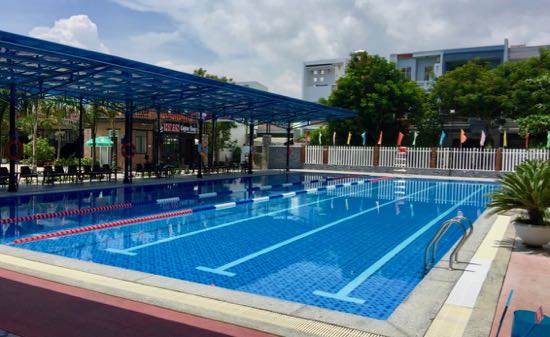 Two mornings each week we walk to our local market, Cho Bac My An. I love these morning market jaunts because we have a progressive breakfast at the market.

Under a blue tarpaulin on a street corner, we each have a fried egg loaded with veggies and meat (1$), and then I pick up a Banh Mi (warm baguette filled with pate, roast pork, veggies, and gravy for 50 cents). Then, on to the juice lady's counter where I wash my Banh Mi down with freshly blended carrot and pineapple juice ($1). On our way home, we stop at the upscale and friendly Six-On-Six Coffee Shop for some Java.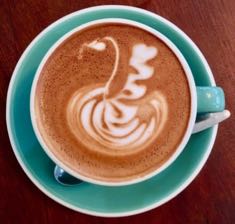 For my creature comforts, I walk 3 blocks to the Ocean Spa where Miss Youm gives me a pedicure ($3), a haircut ($3), and a relaxing one-hour foot massage ($8.60!).
In the evenings, we often stroll along the gorgeous My Khe Beach to catch the last rays of the day, watching the locals and tourists splashing in the water, playing in the sand, kicking soccer balls, or having a game of beach volleyball. Many Vietnamese people cover themselves in sand as some sort of health benefit, or they just sit and meditate on the warm sand.
We've become friends with many expats and locals here, and get together with them for coffee or dinner at least once each week. Life is good!
If you're ever in Da Nang, we'll be happy to meet up with you for coffee or a bite to eat. Be sure to email me in advance. I'm always happy to talk shop (or not) with travel writers and bloggers!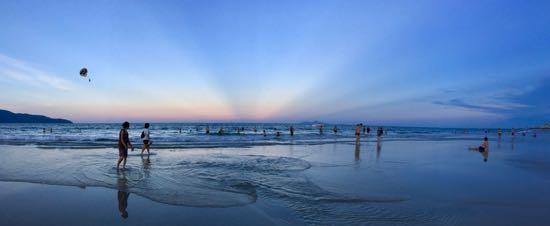 ---
This Week's Featured Post
Is This Press Trip Worth Your Time? How to Make Press Trip Decisions
Whether or not to go on a press trip is and important decision for professional freelance writers who want to earn an income from their writing. It helps to have a policy to decide if it's worth the time away from your desk, before you commit to a press trip.   
 But how do you decide if it's worth your time to go on a press trip?

I get invited on an average of one or two press trips each week.  I'd love to go on them all, and for a while, I did!  It's really difficult to turn down an enticing press trip.

But press trips take up your time and energy.  You rarely get work done while you're away. 

Here are four common scenarios that happen to most travel writers trying to make a living as a freelancer.  Each scenario will give you something to think about and help you decide how to handle it. There isn't a right or wrong answer - and your decision might be different than mine. 

Consider these four scenarios - how would you handle them? Would you go on the press trip or turn it down?

READ THE ARTICLE


---
Upcoming Posts
November 12: Creating Killer Ledes for Your Travel Stories
November 19: Getting Paid for Your Travel Stories
November 26: Breaking Into the Regional Travel & Lifestyle Magazine Market
December 3: The Importance of Fact Checking Your Travel Articles


---
Pitch Travel Write: Most Popular Links
Earn More by Reselling, Repurposing and Repackaging Your Articles
I resell my articles in USA & around the world to make more money from each story I write. Here are links to four articles about how you can resell, repackage and repurpose your articles and earn more money for your work:
5 Ways to Sell Your Articles
Earn More by Selling Your Articles Around the World
The Art of Reselling Your Articles
Earn More the Easy Way by Repurposing Your Articles


---
Inspirational Travel Quote of the Week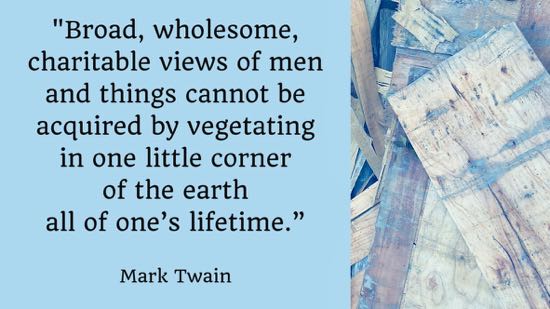 ---
Featured Book of the Month
NEW BOOK! ROCK STAR TRAVEL WRITERS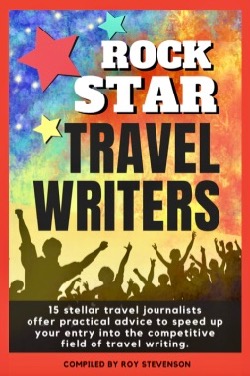 Have you ever wondered how some travel writers consistently get their stories published in the top shelf travel magazines?

In my new book, Rock Star Travel Writers, you'll learn the insider tips, tools, tactics and habits that ten leading travel journalists use to land assignments in the world's most prized travel glossies.

The unique tribe of mentors in Rock Star Travel Writers generously share their journeys and dispense invaluable techniques, insightful habits, and practical advice with you.

What qualifies these journalists to offer expert advice on the art and science of travel writing?

The proof is in their bylines. Here's a partial list of their publications: National Geographic Traveler, AFAR, BBC Travel, Lonely Planet, Condé Nast Traveler, American Express, Robb Report, Saveur, Business Jet Traveler, Forbes Travel Guide, National Geographic Adventure, Australia & New Zealand Magazine, plus in-flights like American Way, Open Skies, Hemispheres, Silkwinds and Delta Sky, and newspapers such as the New York Times, Wall Street Journal, USA Today, the Bangkok Post and South China Morning Post — to name just a few.

Reading their profiles will help answer your most challenging questions about travel writing and will give you plenty of ideas on how to achieve extraordinary results and bylines.

You'll be able to put their advice into practice and transform your travel writing career, starting immediately!

You won't find this wealth of information from a group of elite travel journalists anywhere else.

You can purchase this book for $19.95 ($5 off the regular price) when you use discount code ALRS5 at checkout.



BUY THE BOOK

DON'T FORGET TO USE DISCOUNT CODE ALRS5 AT CHECKOUT!


---
Friend me on Facebook
My Facebook page is about freelance travel writing. I frequently post about:
• travel writing & blogging conferences,
• links to other well produced travel websites and blogs,
• links to my travel articles,
• travel writing themes,
• links to reputable travel writer's groups, associations, and newsletters,
• magazine covers stories and back stories,
• links to resources pages,
• links to travel writing archives,
• links to coaching and mentoring resources,
• and plenty of other useful information to get you up to speed.



Link to Roy's Personal Facebook page
---
Please share the e-zine with friends, family or anyone you know who's interested in travel writing. They can sign up for the newsletter and get free marketing tips each week at this link:

Sign up for my weekly marketing tips

That's all for this week.

Until next week, just keep pitching!

Roy

Roy Stevenson
Pitch Travel Write
www.pitchtravelwrite.com













---