Greetings Fellow Travel Writers and Bloggers!
. . . and WELCOME to all new subscribers! Thanks for joining us.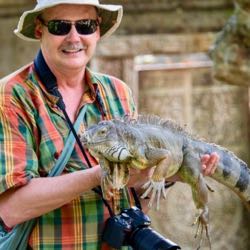 When we left Seattle in mid 2016, the average one-hour massage would cost $90 + tip. We rarely got a massage.
Fast forward to 2018 in Vietnam. Within a 5-minute walk of our apartment here in Da Nang — in a three-block radius — we can stroll into any one of 18 air-conditioned spas for a relaxing one-hour couple's massage. We pay from $8 to $17 each, depending upon the spa. And we don't have to book a week or two in advance.
A one-hour foot massage costs the same. We walk in and plunk our feet in a tub of warm water sprinkled with bits of lemon grass, lime and ginger. The massage therapist dries our tired feet, rubs a generous amount of coconut oil on our legs and feet, and then gets to work.
The 4-hands foot massage is my favorite where two therapists work simultaneously on my feet! I totally bliss out, drifting off to a place approximately mid-way between nirvana and heaven.
Life is good when we can enjoy a massage every week! If you're ever in Da Nang, let us know and we'll share our favorite neighborhood spas with you.

Editorial: 7 Elements of Top Travel Stories

Books abound on what good travel writing should look like. And if you read them, you'll notice certain recurring themes.
Here are seven vital elements that top travel writers use in their stories. They don't necessarily place ALL these elements in every piece of their work, but you'll find most of them if you take the time to look.
Assuming that your writing already has excellent punctuation, grammar, spelling, and syntax – here's what you need for a top travel story:
1. An enticing lede - and a conclusion that ties it all together or brings you back to your lede.
2. It's written in active voice.
3. It creates a sense of place. It shows, rather than tells.
4. It flows and is easy to read.
5. It's written in your own voice.
6. It's interesting and informative.
7. It's entertaining and/or exciting and uses humor when appropriate.

It's easy to list these elements, but injecting them into your stories is far more difficult. Travel writing should be considered a work in progress. Even the top writers work hard to craft their words and continue to improve their work.

---
This Week's Featured Post
Breaking Into Regional Travel & Lifestyle Magazines
It's almost a rite of passage for aspiring freelance travel writers to start their career selling their travel writing to regional magazines. Regional magazines aren't intimidating, and most states have dozens of them.

Despite their preference for local travel writers, regional magazines can be difficult to break into. I've found that persistence pays off.

It might take quite an effort and many pitches to break into regional magazines, but once you get your first story in on time, and show that you're reliable, it becomes easier to sell subsequent stories.

If you're just starting out as a travel writer, marketing to regional travel and lifestyle magazines is a good way to start building your bylines. Here's some advice about breaking into the regionals, what you can expect as a paycheck, and some useful resources for the regional markets.

READ THE ARTICLE


---
Upcoming Posts
December 3: The Importance of Fact Checking Your Travel Articles
December 10: Improve Your Writing: Six Ways to Get Useful Feedback
December 17: Twelve Query Letter Mistakes & How to Fix Them
January 7: Why Write For Free?


---
Coaching Registration Opening Soon
I can teach you how to sell your travel stories. My specialty as a marketing coach is showing my travel writers how to get their stories published in print media, and then capitalizing on these on these assignments for complimentary travel.

My clients have had tremendous success! Ninety-five percent of them have had at least one story published, and most have had multiple stories published in print media. They've also used their assignments to score complimentary travel. Often the comps were beyond their wildest dreams!

Twice a year I open registration for 5 new coaching clients. We'll be opening registration in a few days for the January intake.

If you're ready to move forward with your travel writing career, put your name on our no-obligation "Interest List". You'll be the first to hear when registration opens.

You can learn more and get on the interest list at the link below ...

SIGN UP FOR COACHING INTEREST LIST

---
Pitch Travel Write: Most Popular Links
Pitching Comes Before Writing
A classic novice travel writer's mistake is to write your story and then try to sell it.

I've written three articles about why you should never do this . . .

Five Tips for Why You Should Pitch Before You Write Your Article
Presell Your Travel Stories Before Your Trip
Travel Writing Mistakes and How to Avoid Them

---
Inspirational Travel Quote of the Week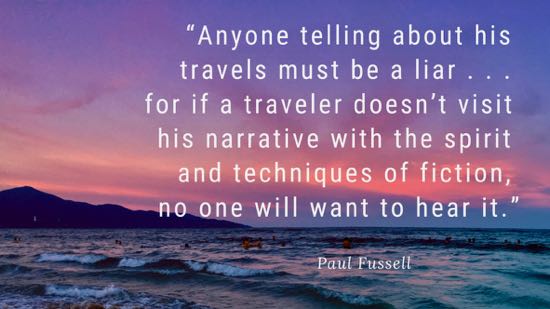 ---
Featured Bundle of the Month
NEW BOOK BUNDLE - CREATIVE PACK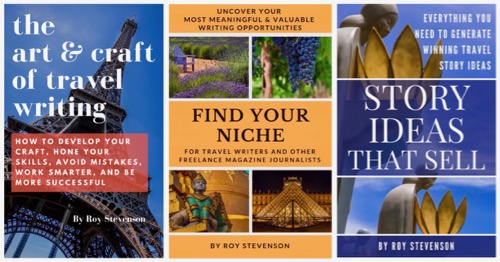 The Creative Pack includes 3 eBooks that are the starting point for every travel writer: dreaming up unique story ideas that you can sell, finding the best writing niches for you based on your interests, passions and experience, and the art & craft of travel writing.

They're the pieces of the puzzle that come before you ever write a query letter to sell your articles to magazine editors.

Story Ideas that Sell guides you along the highly creative path of inventing and discovering potential travel stories to pitch and sell to travel magazines. Conjuring up viable story ideas are the very bedrock of every successful travel writer today.

In this 76-page book I outline my winning system to generate story ideas that sell. Master this first step - and combine it with a great pitch - and you'll soon find yourself immersed in exciting experiences with fascinating people.

In Find Your Niche you'll learn why it's important to write in a variety of genres. It explores the multitude of opportunities available to travel writers and other freelance writers.

It will help you identify the niches that are most interesting and meaningful to you. And you'll learn how to hone in on the most profitable niches.

Full of tips, advice and inspiration, this 85-page book will help you find your niche!

And when it's time to write your articles, The Art & Craft of Travel Writing will guide the way, helping you develop your craft, hone your skills, work smarter and be more successful. This 170-page book is full of ideas, tips and techniques - and it's a handy resource to have by your side to make your stories sparkle.

Buy the Creative Pack and save more than 10% off the individual prices of the books!

BUY THE BUNDLE


---
Friend me on Facebook
My Facebook page is about freelance travel writing. I frequently post about:
• travel writing & blogging conferences,
• links to other well produced travel websites and blogs,
• links to my travel articles,
• travel writing themes,
• links to reputable travel writer's groups, associations, and newsletters,
• magazine covers stories and back stories,
• links to resources pages,
• links to travel writing archives,
• links to coaching and mentoring resources,
• and plenty of other useful information to get you up to speed.



Link to Roy's Personal Facebook page
---
Please share the e-zine with friends, family or anyone you know who's interested in travel writing. They can sign up for the newsletter and get free marketing tips each week at this link:

Sign up for my weekly marketing tips

That's all for this week.

Until next week, just keep pitching!

Roy

Roy Stevenson
Pitch Travel Write
www.pitchtravelwrite.com













---