Greetings Fellow Travel Writers and Bloggers!
. . . and WELCOME to all new subscribers! Thanks for joining us.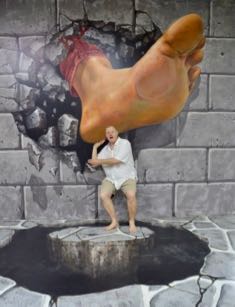 Editorial: Beware of Outdated Freelancing Advice
Freelance travel writing has evolved rapidly since I first put pen to paper in 2007.
Since then, I've seen many excellent travel writers fall by the literary wayside. They've been unable to adapt their writing and marketing techniques to the ever-changing travel writing landscape.
One of the "immutable rules" that can be a barrier to freelance travel writers are the writers' guidelines. Some experts tell us, "You must follow each editor's guidelines to a T."
If these were named "Absolute Writers Rules" then sure, we would have to follow them exactly. But, they're called "guidelines" for a reason.
Beyond my first month or two of writing, I've seldom read the writers guidelines and I haven't had any problems selling my (1,000+) stories.  In my experience, if you pitch a good story idea, the editor will get back to you and tell you exactly what he or she wants. Length, tone, style, and more take a back seat to a good story idea! Sort out those details later, after the editor shows interest in your idea.
If you're a beginner, you're probably wondering if you should study a magazine's writers' guidelines before pitching a story. My advice: scan through them when you're starting out. You'll get some idea of what each magazine expects.
But, don't spend an inordinate amount of time on this. You could spend days studying writers' guidelines if you're preparing a distribution list of 25 or more magazines. Don't get caught up in this!
You'll soon find that every magazine's writers' guidelines are different. Don't tie yourself up in knots obsessing over all the conflicting information or you'll never get to put pen to paper.
The "experts" also insist that your queries must be tailored to each individual magazine. This is poor advice. I've never bothered tailoring my queries to individual magazines - except to change the editor's name and the publication. Despite this, I've never had any problems selling my stories.
Tailoring each query beyond basic information takes far too much time. Editors never throw away a good story idea if the timing is right!
Several magazines around the globe have purchased my articles when I've used the exact same query letter. The writers I coach send out the same exact query letters to multiple magazine editors, too. They have no problems selling their stories.
Don't internalize the outdated advice about writers' guidelines and individualized queries. We can't be all things to every magazine editor. Generate new, exciting and unique story ideas - and produce well-written queries - and you'll sell your stories.

---
This Week's Featured Post
Getting Paid For Your Travel Stories
After an editor tells you he is interested in your story idea, it's time to confirm three things: your deadline, the number of words for the article, and the payment terms. 

In my early days of travel writing, there were times when I was naïve enough to think that once I submitted an article everything else would fall into place. Sometimes it did, and sometimes it didn't. Don't leave it up to chance. Always get written confirmation of these three things before you write your article.  

Here's what to do - before and after you write your travel story . . .

READ THE ARTICLE


---
Upcoming Posts
November 26: Breaking Into the Regional Travel & Lifestyle Magazine Market
December 3: The Importance of Fact Checking Your Travel Articles
December 10: Improve Your Writing: Six Ways to Get Useful Feedback
December 17: Twelve Query Letter Mistakes & How to Fix Them


---
Pitch Travel Write: Most Popular Links
Earn More by Reselling, Repurposing and Repackaging Your Articles
I resell my articles in USA & around the world to make more money from each story I write. Here are links to four articles about how you can resell, repackage and repurpose your articles and earn more money for your work:
5 Ways to Sell Your Articles
Earn More by Selling Your Articles Around the World
The Art of Reselling Your Articles
Earn More the Easy Way by Repurposing Your Articles


---
Inspirational Travel Quote of the Week
---
Featured Bundle of the Month
NEW BOOK BUNDLE - CREATIVE PACK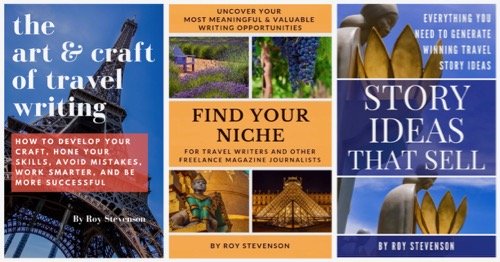 The Creative Pack includes 3 eBooks that are the starting point for every travel writer: dreaming up unique story ideas that you can sell, finding the best writing niches for you based on your interests, passions and experience, and the art & craft of travel writing.

They're the pieces of the puzzle that come before you ever write a query letter to sell your articles to magazine editors.

Story Ideas that Sell guides you along the highly creative path of inventing and discovering potential travel stories to pitch and sell to travel magazines. Conjuring up viable story ideas are the very bedrock of every successful travel writer today.

In this 76-page book I outline my winning system to generate story ideas that sell. Master this first step - and combine it with a great pitch - and you'll soon find yourself immersed in exciting experiences with fascinating people.

In Find Your Niche you'll learn why it's important to write in a variety of genres. It explores the multitude of opportunities available to travel writers and other freelance writers.

It will help you identify the niches that are most interesting and meaningful to you. And you'll learn how to hone in on the most profitable niches.

Full of tips, advice and inspiration, this 85-page book will help you find your niche!

And when it's time to write your articles, The Art & Craft of Travel Writing will guide the way, helping you develop your craft, hone your skills, work smarter and be more successful. This 170-page book is full of ideas, tips and techniques - and it's a handy resource to have by your side to make your stories sparkle.

Buy the Creative Pack and save more than 10% off the individual prices of the books!

BUY THE BUNDLE


---
Friend me on Facebook
My Facebook page is about freelance travel writing. I frequently post about:
• travel writing & blogging conferences,
• links to other well produced travel websites and blogs,
• links to my travel articles,
• travel writing themes,
• links to reputable travel writer's groups, associations, and newsletters,
• magazine covers stories and back stories,
• links to resources pages,
• links to travel writing archives,
• links to coaching and mentoring resources,
• and plenty of other useful information to get you up to speed.



Link to Roy's Personal Facebook page
---
Please share the e-zine with friends, family or anyone you know who's interested in travel writing. They can sign up for the newsletter and get free marketing tips each week at this link:

Sign up for my weekly marketing tips

That's all for this week.

Until next week, just keep pitching!

Roy

Roy Stevenson
Pitch Travel Write
www.pitchtravelwrite.com













---