Greetings Fellow Travel Writers and Bloggers!
. . . and WELCOME to all new subscribers! Thanks for joining us.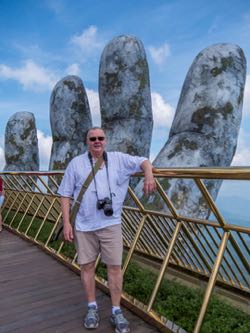 A Medieval French Village is not something you'd expect to encounter on a mountaintop in Vietnam. We've lived in Vietnam for almost 2 years and resisted visiting the Sun World Resort at Ba Na Hills. However, some friends said it was worthwhile, so last week we headed to the hills.

Only a 45-minute drive from downtown Da Nang, it takes a lengthy 5K (3-mile) cable car ride up through a series of formidable mountains to get to the resort. It's the longest cable car ride in the world!

The sparkling new cable cars moved along at a comfortable pace. We got a superb view of the surrounding mountains and Da Nang in the far distance.

We stopped at the first station to walk along a spectacular engineering feat, called The Golden Bridge. This long, curving arch is supported by two enormous stone hands - a perfect selfie scene and everyone got in on the action.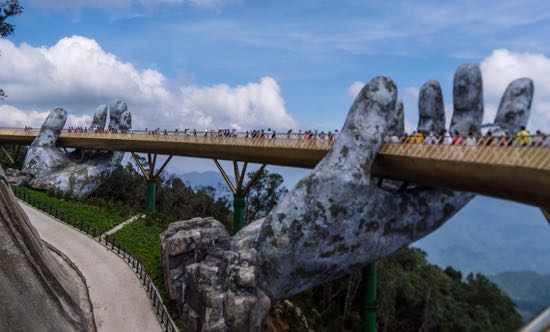 The French village, further up the mountain, has cobble stone streets, a cathedral, old wooden buildings, turrets, castle ramparts, a French garden, and a pergola. Sun World provides a realistic alternative to old world Europe in the green hills of Vietnam. Surreal!

In a 21,000 square-meter cavern beneath the village, Fantasy Park offers Jurassic Park, a Wax Museum, games arcades, a huge central cavern with stalactites and stalagmites with a Drop Tower in the center, and some themes we just couldn't quite figure out!

The Back To Jurassic was the BEST dinosaur theme park we've ever seen. The life-size dinosaurs came alive with movement and sound. Vietnam is entering the international tourism & entertainment arena with a roar! We had a blast being tourists.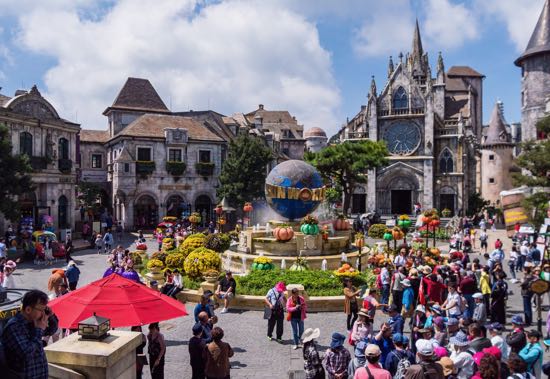 Editorial: Do You Write Tourist, Traveler, or Adventurer Stories?
It's helpful to know what travel mode your stories fit into because it determines what types of magazines you're going to pitch.
Versatile travel writers flip back and forth between tourist, traveler, and adventurer modes, if they want to sell their stories to a variety of magazines.
Tourist Writers
For travel writers, sometimes operating in tourist mode is necessary. If you're exhausted and jet lagged and just want to lounge around an upscale resort all day, or spend the day taking a hop-on-hop-off bus tour, you're a "tourist writer".
Tourist writers are content to relax in spas, or sit back on guided tours and take in the sights. I've written many of these go-with-the-flow tourist travel stories gleaned from luxury resorts, lodges, and spas, or guided tours, and they've sold. Typical tourist stories are roundup articles or Top Ten "listicles", and they're often published on travel blogs and luxury travel websites.
Travelers
If you're fit and love exploring & immersing yourself in the local food and culture, then you're more of a "traveler writer". Travelers seek out new experiences at every opportunity. These articles go beyond describing the tourist attractions at a given destination.
I've written plenty of articles from this perspective, and they've also sold well. These travel stories are published in print regional and national travel and lifestyle magazines, and top shelf glossies and inflights.
Adventurers
And then there are the "adventure writers". They're the Indiana Jones types that seek out rough, rugged and inhospitable places and undergo all sorts of hardships to get there.
I have plenty of adventure writing friends, including an Australian couple I met in Singapore. They've been kidnapped by rebels at gunpoint and witnessed an authentic witch doctor's ritual. They've slept in the no-man's land between the borders of two third world countries on the median strip of a road. They've endured long days of kayaking up rivers in blazing heat and hiked through steamy jungles fending off slithering snakes, through all sorts of forbidding terrain—and enjoyed every minute of it.
At the extreme edge of travel writing, they think, "Who needs air conditioning and luxury spas? I'd rather sleep on the bamboo floor of a Borneo longhouse, or in a stretcher hanging over the side of the Eiger in sub-zero temperatures." Adventurer's stories make exciting telling. You'll find their stories in magazines like Outside, Men's Adventure, Alpinist, Backcountry, Outdoor Life, Maxim, Go, Backpacker, and many others.
But, the truth is, if we want to see our stories published in a variety of magazines, and get paid for them, we must swing back and forth between these three modes.

---
Soon to be released ...
In a few days we'll release 2 new books and our Creative Pack (bundle of 3 books, including the 2 new ones):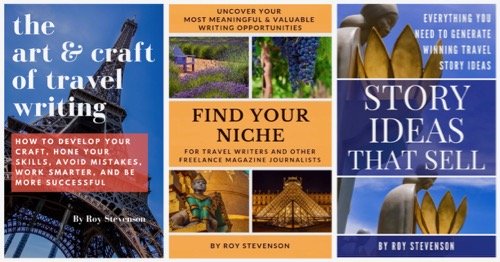 In Find Your Niche you'll learn why it's important to write in a variety of genres. It explores the multitude of opportunities available to travel writers and other freelance writers.

It will help you identify the niches that are most interesting and meaningful to you. And you'll learn how to hone in on the most profitable niches to sell your stories.

Full of tips, advice and inspiration, this 85-page book will help you find your niche!

Story Ideas that Sell guides you along the highly creative path of inventing and discovering potential travel stories to pitch and sell to travel magazines. Conjuring up viable story ideas are the very bedrock of every successful travel writer today.
In this 76-page book I outline my winning system for generating story ideas that sell. Master this first step - and combine it with a great pitch - and you'll soon find yourself selling your stories and immersing yourself in exciting experiences with fascinating people.

You'll be able to buy them individually or in a bundle, our Creative Pack which also includes The Art & Craft of Travel Writing, a 150-page book that will help you hone your travel writing craft, make your writing sparkle and work smarter.

We'll send out a special email later this week with discount codes for subscribers. Watch your email - our launch discount will only last a few days!
---
This Week's Featured Post
Writing Exceptional Ledes
Do you want to grab your reader's attention immediately? Most of us do. To accomplish this, your opening sentence needs to be captivating.

In the writing trade your opening sentence is called a "lede". It's one of the most crucial and underutilized travel writing techniques. But it can make such a difference to the quality of your piece!

If you want to engage your readers right from the start, the lede is your single most important tool. Also known as a "hook" (and sometimes spelled "lead") it activates your audience to keep reading and to see where you're going with your story.

You can use many different types of ledes in travel writing. And all of them will command your readers' attention if done well.

Here are 12 of my favorites, placed in ascending order of difficulty.

READ THE ARTICLE


---
Upcoming Posts
November 19: Getting Paid for Your Travel Stories
November 26: Breaking Into the Regional Travel & Lifestyle Magazine Market
December 3: The Importance of Fact Checking Your Travel Articles
December 10: Improve Your Writing: Six Ways to Get Useful Feedback


---
Pitch Travel Write: Most Popular Links
Earn More by Reselling, Repurposing and Repackaging Your Articles
I resell my articles in USA & around the world to make more money from each story I write. Here are links to four articles about how you can resell, repackage and repurpose your articles and earn more money for your work:
5 Ways to Sell Your Articles
Earn More by Selling Your Articles Around the World
The Art of Reselling Your Articles
Earn More the Easy Way by Repurposing Your Articles


---
Inspirational Travel Quote of the Week
---
Featured Book of the Month
NEW BOOK! ROCK STAR TRAVEL WRITERS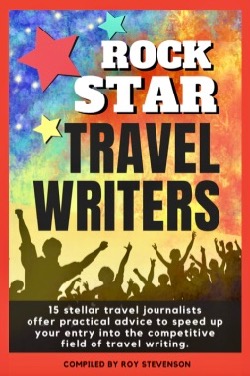 Have you ever wondered how some travel writers consistently get their stories published in the top shelf travel magazines?

In my new book, Rock Star Travel Writers, you'll learn the insider tips, tools, tactics and habits that ten leading travel journalists use to land assignments in the world's most prized travel glossies.

The unique tribe of mentors in Rock Star Travel Writers generously share their journeys and dispense invaluable techniques, insightful habits, and practical advice with you.

What qualifies these journalists to offer expert advice on the art and science of travel writing?

The proof is in their bylines. Here's a partial list of their publications: National Geographic Traveler, AFAR, BBC Travel, Lonely Planet, Condé Nast Traveler, American Express, Robb Report, Saveur, Business Jet Traveler, Forbes Travel Guide, National Geographic Adventure, Australia & New Zealand Magazine, plus in-flights like American Way, Open Skies, Hemispheres, Silkwinds and Delta Sky, and newspapers such as the New York Times, Wall Street Journal, USA Today, the Bangkok Post and South China Morning Post — to name just a few.

Reading their profiles will help answer your most challenging questions about travel writing and will give you plenty of ideas on how to achieve extraordinary results and bylines.

You'll be able to put their advice into practice and transform your travel writing career, starting immediately!

You won't find this wealth of information from a group of elite travel journalists anywhere else.

You can purchase this book for $19.95 ($5 off the regular price) when you use discount code ALRS5 at checkout.



BUY THE BOOK

DON'T FORGET TO USE DISCOUNT CODE ALRS5 AT CHECKOUT!


---
Friend me on Facebook
My Facebook page is about freelance travel writing. I frequently post about:
• travel writing & blogging conferences,
• links to other well produced travel websites and blogs,
• links to my travel articles,
• travel writing themes,
• links to reputable travel writer's groups, associations, and newsletters,
• magazine covers stories and back stories,
• links to resources pages,
• links to travel writing archives,
• links to coaching and mentoring resources,
• and plenty of other useful information to get you up to speed.



Link to Roy's Personal Facebook page
---
Please share the e-zine with friends, family or anyone you know who's interested in travel writing. They can sign up for the newsletter and get free marketing tips each week at this link:

Sign up for my weekly marketing tips

That's all for this week.

Until next week, just keep pitching!

Roy

Roy Stevenson
Pitch Travel Write
www.pitchtravelwrite.com













---