Greetings Writers!
Last week I attended a fun event at Seattle's plush Four Seasons Hotel along with 150 other travel writers and travel agents. We were treated to a series of lively theater "acts" about the emerald island's heritage, culture and cuisine, hosted by Tourism Ireland.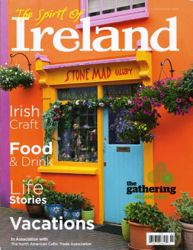 We learned about high-end luxury properties, including several castles. They highlighted activities offered by tour companies like fine dining, whiskey tasting, the Guinness Brewery tour, salmon fishing, lake cruises, upscale city tours, and luxury train tours.

I hope to be participating in some of these activities next summer on a press trip to Ireland.

We were entertained with an Irish jig and Celtic music while we feasted at the buffet. And just when I thought our delicious meal of corned beef, cabbage, and boiled potatoes couldn't be more authentically Irish, they plopped down an enormous pot of Irish stew! Faith and begorrah!

It was a fun evening. Being a well-published travel writer has its perks! If you're wondering how to get invited to these kinds of promotional events that often lead to press trips, you can learn how to do it in my 75-page book How to Land Press Trips and Fam Tours.

---

While we're on the subject of big events with lots of food - I want to wish all our U.S. subscribers a Happy Thanksgiving on November 27th. Whether you're getting together with friends and family, or just taking yourself out for a nice meal - I hope you have a wonderful holiday.

---

In this issue:

One of the ways to become well-published is to make sure you're submitting high-quality articles to editors. It doesn't matter whether you're writing for print or online - when you sign your name to an article you want it to look it's best.

This week's article highlights seven ways to polish your article and make it sparkle:


---
Seven Ways to Improve Your Writing Style

When I look back at stories I wrote in my first couple years as a freelancer, I sometimes cringe at some of my writing style mistakes. Maybe it's just an awkward paragraph that stands out. Or the story just doesn't flow. Maybe the sentences are too long, or the words could be stronger.

Have you had the same experience? When you look back, it's amazing how the mistakes are so glaringly obvious.

If you want to grow into higher paying and more prestigious publications, the one thing you must do is continuously improve your writing.

If you keep writing frequently and getting published, you learn a lot over time. But letting your writing style improve naturally takes a long time.

What if you don't want to wait?

Are there specific things you can do NOW to jumpstart your progress and make every story sparkle? Even if you're a beginner, there are plenty of things you can do. And they don't need to be difficult or take a lot of time to learn.

Try these seven ways to polish your articles, improve your writing style, and make your readers - and editors - keep coming back for more:

Continue reading the article ....
---

Please share this e-zine with friends, family or anyone who may be interested in travel writing and can benefit from some free marketing and travel writing information.

That's all for now.

Until next time, you keep pitching....

Roy

Roy Stevenson
Pitch Travel Write
www.pitchtravelwrite.com


Please note: Some products mentioned in this e-zine may result in my receiving a small referral fee if you decide to purchase the product. I only recommend products and services that I believe are high quality and can help you be more successful as a freelance writer. Please let me know if you have any questions.
---