Greetings Fellow Travel Writers and Bloggers!
We just got back from a 3-day press trip in the Tri-Cities, riding the beautifully restored "Fruit of the Vine" wine trolley, tasting Washington's regional wines, and enjoying delicious meals along the way.
Great fun and sunny weather. (Now it's time to get back to work.)
I want to invite those of you writing travel blogs or websites to join us at the upcoming Complete Travel Writer's Marketing Workshop.
As a blog or website author, you could be sitting on a gold mine!
Many bloggers don't make any money from their blog, but would like to earn some income from their writing. Repackaging your best stories for print publications is one way to do this. I will show you how at my workshop in February.
To see your travel stories in print — and get paid for them — requires pitching your story idea to magazine editors, and then having the story accepted for publication. This is no mean feat, as any beginning travel writer can tell you. The competition to get articles published in print magazines is fierce.
But travel bloggers have a huge advantage: they already have the raw material to sell.
Travel bloggers just need to know how to transform their blog posts into articles for print media, and to write enticing query letters to sell them.
The Complete Travel Writer's Marketing Workshop is for travel writers and bloggers who've made the resolution to sell their travel stories and make 2016 their breakthrough year.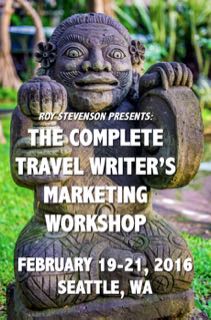 If you want to leap past all the beginner writer's mistakes with query letters, editors, and the myriad other hurdles that crop up in freelance travel writing, this workshop is for you.
And, if you want to convert your assignments into travel perks - this workshop will show you how. We'll be spending almost one full day on wrangling comps. Follow my advice and you will save hundreds or thousands of dollars on travel.
Please join us in February at The Complete Travel Writer's Marketing Workshop in Seattle.
The early bird special is on for a few more days!
You can save $300 off the regular workshop price if you register by November 30.

Learn more about the workshop ...

---
Featured Article:
Found a New Magazine? How to Pitch the Editor and Get Published
Even today, after 9 years of full time travel writing, I still get excited when I discover a new magazine on the rack at my local bookstore!

While new magazines have never been a major source of outlets and assignments for me, I've managed to snag enough assignments from them to make it worthwhile—I'm still writing for a couple of magazines that I 'cold called' just after they started up.

According to Samir Husni's Guide to New Magazines, about 700 to 1000 new magazines are launched each year in the U.S. 

And several hundred more start up each year in the other major English-speaking countries around the world: Canada, the United Kingdom, Australia, New Zealand, and South Africa. 

Many of these foreign magazines want to break into the U.S. market, and I've found many of them receptive to American writers—provided, of course, that you have juicy stories to pitch to them. 

Getting published in startup magazines is a good bet for beginning and experienced freelancers alike. 

Here's why . . .

New magazines don't have many articles in the bank. They haven't had much chance to network with travel writers and are often scrambling around for good copy.

For novice writers, brand new magazines that have just hit the market are worth pursuing because the editor doesn't yet have an established network of writers.  As a result, these editors are more likely to accept stories from less experienced writers—making it easier for newbies to break in.

For seasoned writers, new magazines are easy targets because the editors are thrilled they're getting a veteran writer right off the bat. They know they can count on good, solid stories that need little or no editing. When new magazines list experienced travel writers on their magazine masthead, it shows the readers they're getting stories from pros.

Continue reading the article ...

---
Featured Blogger:
Stella Bouldin - Where My Heart Travels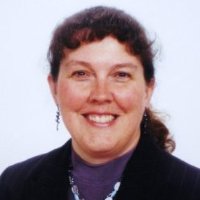 Stella Bouldin is a writer and photographer, and has been blogging for 5 years. But her blog, Where My Heart Travels, is young - launched only a few months ago in the summer of 2015.

Stella is a solo traveler, and she shares her experiences and encourages others to get out and experience the world. She includes her dogs in her travels as much as possible.

According to some of the most recent posts on her blog, she's secured a teaching contract and is heading for Mexico in a few weeks. She's decluttering, selling furniture, donating books and is busy doing everything needed to move to another country.

She'll be teaching English when she gets to Mexico, and if she likes it - she may just continue teaching and traveling around the world. Living in another country - and working there - should give her plenty to blog about!

Continue reading about Stella and other travel bloggers ...
---

Please share this e-zine with friends, family or anyone who may be interested in travel writing and can benefit from some free marketing and travel writing information.


They can sign up for this e-zine at this link.
---

'Friend' Me!
If you haven't already done so, please 'Friend' me (Roy Stevenson Freelance Writer) on Facebook. My posts are generally travel writing-related and I try to keep it fun.

My Saturday morning 'Where's Roy' Facebook post has been particularly popular! I post a travel photo—usually with me in it—and you have to guess where the heck I am. A few friends and subscribers have proved particularly adept at this.

That's all for now.

Until next time, you keep pitching....

Roy

Roy Stevenson
Pitch Travel Write
www.pitchtravelwrite.com


Please note: Some products mentioned in this e-zine may result in my receiving a small referral fee if you decide to purchase the product. I only recommend products and services that I believe are high quality and can help you be more successful as a freelance writer. Please let me know if you have any questions.
---