Greetings Fellow Travel Writers and Bloggers!
---
… and welcome all new subscribers!

After a fun week exploring Yangon, Myanmar, we're back at home in Chiang Mai, Thailand.

Before I introduce this week's featured post, I just have to tell you about one of our most spectacular sightseeing days in Yangon.

This day rates among my all-time most memorable travel moments. Here's what we saw . . .

We started our day strolling around the huge golden bell-shaped stupa at Maha Wizaya Pagoda. Inside the rotunda's domed ceiling, a series of crocodiles, dogs, and some strange astrological signs looked down on us. But by far the most notable aspect of this pagoda's peaceful, dimly lit interior was a jungle of sculpted green trees lining the dome walls, interspersed with painted scenes depicting the Buddha's life.



After this great start to our day I wondered if we'd see anything else that could cap this jungle dome. Sure enough—our next stop—the Kyauk Htat Gyi Pagoda was a show stopper!

This Pagoda definitely belongs in the "Now there's something you don't see every day" category. Walking into this vast hangar made of red corrugated iron and steel girders, we were stopped in our tracks by a 230-ft-long golden reclining Buddha. Yes, you read that right—this Buddha is 70 meters long!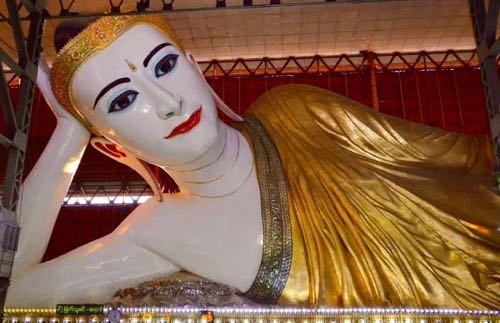 And the Buddha's feet size (each about 30 feet long) by far exceeds any of Nike's basketball shoe sizes. Divided into 108 squares, the Buddha's feet are painted with auspicious Burmese symbols. Built in 1966 from donations by a wealthy businessman, this massive golden Buddha is living proof of Myanmar's devout spiritual beliefs.

But there was more to come. Our guide politely asked if we'd like to see the Tazaingdaing Weaving Competition at the Shwedagon Pagoda?

By now it was dark and we were tired and hungry and thirsty—and the idea of watching a weaving festival has never been high on my list of favorite activities. And we had already seen this pagoda the previous day - but we went anyway …

A half hour later we found ourselves at the renowned Shwedagon Pagoda among a teeming throng of excited people, watching 54 young Burmese women hammering away at their looms at a fevered pace.

This weaving competition is practically a full-on Olympic event. Each team has a weaver, a spare, and a mechanic. Truly a surreal sight, these young women weave yellow monk robes all night, until the sun rises.

The next day the newly minted robes (called matho thingyan, meaning "fresh") are presented to monks in a ceremony, who then adorn the pagoda statues with them.

To witness this festival, tens of thousands of people bus in from the countryside and stay the night at the pagoda. They sleep on thin mats on the pagoda grounds, bringing their food with them.

That night, our guide teased us that we were only staying in a 5-star hotel. All these people were staying at a "million-star" hotel. To add to the wonderment, this extraordinary sight took place under the bright light of the Supermoon—the largest full moon for seven decades.

Our "pagoda day" was truly memorable, reminding me that as travel writers we should always be open to seeing new sights and festivals when we're on the road. We should not hesitate to visit these undiscovered gems as they occur. A lesson well re-learned.


---
Inspirational Quote of the Week
"Once the travel bug bites, there is no known antidote, and I know that I shall be happily infected until the end of my life."
- Michael Palin, Actor, Comedian, Travel Writer

---
Featured Post: Can Social Media Help You Get Published?
Since I'm always looking for innovative ways to sell my travel articles, some time ago I decided to do an experiment to find out if social media would help me get some stories published.



I already had LinkedIn and Facebook accounts, so I tried them first.  I started posting regularly on Facebook, and beefed up my LinkedIn account with details about my writing career. And then I sat back and waited for the assignments to roll in, hoping for a tsunami of editors emailing me to write for them. 

Here's what happened and what I learned about travel writers, editors and social media …

Read the article ... Can Social Media Help Travel Writers Get Published?

---
Resources for Travel Writers
The Complete Guide to Query Letters for Travel Writers
100 Print Magazines that Want to Publish Your Travel Articles
50 Websites that Want to Publish Your Travel Stories
How to Land Press Trips and Fam Tours
How to Break Into the Luxury Travel Writing Market
The Complete Guide to Marketing & Selling Your Travel Articles
Coaching - The Complete Coaching Package for Travel Writers

Testimonial for my coaching services:

"When Roy's "personal coaching" came up, I couldn't sign up fast enough. Roy really knows how the game is played and it makes all the difference. So far I have learned how to properly prepare query letters and distribution lists, how to deal with editors, and how to work with the tourism and convention and visitors bureaus.

Avoiding little mistakes and responding to editors and others properly can be critical so having the luxury of a prolific industry expert like Roy to answer the numerous questions that come up has been invaluable for me. The service is prompt and the price is extremely fair.

The results of Roy's coaching over the last 2 months have been amazing! I have managed to secure assignments with 6 magazines including Discover Britain, Renaissance, NW Travel, Kindred Spirit, and several online publications. Not only are most of these paid gigs, I have already parlayed them into free accommodations, free meals, and free tours & attractions, just as advertised. It's real and it's awesome!

I highly recommend Roy's marketing assistance and personal coaching service to anyone looking for a fast track to breaking into writing magazine articles."


- Jed Vaughn, Travel Writer
---
Facebook invitation ...
You are invited to join me on Facebook:

If you're interested in my travel writing advice and in reading short snippets about my new lifestyle in S.E. Asia, please feel free to "Friend" me at my Facebook site.

My posts feature unusual and fun things about our new lifestyle here in Thailand, and I also throw in tips and advice about breaking into travel writing—plus a few stories about my published travel articles. Some of my posts are even funny! Facebook link to Roy's account

---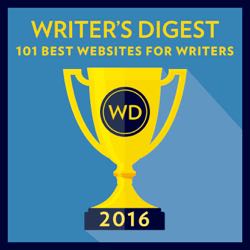 ---
Please share this e-zine with friends, family or anyone you know who is interested in travel writing. They can get free marketing and travel writing information by signing up for my e-zine at this link:

Sign up for my weekly e-zine ...

That's all for this week.

Until next week, you keep pitching.

Roy

Roy Stevenson
Pitch Travel Write
www.pitchtravelwrite.com

---