Greetings Writers!
Last night we had dinner with a group of friends who were telling us about their travel plans for the holidays. One couple was planning to hang out on a beach in Mexico, another plans to drive around New Zealand in a camper van. Although these trips sound like fun, it reminded me of how differently I travel as a writer.
Now and then we score a travel article about one of our favorite topics, in a prestigious magazine that pays well, and that results in a cool press trip. When travel writers get all of these boxes checked in one fell swoop, it makes it all worthwhile.
And when your travel writing stars align … make the most of it!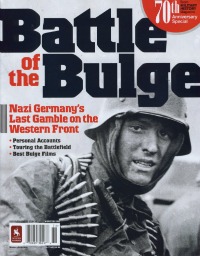 I've had a recent experience like this with my article in Military History Magazine's "Battle of the Bulge" special issue.
It started when the editor of this magazine asked if I would be interested in writing a guidebook piece about the WWII sites in and around the small Belgian town of Bastogne, in the Ardennes Mountains. It's a famous town, where the U.S. 101st Airborne Division heroically held out against an invading German army for a week in December 1944.
Having lived in Belgium for 2.5 years, I already knew a lot of what I would be writing about. I'd even led tours of the World War II sites in Bastogne.
But things change and I needed up-to-date information and photos. I contacted the Belgian National Tourist office who flew me to Belgium for a week, arranged accommodation, meals, and VIP entry into the tourist attractions, and hired a tour company to shuttle me and two other writers around the region.
Our little group of military history aficionados had a blast! The tour included a crash course in Belgian culture, sampling beers at Belgian breweries and savoring Belgian cuisine, while totally immersing ourselves in my favorite topic, military history.
The special "Battle of the Bulge" issue has just been published and is in most major bookstores right now.
As my writing career has progressed, these sorts of press trip assignments have become more frequent. I hope you get plenty of the same VIP treatment as your travel writing career unfolds.
——

Today's post is about social media and travel writing. More specifically, it's about how you might use Twitter.
Up until now, I resided firmly in the group of people who believed Twitter was a waste of time.  I just didn't get it.
After all, what can you say in 140 characters?  And, who really wants to know what I ate for breakfast?
As it turns out, plenty of people want to know what I ate for breakfast - and they want to see images of my food - especially if I'm eating a gourmet breakfast on a luxury cruise ship, or at an historic B&B, in a trendy restaurant, or plenty of other places.
One of our readers, Jan Ross, told me that she has been quite successful using Twitter for her travel writing. In this issue she tells us what she does and the benefits that come her way as a result.


---
Twitter and Travel Writing

Using social media is becoming important for anyone doing business - no matter what kind of business you work in. It's important for travel writers, too.

A previous post discussed whether or not social media could help travel writers get assignments. I talked about how it's rare to receive writing assignments through social media. Editors still prefer the traditional query letter approach.

After that post one of our readers, Jan Ross, emailed me and agreed she hadn't received any direct assignments through social media. But she mentioned she's had plenty of success with social media in other ways, particularly using Twitter.

Intrigued, I asked if I could interview her about how she uses social media and how it helps her as a travel writer.

Jan agreed to the interview, graciously shared her strategies and opened my eyes to a multitude of possibilities. She's already got a head start on the rest of us who are still scratching our heads, wondering what it's all about.
Jan Ross is editor of the popular travel blog, Wanderlust Wonder. She and her husband Tom travel about six months each year, mainly around the U.S. They've been doing this for the past 6 years with many years of part time travel before that. Jan's travel stories have been published in a variety of print magazines, websites and on her blog.

Here's our interview. I think you'll be fascinated by what she has to say.

Continue reading the article ....
---

Please share this e-zine with friends, family or anyone who may be interested in travel writing and can benefit from some free marketing and travel writing information.

That's all for now.

Until next time, you keep pitching....

Roy

Roy Stevenson
Pitch Travel Write
www.pitchtravelwrite.com


Please note: Some products mentioned in this e-zine may result in my receiving a small referral fee if you decide to purchase the product. I only recommend products and services that I believe are high quality and can help you be more successful as a freelance writer. Please let me know if you have any questions.
---