Greetings Fellow Travel Writers and Bloggers!
The cooler weather is keeping us indoors more every day. On the brighter side, it's a good time to get some articles written and to think about goals for next year.
If your travel writing goals for 2016 include getting your stories published, and you're not having the success you want, consider signing up for my Complete Travel Writer's Marketing Workshop next February.
Registrations are already coming in and we're getting excited!
This is the only travel writing workshop dedicated to showing you how to successfully sell your travel stories to print media, and how to use your assignments to request comps. That's our focus.
It's for writers who really want to be successful.
• If you want to know exactly how to go about converting your assignments into exciting travel perks, saving hundreds or thousands of dollars in the process - this workshop is for you. This can be very confusing for beginners, so we'll spend almost one full day on wrangling comps. You will learn how to leverage your assignments, and you will leave with all the information and a handful of sample request letters to reference later.
• Included in your registration is a one-on-one follow-up, coaching session with me. This means you'll still be tapping into my expertise after the workshop is over.
There isn't another travel writer's marketing workshop like this anywhere else. Reserve your spot by registering today.
Please note - workshop size is limited to 25 people. If you enjoy learning in a small, supportive atmosphere, this workshop is for you.
Register today and save $300 off the regular workshop price!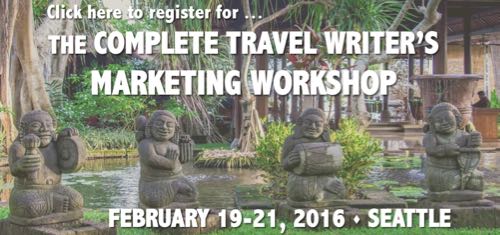 Learn more about the workshop ...
---

A lot of new travel writer's think that the main place to sell a travel article is to the top shelf glossies, like Islands or Travel & Leisure.

I always encourage travel writers to pitch their story ideas to these magazines, but the competition is fierce! And, you're not likely to land many assignments if you limit yourself to pure travel magazines like these.

This week's featured article is all about where travel writers can get published - and 16 places to look for sales leads.

I hope it opens your eyes to the multitude of opportunities out there for pitching your story ideas and expanding your list of outlets.

Enjoy!

---
Featured Article:
Where Travel Writers Can Get Published:
16 Places to Look for Sales Leads
If you look at the most successful travel writers, you'll see that one major factor behind their success is that their stories are published in many different magazines and a variety of other media.

Travel writers who make the mistake of establishing relationships with only a few "regular" magazines and then cease to look for new markets get into trouble. 

Of course, it's far easier to sit comfortably on a few of your regular magazines and write for them. You don't have to go hunting for new outlets or breaking in new editors.

But, what happens when one of your 'regular' magazines shuts down? You panic - because a steady source of revenue has suddenly vanished.

Unfortunately, magazines come and magazines go with alarming regularity. Or, your favorite editor leaves and is replaced by someone who insists that you start from scratch. This can leave you high and dry, scrambling for new outlets to replace that income. It's happened to me a few times.

The only way around this is to continuously expand your writing outlets. Even when you've established a steady rapport with several magazines and media, get out there and find more outlets. The more the better!

Entire books are written that list potential markets for your articles. As a travel writer you need to use a variety of books as resources and build your own lists of sales leads, based on the genres and types of articles you write.

And even though some magazines fold each year, there are also many new magazines that come on the market. It's important to be aware of all the possibilities so you have a variety of outlets to place your articles.

Here are 16 places where you can try and place your work, starting at the top of the pile:


Continue reading the article ...

---

Please share this e-zine with friends, family or anyone who may be interested in travel writing and can benefit from some free marketing and travel writing information.


They can sign up for this e-zine at this link.
---

'Friend' Me!
If you haven't already done so, please 'Friend' me (Roy Stevenson Freelance Writer) on Facebook. My posts are generally travel writing-related and I try to keep it fun.

My Saturday morning 'Where's Roy' Facebook post has been particularly popular! I post a travel photo—usually with me in it—and you have to guess where the heck I am. A few friends and subscribers have proved particularly adept at this.

That's all for now.

Until next time, you keep pitching....

Roy

Roy Stevenson
Pitch Travel Write
www.pitchtravelwrite.com


Please note: Some products mentioned in this e-zine may result in my receiving a small referral fee if you decide to purchase the product. I only recommend products and services that I believe are high quality and can help you be more successful as a freelance writer. Please let me know if you have any questions.
---