Greetings Writers!
Welcome to new subscribers of my weekly PitchTravelWrite.com e-zine. This valuable newsletter is full of useful tips to sell and improve your travel stories - tips you can implement immediately.
---
It's been a busy week, trying to get a lot of things done before the holiday season begins. It's hard to believe Thanksgiving is only a couple weeks away.
The first item that we've been hard at work on is the update/revision of my book Selling and Marketing Your Articles to Magazines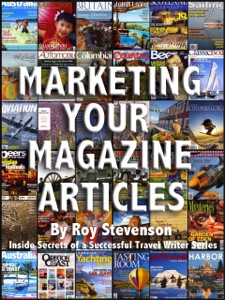 As a writer, you know that if you can't sell your articles, you'll never be published. You'll see these words in my posts repeatedly.
Selling and marketing articles to magazine editors is where the vast majority of freelance writers struggle. It's probably where you have the most difficulty, too, because most travel writers fear sales and marketing as much as the Ebola virus.
Those of you who've been following me for some time know that I'm a fanatic (and an expert) on figuring out how to sell articles to magazine editors. That's my thing.
I'm always exploring, inventing, and experimenting with ways to market articles to magazines. I'm lucky to have an innate sense of jungle cunning and street smarts in this department.
I sell 90% of the travel articles I pitch, somewhere around the world. And, I've sold more than 900 articles to 190 magazines of all sorts, in print and online, over the last 8 years.
Most freelance travel writers writing for that same amount of time would consider themselves lucky to have sold twenty-five percent as many articles. Clearly I'm doing something right.
I enjoy showing other writers how easy it is to sell their stories and that's what I share in this e-zine and on www.PitchTravelWrite.com.
My marketing system gets extraordinary results.
What if there was a place where you could learn every one of the marketing techniques, tricks, and secrets that I use?
What would it be worth to absorb all of my freelance writing, querying, selling, and marketing knowledge and experience?
My updated book, Selling and Marketing Your Magazine Articles is that definitive source. We're hard at work making revisions and adding more content to make it even more valuable.
Watch for further announcements as we get closer to launching this book.
A note to those of you who already own a previous version of this book: You will receive a free upgrade when the revised book launches, so be watching this space so that you'll know when to expect your free upgrade link.
---
I mentioned back in September that I presented a talk about "Breaking into Travel Writing" at the Edmond's Write on the Sound writer's conference. One woman who attended my presentation, Claire Luana, wrote up a lengthy summary of my presentation.
Several of you asked for more information about my presentation at the conference. If you're interested in reading a description of the presentation, here's a link to Claire's blog ...

---

Most of the time on PitchTravelWrite I talk about things that work well in travel writing - marketing techniques that help you sell more stories, ways to beef up your travel stories, and so on.
Occasionally I'll talk about some things that don't work - or about what not to do in travel writing. In this issue, I talk about writing for newspapers.
Major newspapers in the U.S. have been through a lot of changes lately. This post will give you plenty of insight and will save you many hours of time if you're thinking about breaking into this medium.
Be sure and read the article through to the end, because although the first part of the article is kind of a downer, there is light at the end of the tunnel - and at the end of the article.



---
Where to Find Travel Writing Opportunities in Newspapers

Having newspaper bylines is considered a rite of passage for travel writing. Most travel writers like to boast about their newspaper clips on press trips, because newspaper clips can be almost as prestigious as in-flights.
I have five newspaper bylines to my name, and I'm proud of them. They include the Sunday Oregonian, the New Zealand Sunday News, and the South China Morning Post. These clips were all racked up in my first three years of freelance writing, from 2007-2009.

During my third year of freelance writing, I systematically and relentlessly bombarded newspapers with travel story ideas. I wanted to see if I could make a nice sideline income from newspapers. Every month I would query the top two newspapers in most of the 50 states, plus a few overseas ones. It would take me a day to complete this onerous task, but I hoped it might pay off.

Here's what happened:
Continue reading the article ....
---

Please share this e-zine with friends, family or anyone who may be interested in travel writing and can benefit from some free marketing and travel writing information.

That's all for now.

Until next time, you keep pitching....

Roy

Roy Stevenson
Pitch Travel Write
www.pitchtravelwrite.com


Please note: Some products mentioned in this e-zine may result in my receiving a small referral fee if you decide to purchase the product. I only recommend products and services that I believe are high quality and can help you be more successful as a freelance writer. Please let me know if you have any questions.
---