Greetings Fellow Travel Writers and Bloggers!
The leaves are still falling from the trees, and winter is slowly and steadily moving in.
If you're spending more time indoors - it's a good time to start planning for next year, before the holidays rush in and take over your life.
Last week I announced my Complete Travel Writer's Marketing Workshop, and registrations are coming in. If you're thinking about attending this workshop, here are a few things to consider:
• This isn't a workshop for dreamers - it's for people who want to get out there and do it. It's for writers who are dedicated to selling their travel stories in 2016. I intentionally scheduled it early in the year so you could use it to plan out your story ideas, get assignments and line up some perks for your 2016 travels - and really see how far you can go.
• If you're looking for a workshop where you will get ALL your questions answered - from pitching and selling your travel articles to requesting comps, this workshop is for you.
• If you want to leap past all the beginner writer's mistakes with query letters, editors, and the myriad other hurdles that crop up in freelance travel writing, this workshop is for you.
• If you want to know exactly how to go about converting your assignments into exciting travel perks, saving hundreds or thousands of dollars in the process - this workshop is for you. (We'll be spending almost one full day on wrangling comps, so you will learn how to leverage your assignments, including leaving with a handful of sample request letters.)
• Included in your registration is a one-on-one, complete coaching session with me. This means you can still tap into my expertise after the workshop is over.
This is not your everyday, run-of-the-mill travel-writing workshop that focuses on the craft of travel writing. Those travel writing workshops overlook one huge detail: if you can't sell your articles, you don't get to write them!
This is the only travel writing workshop dedicated to showing you how to successfully sell your travel stories to print media, and how to use your assignments to request comps. That's our focus. It's for writers who really want to be successful.
There isn't another travel writer's marketing workshop like this anywhere else. Reserve your spot by registering today.
Please note - workshop size is limited to 25 people. If you enjoy learning in a small, supportive atmosphere, this workshop is for you.
Register today and save $300 off the regular workshop price!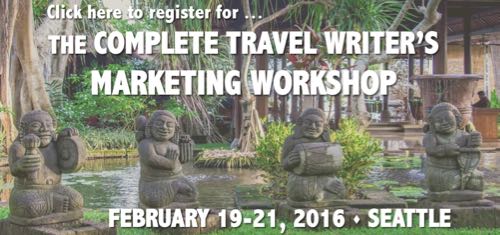 Learn more about the workshop ...
---
Featured Article:
Questions from Travel Writers
I'm always fielding questions from travel writers, and periodically I update our Q&A page with answers to their questions so that everyone can benefit.

Here are the latest questions - follow the link to read my answers.

Q: Four weeks ago I pitched my story to a magazine that I thought would be a perfect fit and because the magazine pays well. It's a popular, high circulation glossy and I really want to see my story in this magazine. I have not heard back from the editor. How long should I wait to hear back from the editor? Should I send her another email?

Q: I have worked with several magazine and newspaper editors in the past, but some of the magazines have folded, some of the editors have changed, and some of the magazines have changed their editorial thrust. It used to be so easy to sell my stories to these editors. What should I do? Should I keep pitching them?

Q: How long should my query letter be? I have plenty of interesting information to put in the query letter, but think it might make it too long.

Read the answers to these questions and more ...

---
Featured Blogger: Mike Hopkins
Mike Hopkins is a travel blogger with a different twist - he housesits his way around the world. His blog, Travel Thru My Eyes is a way for him to share his stories while he housesits in different places.

For the past four years he's been sharing his experiences of 'living like a local'. His posts are likely to include tourist activities as well as local events and everyday life in a new place.

He's happy to care for the garden and the family pets while he's there - often the pets are the main topics in a post.

Read more about Mike's blog, and his advice to aspiring bloggers ...


---

Please share this e-zine with friends, family or anyone who may be interested in travel writing and can benefit from some free marketing and travel writing information.


They can sign up for this e-zine at this link.
---

'Friend' Me!
If you haven't already done so, please 'Friend' me (Roy Stevenson Freelance Writer) on Facebook. My posts are generally travel writing-related and I try to keep it fun.

My Saturday morning 'Where's Roy' Facebook post has been particularly popular! I post a travel photo—usually with me in it—and you have to guess where the heck I am. A few friends and subscribers have proved particularly adept at this.

That's all for now.

Until next time, you keep pitching....

Roy

Roy Stevenson
Pitch Travel Write
www.pitchtravelwrite.com


Please note: Some products mentioned in this e-zine may result in my receiving a small referral fee if you decide to purchase the product. I only recommend products and services that I believe are high quality and can help you be more successful as a freelance writer. Please let me know if you have any questions.
---