Greetings Fellow Travel Writers and Bloggers!
Over the past couple years many people have asked me when I planned to put on a workshop for travel writers.
So, I'm very excited to announce my upcoming travel writing marketing workshop, to be held here in Seattle, Washington, next February.
Do you want to learn how to ...
• Consistently sell Your Travel Stories?
• Land Press Trips & Get Complimentary Travel?
• Improve and Accelerate Your Travel Writing?

You will get all of this information, and much more, in my three-day marketing intensive workshop for travel writers, The Complete Travel Writer's Marketing Workshop.
For a short time, I'm offering $300 off the regular workshop price.
This isn't your average, everyday travel writing workshop. The focus is on marketing, and on using your assignments to request complimentary travel - two of the areas where most writers struggle.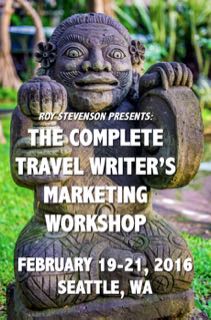 I've also added an additional bonus for attendees of this workshop. I'm including post-workshop one-on-one coaching.
Most people attend travel writing workshops and get all fired up to get started. When they get home, suddenly they have questions that stop them in their tracks and nothing happens. I know, because that's what happened to me, too.
My post-workshop coaching solves this problem. I'll coach you through those roadblocks and continue answering your questions after the workshop is over.
I want you to be successful!
Learn more about The Complete Travel Writer's Marketing Workshop and how to save $300 off the regular workshop price by clicking on the image above, or use this link:

Learn more about the workshop ...
---
---
Featured Article:
I accidentally stumbled into luxury travel writing. By good fortune, I landed some cushy assignments that included visiting high-end resorts, villas, and lodges. And I've never looked back!

It doesn't take much to get hooked on staying at plush Balinese villas, or historic Pacific Northwest lodges, or perfect Arizona spas and resorts. Or, for that matter, cruising down the Burgundy Canal on a 146-foot long boutique hotel barge, sampling France's finest food and wines.

In fact, luxury travel writing is like being addicted to coffee or chocolate—once you've had a taste, it's hard to stop.

Today's featured article is about how to dream up luxury travel story ideas so you can get assignments and go on these trips. It's a must-read for those of you interested in this genre.

Read it and salivate!

Read the article: Dreaming Up Luxury Travel Story Ideas

---
25% Off on Luxury Travel eBook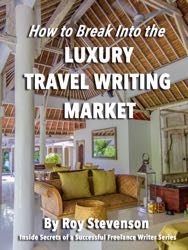 If you want to learn how to consistently sell luxury stories, we're offering a 25% discount off the regular price of my eBook, How to Break Into the Luxury Travel Writing Market.

This offer is good for one week only - through Sunday, November 8th at midnight.

Use discount code: NSL28 at checkout - and don't forget to click "Update Cart" to make sure the discount gets applied to your order.

Click on the eBook image above to learn more, or use this link:

Learn more about the Luxury Travel Writing eBook

---

Please share this e-zine with friends, family or anyone who may be interested in travel writing and can benefit from some free marketing and travel writing information.


They can sign up for this e-zine at this link.
---

'Friend' Me!
If you haven't already done so, please 'Friend' me (Roy Stevenson Freelance Writer) on Facebook. My posts are generally travel writing-related and I try to keep it fun.

My Saturday morning 'Where's Roy' Facebook post has been particularly popular! I post a travel photo—usually with me in it—and you have to guess where the heck I am. A few friends and subscribers have proved particularly adept at this.

That's all for now.

Until next time, you keep pitching....

Roy

Roy Stevenson
Pitch Travel Write
www.pitchtravelwrite.com


Please note: Some products mentioned in this e-zine may result in my receiving a small referral fee if you decide to purchase the product. I only recommend products and services that I believe are high quality and can help you be more successful as a freelance writer. Please let me know if you have any questions.
---