Greetings Fellow Travel Writers and Bloggers!
. . . and WELCOME to all new subscribers! Thanks for joining us.


During our last week in the U.S. we stayed at the secluded Mohicans Resort, about an hour's drive N.E. of Columbus, Ohio. We were hosted by the property owner, Kevin Mooney.

Nestled within a pine forest, we trekked a few minutes through the woods with our backpacks and a few other essentials, climbed a wooden staircase then crossed a suspension bridge to the Old Pine treehouse, our home for 2 nights. Built 5 years ago, this little cabin had an 1800's feel. It was constructed by Amish craftsmen from old barn siding and had recycled barn wood cabinets and rough cut cherry doors inside.

As it turns out, we stayed in the "celebrity treehouse", having recently hosted movie star Matthew McConaughey and his family. Yes, we slept in the same bed and even watched one of his movies while lounging around after dinner! (Wonder if he left the DVD there?) Although this sounds like roughing it, these treehouses were created with luxury living in mind. We had all the modern conveniences that you can imagine, except Wifi. It made us unplug from the world, if only for two days.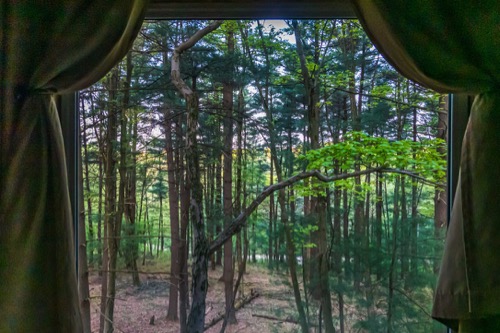 The two bedrooms (one in the loft) had warm, very comfortable beds along with a great view of the forest. There was a living room, kitchen, a small bathroom, and dining on the balcony surrounded, of course, by pine trees. It also had an outdoor shower but it was too chilly outside to try it during our stay. That's a lot to pack into a treehouse!

The Mohicans does not yet have a restaurant, but one is in the final planning stages with delicious, locally-sourced food a top priority. It's slated to open in July 2019. We were treated to a food tasting by the Mohican's new chef, Drew Slane from Cleveland, Ohio, and we loved every one of his creative dishes.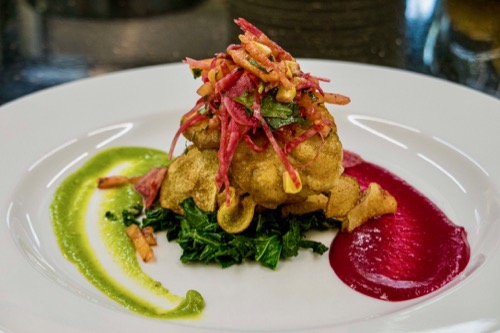 There are ten cabins and treehouses scattered around this quiet resort. And now that we've stayed in a treehouse, we can recommend The Mohicans as a very private, luxury retreat when you want to get away from it all and stay someplace a little different. Link to The Mohicans website

We wound up our U.S. visit with a couple of days in Linda's ancestral home in NE Ohio, where we caught up with one sister and a brother. While we were there we crammed in yet another assignment. The National Packard Museum was just 17 miles away in Warren, Ohio. We had a guided tour of this superb collection of historic U.S. automobiles. The Packard Company produced high-end, luxury automobiles from 1899-1958.

Then it was back to Vancouver, B.C. for an overnight stay, and the long flight back to Da Nang, Vietnam. It has taken most of the past week to recover from our U.S. trip but we're just about back to full speed. Now we're now gearing up to open coaching registration and making plans to launch our new Master Mind program for travel writers.

(Photo below: interior of the Little Red treehouse.)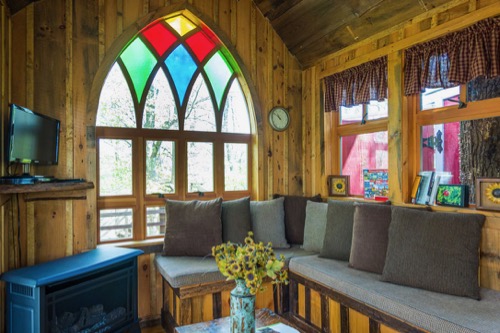 Editorial: The Biggest Problem With Query Letters
I've coached and mentored more than one hundred travel writers, and part of my job is to edit their query letters. After reviewing hundreds of beginner's queries, I see one continually recurring error—a blunder that appears in 90% of them.

Beginners tend to lack focus on one main story angle or idea.

Effective query letters focus purely on one narrow aspect of a destination or trip. 

When you're creating your queries, it's critical that you concentrate on ONE main angle or story idea—with a laser focus! Avoid deviating from your topic and getting sidetracked.

Jumping from topic to topic confuses magazine editors. Pitching too many things about a destination leaves editor's heads spinning. They wonder what, exactly, is your story pitch about? 

If the editors can't see a clear storyline, it's obvious to them that you don't know what it is either. They'll hit "delete" and move on to the next query in their inbox.

Focus your query on one simple topic and get straight to the point—from your first sentence on.

A related beginner's mistake is repeating the same thing in your query. You only need to state each point one time. Cut extraneous words that restate what has already been written. Don't worry, the editors will "get it".

Once you've made your point, move on to explain why your story will be a good fit for the magazine and why you're the right person to write it.

Until next week, keep pitching those stories!

---
Coaching Registration is OPEN!
If you're interested in working one-on-one with me to achieve your travel writing goals, registration is now open for my coaching and mentoring program. There are three packages available: 4, 6 and 12 months.



Registration is limited to 5 people so you're assured of getting a quality coaching experience, so if you want to be one of my new coaching clients, don't delay! We expect this program to fill fast.

One thing to consider before you decide on which package to choose, did you know if you sign up for my 12-month coaching & mentoring program you also get the following complimentary benefits:

▪ FREE attendance at our Travel Writing & Marketing Master Class in the spring of 2020, (valued at $1697)!

• Digital products (eBooks and reference guides) valued at more than $225

That's right! Twelve-month clients get a full year of one-on-one coaching, plus more than $1900 of additional complimentary benefits.

If you have any questions, feel free to get in touch and send an email to: pitchtravelwrite@gmail.com

Best wishes for your travel writing success! Roy
---
This Week's Featured Post
Travel Shows: They're Not Just for Tourists!

Every spring, travel shows pop up across the U.S, to help tourists plan their summer vacations.

But travel shows aren't just for tourists. Savvy travel writers attend these shows to land press trips, research destinations, and network with destination marketing organization media reps that can help them.

There's nothing like meeting the media and tourism agency reps face-to-face—these are people who can put you on their press trips and FAM tour lists. I have yet to attend a press trip where I haven't landed at least one press trip or Fam Tour, and I've been to dozens of them!

This week's post gives you plenty of practical advice on how to use travel shows to help land press trips, get comped travel and learn a lot about your destinations all in one place. Enjoy!

READ THE ARTICLE


---
Upcoming Posts
May 27: Guided Tours: Why They Can be Good for Travel Writers
June 3: Little Known Travel Writing Myths
June 10: The Continuing Success of Pam & Gary Baker
June 17: What Travel Writers Can Learn From Fiction Writers


---
Pitch Travel Write: Most Popular Links for Productivity and Writing Goals
Six Ways to Increase Your Productivity
Increase Your Productivity & Take Control of Your Time
Travel Writing Mistakes and How to Avoid Them
Launch Your Travel Writing Business Fast
---
Inspirational Writing Quote of the Week
---
RESOURCES FOR TRAVEL WRITERS
Featured Book of the Month: The Complete Guide to Marketing and Selling Your Travel Articles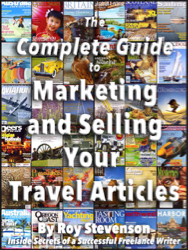 If you can't sell your travel stories, you don't get to write them. This book shows you EVERYTHING you need to know about selling your travel articles.

My manual, The Complete Guide to Marketing and Selling Your Travel Articles, tells you how to select salable story ideas, how to write first class query letters, how to pitch your ideas the right way, how to find magazines that will be interested in buying your story, and how you can start selling your travel articles to magazines immediately and reap the fantastic travel benefits.

Professional travel writer Mike Gerrard says: "I bought this book direct from the author's website and even though I'm a full-time travel writer myself, I learned a heck of a lot from it. We all have our weak spots, and mine is definitely pitching and writing query letters.

This book pushed me into action, showed me lots of the author's own query letters that worked, and has now given me a 'to do' list for pitches I want to send. Just reading it reminded me of trips I've done in the last year or two that I could sell more pieces from, and also stuff that's on my own doorstep that I could and should be pitching.

Whether you're a professional or a complete beginner, I highly recommend this book."

Here's professional travel writer, Chris Backe's, review: "Roy is a machine – at least, that's the only conclusion I have come up with. Having written for over 200 magazines (and reaching the 100 mark in 25 months), you would expect him to have a well-oiled machine and strong sense of process to keep things running. And you'd be right – his six-step 'chain-link' process is made out to be intentionally simple and easy to follow. That said, pitching, researching, and collecting good information still requires a fair bit of hard work, and the book offers no shortcuts. The specifics focus around coming up with good ideas, the correct questions to ask, finding the right publications for your ideas.

Creating distribution lists (one for each genre) makes pitching easier, while he encourages no fewer than 17 "essential elements" of a good query letter. Parts of these will sound old-fashioned to the younger set, ("no pictographs of inkwells, suitcases… smileys, [or] pink fonts…"), but will distinguish you as a professional. Chapter eight gets into some of the terminology used as rights go, along with the delightful problem of how to handle multiple acceptances.

My biggest critique is that the notion of going to a large bookstore and perusing print magazines or requesting 'comp' paper magazines (or worse, carrying a two-inch thick 'Writer's Market' around the world!) is difficult for most digital nomads. He helpfully offers up the many websites offering solid resources, along with a treasure trove of ideas I hadn't thought of. Traveling does give you more opportunities to spot worthy magazines, of course.

At $99 it's far from the cheapest set of information out there – but getting your first night in, say, a four-star hotel room in Europe means the book has already paid for itself. Highly recommended."


---
We want to say THANK YOU to all our subscribers and social media followers. Running the PitchTravelWrite site would not be possible without your support. Thank you for following us, reading our posts, and emailing questions, comments, and compliments.

We value you more than you can know. Our goal is to help you break into travel writing, get paid for it, and land some cool press trips and free travel.

So keep emailing us - we love hearing from you!
---
Friend me on Facebook
My Facebook page is about freelance travel writing. I frequently post about:
• travel writing & blogging conferences,
• links to other well produced travel websites and blogs,
• links to my travel articles,
• travel writing themes,
• links to reputable travel writer's groups, associations, and newsletters,
• magazine covers stories and back stories,
• links to resources pages,
• links to travel writing archives,
• links to coaching and mentoring resources,
• and plenty of other useful information to get you up to speed.



Link to Roy's Personal Facebook page
---
Please share the e-zine with friends, family or anyone you know who's interested in travel writing. They can sign up for the newsletter and get free marketing tips each week at this link:

Sign up for my weekly marketing tips

That's all for this week.

Until next week, just keep pitching!

Roy

Roy Stevenson
Pitch Travel Write
www.pitchtravelwrite.com













---