Greetings Fellow Travel Writers and Bloggers!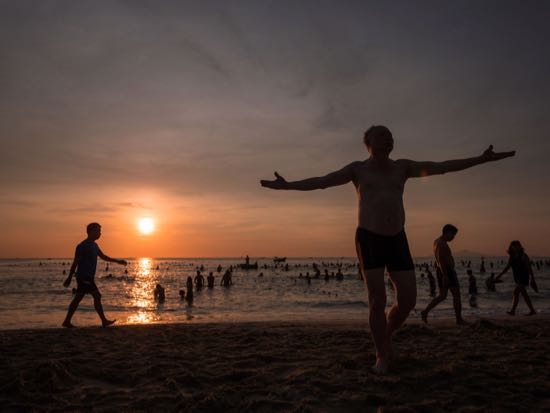 It's hard to believe we've only been back from our trip to the U.S. for 2 weeks. The excitement of the Seattle Travel Writing & Marketing Master Class and fun we had meeting everyone is still fresh in our minds. We had a week of crushing jet lag to recover from, and we've finally got our Circadian rhythms back in synch with the Vietnam time zone.
We've settled back into our laid back Da Nang lifestyle and are enjoying eating again at our favorite restaurants & catching up with our friends.
Last week we had a pleasant walk along Da Nang Beach at 5:30 am and were amazed at how many of the locals were swimming, walking, exercising, or just sitting & talking in the sand. Entire families were hanging out together. There were, literally, thousands of people hanging out!
Fishermen were selling their catches of crab, shrimp, & fish, straight off their funky little round boats, and we had lots of fun watching all the action on the beach at such an early hour.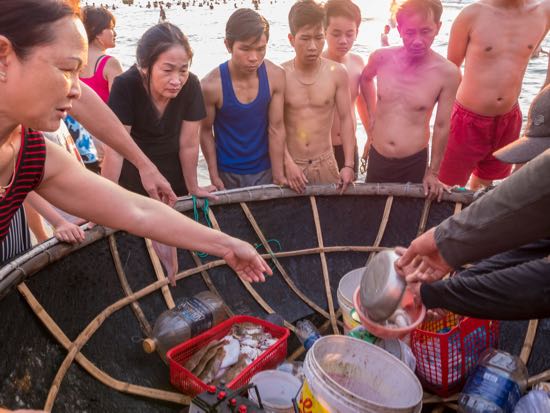 ---
Coaching Registration is Open
Hire an Expert to Help You Break Into Travel Writing
Are you excited about your future potential as a travel writer?

Is this the year that you finally start landing paid assignments with print magazines?

Is something holding you back but you don't know how or where to start in the freelance writing game?

To kick start and accelerate your travel writing into the stratosphere—like the many successful travel writers who all seem to make it look easy—you need a secret weapon.

Smart novices hire a mentor or coach.

Learn more about my coaching program . . .

Look behind any top performer in sports, industry, or business, and you'll find a mentor or coach helping them reach their potential. Hiring a proven, professional coach will save you so much time by helping you work smarter and getting your stories published faster.

Certainly, the information is out there. There's tons of free information in books and on the Internet. But your biggest problem is sifting through those thousands of pieces of information and deciding what is right for you. Often you'll go down the wrong path when you're struggling alone.

Figuring how to put it all together is achievable! Having a coach guide you through a systematic and strategic process will get you bylines in more magazines than you dreamed possible.

If you need someone who will help you make sense of the information, guide you, answer your questions, provide timely advice, and speed up your progress – hire a coach.

I spent years getting to my current level of 1,000+ published articles, in more than 200 regional, national, and international magazines, newspapers, trade journals, custom publications, specialty magazines, in-flights, on-boards, and online travel magazines. Today, I'm considered one of the most prolific travel writers in the U.S.A.

It took a lot of trial and error to get me to where I am now. And I've learned a ton of techniques, tips, and tricks of the travel writing trade on my journey that I want to pass on to you.

My coaching & mentoring program opens only twice yearly and I limit the number of aspiring travel writers I work with to guarantee quality service.

I currently have 5 spaces available in my June intake. If you're interested in finding out more about how my coaching & mentoring program works, and joining my exclusive program, you can get all the details here:

Register here

If you are ready to make a commitment to launching your travel writing career, seeing your stories published in prestigious, paying print magazines, and landing cool press trips to exciting destinations, I can help you. But don't wait too long—my coaching spots fill quickly!

To learn more about my story, you can find it here: Roy's Story and Bio
---
This Week's Featured Post
Do You Know About These Travel Writing Scams?
With large numbers of wannabee travel writers entering this saturated field, it's inevitable that less-than-honest operators will prey on their naivete and inexperience to make a few fast bucks.

During my eleven years as a full time professional travel journalist, I've encountered numerous scams and downright fraudulent rip-offs. Most of the victims have fallen for these cons in the hope that the promised "opportunities" would boost their bylines, or in some other way help them progress up the travel writing totem pole.

Here are eight current travel writing scams and rip-offs that you need to be aware of . . .

Read the article: Travel Writing Scams
---
Upcoming Posts
June 4: An Inspirational Travel Writing Success Story: Pam & Gary Baker
June 11: Advantages & Disadvantages of Blogging for Free
June 18: The Most Common Novice Travel Writing Mistakes
June 25: Writing for Trade Magazines


---
We've Been In The News
Here's a link to my article in WritersWeekly.com about Random Versus Systematic Writers.

Which one are you?

Link to Writers Weekly article

---
Landing Press Trips and Fam Tours
I field frequent emails from novice and intermediate level freelance travel writers who desperately want to land press trips and Fam Tours. I'm not surprised at these requests because "freebie" travel is the second most important perk of travel writing, after being paid for our work.

To learn more about scoring press trips & fam tours & covering your expenses when on assignment, here are some links to articles on my website:

Press Trips and Low Cost Travel
Press Trips for Travel Writers
5 Rules for Selling Articles and Getting Travel Perks
Quid Pro Quo and Press Trips
How to Land Regional Press Trips and Fam Tours

---
Inspirational Travel Quote of the Week
---
Get on the interest list for The 2019 Complete Travel Writing & Marketing Master Class
We've just wound up our 2018 master class, in Seattle. We believe our Travel Writing & Marketing Master Class is the BEST of its kind, ANYWHERE.

Many of our participants had previously taken other travel writing workshops yet felt that these workshops fell short in preparing them to enter the freelance travel writing arena and get their stories published and be paid for them.

Even by the second day, several of our participants commented to me that our master class "took it to a whole new level."

I'd like to share with you a couple of comments from participants in last month's class:

"This weekend was one for the books! It was an incredible honor to be a part of Roy's world-class marketing conference and I'm eager to see how my fellow classmates and I crush it!" Jessica Pickett

"Home and ready to go to Barnes & Noble bookstore this morning. Thanks so much to Roy & Linda for this amazing weekend and thanks to all the participants for your support and generosity with advice. Looking forward to your success stories!" Mary Lou Osmond

If you want a no-fluff, no-hype class that walks you through the steps necessary to pitch and write for reputable paying print magazines, you should seriously consider attending our April 2019 Seattle class.

To see the rest of the comments from this year's participants and to sign up for the 2019 Master Class Interest List, click on the link below:

SIGN UP FOR THE INTEREST LIST
---
Featured Book of the Week
How to Land Press Trips and Fam Tours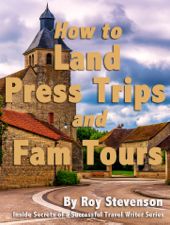 Who doesn't like press trips to exotic and exciting destinations? In ten years of freelance writing, I've been on 90 press trips & fam tours. Places like Belgium, Wales, England, France, Germany, New Zealand, Bali, all over the U.S.A., and to many other exotic and exciting destinations.

You too can get regular press trip & fam tour invitations. Books about travel writing might mention that press trips are available to travel writers, but they fall woefully short when it comes to telling writers how to get invitations. Most veteran travel writers keep this information to themselves.

My manual, How to Land Press Trips and Fam Tours, tells you exactly what you need to do to get invitations to press trips and fam tours, and how to organize self-guided press trips.

LEARN MORE AND PURCHASE

Here's a review of my manual by travel blogger Chris Backe in OneWeirdGlobe.com:

I was extremely impressed with Roy's last book, reviewed in April, so reviewing another of his books was a no-brainer.

Roy takes a simple, logical approach to getting invited (or getting on the list) by the folks that have the budgets to offer them. Reality checks are aplenty, and he links to several excellent sites or conferences to stay in-the-know. There are also several sample letter templates to borrow from, along with an entire chapter on etiquette (which could easily be titled 'How to ensure this isn't your last fam trip ever!')

At 75 pages long, the only thing it really lacks is fluff. You can breeze through the basics in a single sitting, but actually taking action will be your bigger challenge. The book does everything it can to offer tools and advice, but it's still up to you to follow it.

---
Friend me on Facebook
My Facebook page is about freelance travel writing. I frequently post about:
• travel writing & blogging conferences,
• links to other well produced travel websites and blogs,
• links to my travel articles,
• travel writing themes,
• links to reputable travel writer's groups, associations, and newsletters,
• magazine covers stories and back stories,
• links to resources pages,
• links to travel writing archives,
• links to coaching and mentoring resources,
• and plenty of other useful information to get you up to speed.



Link to Roy's Personal Facebook page
---
Please share the e-zine with friends, family or anyone you know who's interested in travel writing. They can sign up for the newsletter and get free marketing tips each week at this link:

Sign up for my weekly marketing tips

That's all for this week.

Until next week, just keep pitching!

Roy

Roy Stevenson
Pitch Travel Write
www.pitchtravelwrite.com













---