Greetings Fellow Travel Writers and Bloggers!
Your Pitch About a Destination You Love
As a travel writer, I've visited plenty of destinations that I've just itched to write about. These were places that excited me and that I connected with at some emotional level.
After my first visit to Paris, for example, I just wanted to tell the world about this marvelous place. As a novice writer, I sent out 50 query letters pitching a roundup story about the City of Lights. The results were predictable. I did not hear back from any of the editors.
Why didn't editors want to buy my Paris story? Because Paris roundups have been flogged to death for decades. While thumbing through an ancient 1960s copy of National Geographic I found a Paris roundup story. No wonder all those editors ignored my Paris query!
If I wanted to see my articles in print—and be paid for them—I realized I would have to dream up some unique story angles about the destinations that resonated with me.
Somewhat wiser, only a few months later I had several Paris articles published in print and online after pitching unique story angles. One story was about the remarkable funerary sculptures at Pere LaChaise Cemetery. Another published piece was about the eerie catacombs deep beneath Paris' bustling streets.
When you fall in love with a place, you just want to share it with everyone. But selling a story idea about that place to a magazine editor is a different proposition altogether.
When you're considering a story that you want to pitch and sell, your success will always come down to . . .
1. Is the story unique?
2. Is there enough "juice" in the story to interest an editor?
3. Are there plenty of magazines where you can pitch your story idea?
 
If you answer "no" to any of these three questions, the chance of selling your story plummets.
There are times when you'll have to place your story idea in a back- burner file because it just doesn't have enough juice or it's just not the right time to pitch this piece. Get over it and move on. Work on more viable story ideas instead.


---
This Week's Featured Post
Press Trip Business Policies for Travel Writers
What are your business policies for press trips?

Establishing business policies is important for professional freelance writers who want to earn an income from their writing. How do you decide if it's worth your time to go on a press trip?

Every time you take a press trip, you're giving up valuable time you could be using to sell and write stories - your way of producing income. Sure, your time away is considered research for your stories, but it comes at a high price if you're away for several days.

The freelance writing life is different from being an employee. As an employee, you go on a business trip and get paid for your time and expenses. If you take vacation time as an employee, your vacation benefits pay for your time. That doesn't happen for freelance writer.

This means, even if the press trip covers all your expenses, you don't get paid for your time while you're on the road. From a business perspective, this means a "free trip" still costs you money - in terms of your time.

Here are four press trips scenarios that will help you figure out if you should take a press trip, or if it's better to pass . . .

READ THE POST
---
Upcoming Posts
May 28: Do You Know About These Travel Writing Scams?
June 4: An Inspirational Travel Writing Success Story: Pam & Gary Baker
June 11: Advantages & Disadvantages of Blogging for Free
June 18: The Most Common Novice Travel Writing Mistakes


---
We've Been In The News
Here's a link to my LinkedIn articles about freelance travel writing:

Link to Roy's articles

---
Landing Press Trips and Fam Tours
I field frequent emails from novice and intermediate level freelance travel writers who desperately want to land press trips and Fam Tours. I'm not surprised at these requests because "freebie" travel is the second most important perk of travel writing, after being paid for our work.

To learn more about scoring press trips & fam tours & covering your expenses when on assignment, here are some links to articles on my website:

Press Trips and Low Cost Travel
Press Trips for Travel Writers
5 Rules for Selling Articles and Getting Travel Perks
Quid Pro Quo and Press Trips
How to Land Regional Press Trips and Fam Tours

---
Inspirational Travel Quote of the Week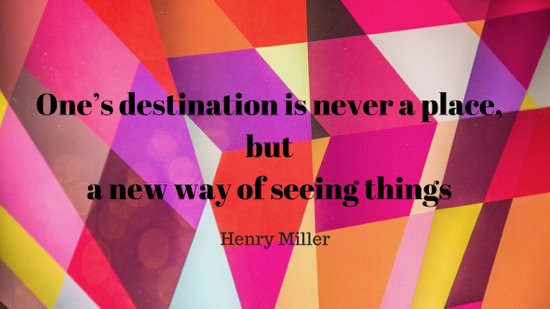 ---
Featured Book of the Week
How to Land Press Trips and Fam Tours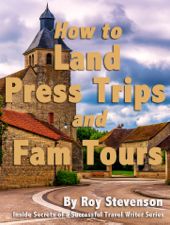 Who doesn't like press trips to exotic and exciting destinations? In ten years of freelance writing, I've been on 90 press trips & fam tours. Places like Belgium, Wales, England, France, Germany, New Zealand, Bali, all over the U.S.A., and to many other exotic and exciting destinations.

You too can get regular press trip & fam tour invitations. Books about travel writing might mention that press trips are available to travel writers, but they fall woefully short when it comes to telling writers how to get invitations. Most veteran travel writers keep this information to themselves.

My manual, How to Land Press Trips and Fam Tours, tells you exactly what you need to do to get invitations to press trips and fam tours, and how to organize self-guided press trips.

LEARN MORE AND PURCHASE

Here's a review of my manual by travel blogger Chris Backe in OneWeirdGlobe.com:

I was extremely impressed with Roy's last book, reviewed in April, so reviewing another of his books was a no-brainer.

Roy takes a simple, logical approach to getting invited (or getting on the list) by the folks that have the budgets to offer them. Reality checks are aplenty, and he links to several excellent sites or conferences to stay in-the-know. There are also several sample letter templates to borrow from, along with an entire chapter on etiquette (which could easily be titled 'How to ensure this isn't your last fam trip ever!')

At 75 pages long, the only thing it really lacks is fluff. You can breeze through the basics in a single sitting, but actually taking action will be your bigger challenge. The book does everything it can to offer tools and advice, but it's still up to you to follow it.

---
Friend me on Facebook
My Facebook page is about freelance travel writing. I frequently post about:
• travel writing & blogging conferences,
• links to other well produced travel websites and blogs,
• links to my travel articles,
• travel writing themes,
• links to reputable travel writer's groups, associations, and newsletters,
• magazine covers stories and back stories,
• links to resources pages,
• links to travel writing archives,
• links to coaching and mentoring resources,
• and plenty of other useful information to get you up to speed.



Link to Roy's Personal Facebook page
---
Please share the e-zine with friends, family or anyone you know who's interested in travel writing. They can sign up for the newsletter and get free marketing tips each week at this link:

Sign up for my weekly marketing tips

That's all for this week.

Until next week, just keep pitching!

Roy

Roy Stevenson
Pitch Travel Write
www.pitchtravelwrite.com













---