Greetings Fellow Travel Writers and Bloggers!
... and welcome to all new subscribers!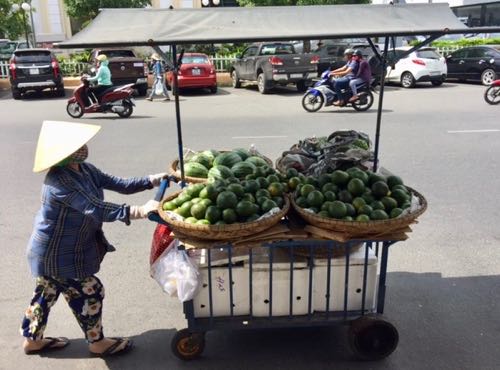 Life's very different here in Da Nang, Vietnam. One of the reasons we decided to do our long-stay in S.E. Asia was for the dramatic change of scenery. We've certainly got that! Standing on a busy street here for just 15 minutes reveals jaw-dropping sights that I'll never forget. And some things that you'd never believe if I told you.



Among the interesting sights are what I call the 'Fruit & Vegetable Cart Ladies'. These intrepid women wheel their rickety carts or bikes along Da Nang's busy streets, dodging motorcycles and cars, all the while yelling out "Get yer fresh fruit and vegetables here!" (in Vietnamese, of course). This is not something I'm likely to see on Seattle's immaculate streets!
Hot and tired as they may be, the 'cart ladies' always smile at me and are happy to pose for photos. I take my hat off to these hard-working women!
This week's article addresses the issue of whether you should sell your stories to print magazines, or travel websites. If you're just getting started in the travel writing game, or if you've been donating your stories to travel websites, you'll get some valuable insights. My article just might prompt you to change direction in your travel writing!



---
This week is our Spring Book Sale where everything in our bookstore is 20% off. It starts today and ends at midnight on the 21st.

This includes all individual books, and our very popular Beginners's 3-Pack and Advanced 2-Pack.

We only run sales three times a year, and our next sale won't be until Fall.

Here's the link to the bookstore - be sure to use discount code SPR20 to get your 20% discount.

Link to our Bookstore

---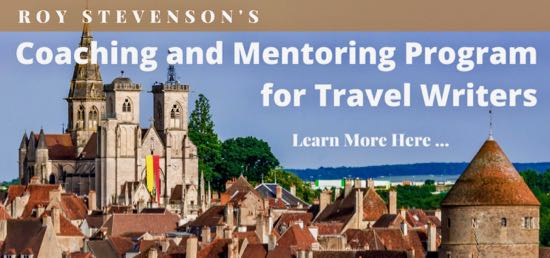 Update: There are 2 slots remaining in the coaching program.

I won't be taking a new group until January - so if you're thinking of getting in on the June intake, now is the time.

If you need help selling your articles and turning assignments into press trips – I can help you. If you need round-the-clock access to a full time professional travel writer who can help you get published, this is your opportunity.

Don't delay, sign up now!

Learn more and register for coaching
---
The Complete Travel Writing & Marketing Master Class

We're excited to announce that registration is open for our next Master Class!
It's a luxury destination workshop in Siem Reap, Cambodia, October 22-28.
Master Class participants will experience a luxurious blend of resort comfort, fascinating cultural activities, culinary delights, soft adventure, and in-depth instruction on how to pitch, sell, and write your travel stories.
Why Siem Reap and the Temples of Angkor?
Cambodia's bustling city of Siem Reap provides the life-support system and gateway to the ancient Angkor temples.
On the World Heritage List, the World Wonders List, and listed as the #1 sight on Lonely Planet's Ultimate Travel List, the atmospheric temples of Angkor rank at the top of every serious traveler's bucket list. And we're going to visit Angkor's biggest and best temples!
This complex of hundreds of temples and shrines forms a virtual city of spires in the jungles of northern Cambodia. They provide some of the world's most unforgettable sights. Even more amazing is how each temple—in this multitude of atmospheric temples—is unique in its own way
A $500 deposit today will reserve your space in this workshop. You can learn more about this once-in-a-lifetime trip:

Travel Writing & Marketing Master Class, Cambodia 2017

The workshop is limited to just ten participants to guarantee a high-quality experience and allow plenty of time for interaction between your instructors, guides, and fellow writers.
There are plenty of workshops out there on the craft of travel writing, but ours is the only program that shows you how to market, query, pitch, and sell your travel stories. After all, if you can't sell your stories, you don't get to write them.
Registration is limited to the first 10 people – register today!

Register here ...


---
Inspirational Travel Quote of the Week
"If you're twenty-two, physically fit, hungry to learn and be better, I urge you to travel – as far and as widely as possible. Sleep on floors if you have to. Find out how other people live and eat and cook. Learn from them – wherever you go."
- Anthony Bourdain, Chef, Author and Television Personality

---
This Week's Featured Post:
Why You Should Pitch Print Publications First
There's great temptation for beginning travel writers to quickly boost their number of published travel stories by planting numerous articles on travel websites. And, on the surface, it seems very impressive. It's a quick and easy way to collect bylines.

But, are you jeopardizing your long-term travel writing goals by writing solely for websites?

Here are some important things to consider before you spend all your precious time and energy giving your articles away to travel websites.

Read the article ...

---
Have You Planned Your Travel Calendar for 2017?
Have you planned your travel writing calendar for 2017 yet? We at PitchTravelWrite.com spent days preparing lists of:


24 Travel Writing and Blogging Conferences
11 Travel Writing and Blogging Workshops
11 Special Travel Writing Groups, Meetings & Events
5 Travel Shows (and a link to access many more)

Get organized now: Use these lists to plan your travel writing & blogging events for 2017.


---
Resources for Travel Writers

Books and Reference Guides:
Beginner's 3-pack Reference Guides

The Complete Guide to Query Letters for Travel Writers

100 Print Magazines that Want to Publish Your Articles

Fifty Websites that Want to Publish Your Travel Stories

Advanced Travel Writing 2-Pack Reference Guides

How to Land Press Trips and FAM Tours

How to Break Into the Luxury Travel Writing Market

The Complete Guide to Marketing and Selling Your Travel Articles

Digital Bookstore - Guides, Manuals and Special Reports

---
Friend Me on Facebook:
If you haven't 'friended' me yet on Facebook, please feel free to do so here:
Link to Roy's Personal Facebook page

---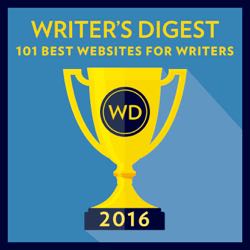 PitchTravelWrite.com was named in 2016's Writer's Digest 101 Best Websites for Writers list.

We're the ONLY travel writer's website on the list! We urge you to forward our newsletters on to your friends that might be interested in taking up travel writing.

PitchTravelWrite.com Testimonials

"I think you should know that I have been sending your link to many a travel journalist as your site is one of the most helpful I've seen to date. I even sent it to my sister who writes mostly about gardens and she was totally blown away by the amount of information you are giving away for free." —Karin Leperi, Freelance Travel Writer

"This site is more like a book than a website. It is one of the best (if not THE best) travel-writing sites I've seen in a long time. It is packed! And most of the articles will be useful to any freelancer, not just travel writers." —Moira Allen Anderson, Writing- World.com


---
Please share this e-zine with friends, family or anyone you know who is interested in travel writing. They can get free marketing and travel writing information by signing up for my e-zine at this link:

Sign up for my weekly marketing tips ...

That's all for this week.

Until next week, just keep pitching!

Roy

Roy Stevenson
Pitch Travel Write
www.pitchtravelwrite.com

---