Greetings Fellow Travel Writers and Bloggers!
... and welcome to all new subscribers!

As I write this, it's five am on a Friday morning and the sky outside is a smoky gray color, maritime mist from the South China Sea. From across Tran Phu Street a heavenly chorus floats up to our apartment from the pink Catholic Cathedral. The choir is practicing for its weekend masses.
The highlight of our week in Da Nang, Vietnam, was watching Round #1 of the Da Nang International Fireworks Competition on the banks of the Han River.

This first night—of five nights of intense fireworks displays from around the world—was a smack down between Vietnam and Austria. In my humble opinion, Vietnam won, although Austria's spirited display was none too shabby.

Each fireworks competition pits the finest pyrotechnic teams from two select countries against each other. The displays last about 20 minutes, and hearing the loud concussive booms and smelling the gunpowder smoke reminded me of a re-enactment of the Battle of Waterloo, in Belgium. These fireworks are like artillery bombardments!

Looking around, as we stand on the wide brick promenade, we see thousands of excited Vietnamese families, teenagers, couples, with a sprinkling of westerners thrown in. We're reminded of how everyone loves a good firework show.

We're already looking forward to Switzerland Versus Japan on May 20. Bring it on!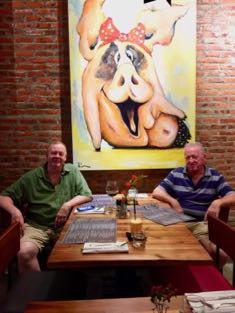 We had a lovely day catching up with Australian travel writer Peter Safe, here in Danang. Peter attended our Travel Writing & Marketing Master Class in Chiang Mai, Thailand, last October, and we quickly became friends with this outgoing Aussie.

Peter spends a lot of time touring Vietnam. Loves the place. He also spent 3 years here from way back in 1965, under entirely different circumstances as a soldier in the Australian Army. He's on his way back to a small village in South Vietnam where his firebase was located. Peter told us some fascinating stories about his time with the military here, all those years ago.

A few people have asked us what our life's like in Da Nang. We love this busy, growing city! It's alive with what seem like millions of revving motorcycles (the Vietnamese equivalent of the SUV), honking taxis, yelling street vendors, and all sorts of interesting (and sometimes, nasty) smells.

We can tell this city's becoming a booming tourist destination because there are busloads of Chinese tourists everywhere (did you know that 44 million Chinese tourists travel overseas each year?).

The shops are another telltale sign of Da Nang's growing tourism. We'll often see a tiny, grimy, hole-in-the-wall Pho restaurant right alongside a brand-new designer handbag shop or clothing store, complete with immaculate white marble floor tiles. The contrast is remarkable, but even the old shops and food carts remind us of the old, authentic Da Nang that will, in a few short years, be lost as the city transforms and gentrifies.

The people here are super friendly. As westerners, we're still curiosities, and the locals often ask where we're from. When we tell them we're from the U.S.A, they always flash a big white smile and say, "America good", and if they're old enough, launch into their story of when they were here during The American War, as they call it. Half of them have relatives living in California, San Francisco, or Seattle.

---
Travel Writing & Marketing Coaching
Registration is OPEN for my Travel Writing & Marketing Coaching Program.
I offer two coaching intakes each year—June and January. To guarantee quality service, I limit each group to five writers. We already have two places in my June 1st intake booked, with three remaining spots.
If you need help selling your articles and turning assignments into press trips – I can help you. If you need round-the-clock access to a full time professional travel writer who can help you get published, this is your opportunity.
With more than 1,000 bylines in 200+ different regional, national, and international magazines, newspapers, custom publications, trade journals, in-flights, on-boards, and online travel magazines and blogs, I can share my expertise and help you sell your articles.
We anticipate the remaining coaching spots to fill within the next 2-3 days, so don't delay if you want to sign up.
Here's a link describing how my personal travel writing mentoring and coaching program can help you.
---
The Complete Travel Writing & Marketing Master Class

We're excited to announce that registration is open for our next Master Class!
It's a luxury destination workshop in Siem Reap, Cambodia, October 22-28.
Master Class participants will experience a luxurious blend of resort comfort, fascinating cultural activities, culinary delights, soft adventure, and in-depth instruction on how to pitch, sell, and write your travel stories.
Why Siem Reap and the Temples of Angkor?
Cambodia's bustling city of Siem Reap provides the life-support system and gateway to the ancient Angkor temples.
On the World Heritage List, the World Wonders List, and listed as the #1 sight on Lonely Planet's Ultimate Travel List, the atmospheric temples of Angkor rank at the top of every serious traveler's bucket list. And we're going to visit Angkor's biggest and best temples!
This complex of hundreds of temples and shrines forms a virtual city of spires in the jungles of northern Cambodia. They provide some of the world's most unforgettable sights. Even more amazing is how each temple—in this multitude of atmospheric temples—is unique in its own way
A $500 deposit today will reserve your space in this workshop. You can learn more about this once-in-a-lifetime trip:

Travel Writing & Marketing Master Class, Cambodia 2017

The workshop is limited to just ten participants to guarantee a high-quality experience and allow plenty of time for interaction between your instructors, guides, and fellow writers.
There are plenty of workshops out there on the craft of travel writing, but ours is the only program that shows you how to market, query, pitch, and sell your travel stories. After all, if you can't sell your stories, you don't get to write them.
Registration is limited to the first 10 people – register today!

Register here ...


---
Spring Book Sale – Coming Next Week
Watch for a special announcement next week (May 15) about our spring book sale. We're offering a sizable discount off our freelance travel writing books, including the popular Beginner's Three-Pack (which is already discounted) and the Advanced Two-Pack.

If you've been considering buying any of our suite of freelance travel writing books, references, manuals, and "how to" guides, you might want to wait until next Monday to purchase them.

Our next book sale will not be until Fall. Want to know about our highly-coveted travel writing instructional books? Here's the link to our Bookstore


---
Inspirational Travel Quote of the Week
"Why do you go away? So that you can come back. So that you can see the place you came from with new eyes and extra colors. And the people there see you differently, too. Coming back to where you started is not the same thing as never leaving."
- Terry Pratchett, Author

---
This Week's Featured Post:
Two Major Obstacles to Success in Travel Writing
With a splash of enthusiasm, a hint of determination, and a dash of desire to succeed (critical elements for success in freelance writing!), and some sort of outside assistance, it's still possible for beginners to see their articles published in this highly competitive arena - and even thrive.

Read this article to find out the two main stumbling blocks to freelance travel writing success, and what you can do about them. You'll find plenty of actionable information and advice in this piece.

Even the most talented "natural" writers face the same obstacles to getting their travel stories published. Do you know what they are?

Read the article ...

---
Have You Planned Your Travel Calendar for 2017?
Have you planned your travel writing calendar for 2017 yet? We at PitchTravelWrite.com spent days preparing lists of:


24 Travel Writing and Blogging Conferences
11 Travel Writing and Blogging Workshops
11 Special Travel Writing Groups, Meetings & Events
5 Travel Shows (and a link to access many more)

Get organized now: Use these lists to plan your travel writing & blogging events for 2017.


---
Resources for Travel Writers

Books and Reference Guides:
Beginner's 3-pack Reference Guides

The Complete Guide to Query Letters for Travel Writers

100 Print Magazines that Want to Publish Your Articles

Fifty Websites that Want to Publish Your Travel Stories

Advanced Travel Writing 2-Pack Reference Guides

How to Land Press Trips and FAM Tours

How to Break Into the Luxury Travel Writing Market

The Complete Guide to Marketing and Selling Your Travel Articles

Digital Bookstore - Guides, Manuals and Special Reports

---
Friend Me on Facebook:
If you haven't 'friended' me yet on Facebook, please feel free to do so here:
Link to Roy's Personal Facebook page

---
Are you looking for an entertaining and expert guest speaker at your next writing conference?
I frequently speak at travel writing and writing conferences about breaking into freelance writing, selling & marketing freelance articles, and establishing your writer's platform.

If you'd like to book me for a speaking engagement about how I've managed to get more than 1,000 articles published in 200+ magazines, specialty journals, newspapers, in-flights, on-boards, and custom publications, please send me a note at Roy_Stevenson@hotmail.com.

---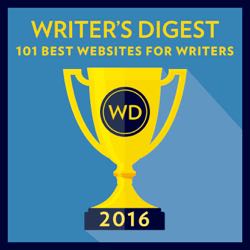 PitchTravelWrite.com was named in 2016's Writer's Digest 101 Best Websites for Writers list.

We're the ONLY travel writer's website on the list! We urge you to forward our newsletters on to your friends that might be interested in taking up travel writing.

PitchTravelWrite.com Testimonials

"I think you should know that I have been sending your link to many a travel journalist as your site is one of the most helpful I've seen to date. I even sent it to my sister who writes mostly about gardens and she was totally blown away by the amount of information you are giving away for free." —Karin Leperi, Freelance Travel Writer

"This site is more like a book than a website. It is one of the best (if not THE best) travel-writing sites I've seen in a long time. It is packed! And most of the articles will be useful to any freelancer, not just travel writers." —Moira Allen Anderson, Writing- World.com


---
Please share this e-zine with friends, family or anyone you know who is interested in travel writing. They can get free marketing and travel writing information by signing up for my e-zine at this link:

Sign up for my weekly marketing tips ...

That's all for this week.

Until next week, just keep pitching!

Roy

Roy Stevenson
Pitch Travel Write
www.pitchtravelwrite.com

---