Greetings Writers!
In this Issue:

- 5 Ways to Sell Your Articles
***Hot off the Press***
- A Complete Guide to Query Letters for Travel Writers eBook
- Write for Free? My Take on a Controversial Issue


We're back to marketing topics in this issue to help you get your articles sold.

Leading off in this issue is an article about how important it is to use all the tools in your arsenal to sell more articles.

This article is the first part in a series and explains five ways to help you sell more story ideas to editors.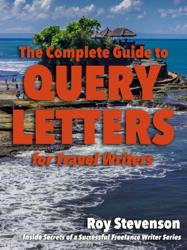 Next, I'm happy to announce that we've just released a new eBook "The Complete Guide to Query Letters for Travel Writers".

Besides covering the basics of query letters, this eBook includes twenty sample query letters - real queries that I wrote to successfully sell articles in a variety of publications: in flights, cruise mags, international travel mags, specialty mags like yachting and military, and more.

Each sample query letter is introduced individually with key insights about what is unique and what I believe made it successful. All of these queries were crafted by me, and all of them are travel articles.

You know from previous posts that I believe in using templates for query letters and then tweaking them as needed. You can use the sample query letters as a solid starting point for crafting your own template.

For one week only, I'm offering this eBook to subscribers of this e-zine for $5 when you use the discount code SUB5.

It's my way of thanking you for being part of the PitchTravelWrite community.

After May 12th, midnight, the price goes up to $9.95.

Learn more or buy it now for $5 (use discount code SUB5 at checkout).

Finally, I tackled the controversial issue of writing for free.
Every freelance writer encounters publications that don't pay writers for their work. And every writer needs to establish their own policy on whether or not they will write a free article.

I've given you my take on the issue and the reasons why I sometimes write an article for free. I hope my views will help you to decide if and when it's right for you.

Enjoy!


---
May Marketing Tips:
Five Ways to Sell Your Articles


Everyone wants to be a freelance writer — there's a certain glamor attached to it. And for travel writers, it's even more glamorous.

But few people understand the price we pay for our writing career. They think our job is easy. Luxury hotels, sandy beaches, gourmet meals, exotic destinations – it's a good life.

The reality is, we stay up late at night to meet deadlines. We don't get paid much for our articles so we're always working to make the most out of every story.

We're constantly selling our ideas to someone. It's the most feared thing about being a freelance writer – marketing our ideas to magazine editors. It inevitably entails dealing with a certain amount of rejection.

When I tell my colleagues how many articles I've sold in the seven years I've been writing, they look at me in disbelief. (At this writing I've sold 900 articles in 190 different publications.)

When they ask me how I've managed to sell so many articles, I tell them I spend at least fifty percent of my time on marketing.

In discussions with other writers, I've learned they don't spend anywhere near this amount of time marketing their stories. Then again, they don't sell as many stories.

Today's writing arena is competitive. Marketing isn't an option – it's a requirement if you want to survive. Freelancers with a sound marketing plan can thrive. And those who don't know how to go about selling their stories, give up.

The good news is that email and the internet make it very easy to find magazine prospects and to approach magazine editors.

But, without a marketing plan and strategy, you'll simply be sending out random query letters and hoping for the best.

Your prime marketing mission is to cast a wide net and sell articles to editors who are a good fit for your stories.

Here are five ways to do this:

Continue reading article . . .
---
Write for Free?
A Controversial Issue for Freelancers


All freelance writers, at some time during their writing career, struggle with the contentious issue of whether they should write articles for free.

We've all received emails back from editors along these lines: "We love your proposed article idea, but want you to know up front that we do not pay for contributions to our magazine. If you are still interested in submitting your story, we'll be happy to look at it."

What? Do you mean that some magazines don't pay their writers for their work?

Sadly, this practice is far more widespread than you can imagine.

You'll be amazed at how many magazines don't pay their contributors. Some magazine editors rely on our naivety, vanity, goodwill, and perhaps stupidity to write for them.

Professional writers regard magazines that do not pay for their articles with absolute disdain. They think magazine editors who don't pay writers clearly do not value them as professionals. In absolute terms, most freelance professionals would agree with these thoughts without hesitation.

After all, have you ever called a plumber or an electrician and asked him to work for free? Of course not.

Whatever our philosophical and personal views of this practice, it remains a fact of freelancing life. Sooner or later you're going to have to establish your own policy to deal with it.

But this cloud has a silver lining.

In my experience over a number of years, I have received some benefits from writing articles for free. Some of these benefits are direct, others indirect.

To help you decide on your own policy, here's my take on when you might want to consider writing for free.

Continue reading Write for Free . . .
---
Please share this e-zine with friends, family or anyone who may be interested in travel writing and can benefit from some free marketing information.

That's all for now.

Until next time, you keep pitching....

Roy

Roy Stevenson
Pitch Travel Write
www.pitchtravelwrite.com


Please note: Some products mentioned in this e-zine may result in my receiving a small referral fee if you decide to purchase the product. I only recommend products and services that I believe are high quality and can help you be more successful as a freelance writer. Please let me know if you have any questions.
---