Greetings Fellow Travel Writers!
Freelance writing can get us all sorts of freebies. 
Last week I picked up my press pass to the Seattle International Film Festival (SIFF), attended the media luncheon, and watched a press screening of 'Spy', a hilarious spoof of every spy movie you've ever seen. I can now see dozens of the latest films in my favorite genres, for free, between now and June 7, when SIFF ends.
Our travel writing assignments enable us to access, for free, tourist attractions like museums, theme parks, boat cruises, helicopter flights, dune buggy rides, white water rafting, sightseeing tours, plays, stand up comedies, song and dance shows, luxury canal barge cruises, and wine tasting at vineyards. I've done all of these, and much more.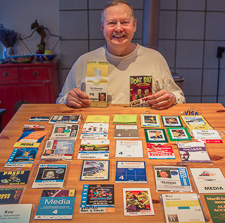 I've sat in the press box at the Diamond League Track & Field meets in Brussels, Monaco, Paris, Lausanne, Zurich, Birmingham, London, and Eugene, watching the world's top runners, jumpers and throwers duke it out in front of enormous crowds, with every event like an Olympic final.
The photo here is of me with some of my press pass collection. 
But to get these glamorous gigs, you've got to understand (1) how to get assignments that can lead to these marvelous comps, and understand (2) how to parlay your assignments into free trips. 
To help you understand the process and nuts-and-bolts of landing these fun gigs, I've written a book that spells it all out for you. It's called "How to Land Press Trips and Fam Tours". You can learn more about it here ...

Part of the press trip process is writing a query letter that will get you those golden assignments that you can use as collateral for press trips. This week's featured article shows you 2 query letter samples along with 5 tips to transform your query letters from good to great - and help you snag those assignments.
---
Featured Article:
How to Transform Your Query Letters from Good to Great
In my Query Letter Review coaching package I have the opportunity to see a lot of query letters written by travel writers. Some of my writers are beginners and some are already published.

Typically, my writers have little difficulty dreaming up good story ideas. It's fun to see the different story angles they dream up. But, conveying the excitement of those story ideas isn't always as easy. In fact, it seems to elude many writers until they get some experience by writing a few dozen.

In this post are two query letter samples. The original query letter was written by a published travel writer invited on a 4-wheel cross-country tour across the mountainous Greek interior.

The tour includes driving through valleys, past pristine lakes, monasteries, olive groves, cascading waterfalls, crossing streams and rivers. The tour group stays in small lodges and visits Delphi, the ancient center of the world. They visit old flour mills, eat the best Greek cuisine and drink robust Greek wines every night.

In other words, the trip of a lifetime! The catch is this travel writer needed an assignment in order to go on this journey. The pressure was on!

Here's the original query letter:

Continue reading the article ...
---

Please share this e-zine with friends, family or anyone who may be interested in travel writing and can benefit from some free marketing and travel writing information.


They can sign up for this e-zine at this link.
---

'Friend' Me!
If you haven't already done so, please 'Friend' me (Roy Stevenson Freelance Travel Writer) on Facebook. My posts are generally travel writing-related and I try to keep it fun.

My Saturday morning 'Where's Roy' Facebook post has been particularly popular! I post a travel photo—usually with me in it—and you have to guess where the heck I am. A few friends and subscribers have proved particularly adept at this.

That's all for now.

Until next time, you keep pitching....

Roy

Roy Stevenson
Pitch Travel Write
www.pitchtravelwrite.com


Please note: Some products mentioned in this e-zine may result in my receiving a small referral fee if you decide to purchase the product. I only recommend products and services that I believe are high quality and can help you be more successful as a freelance writer. Please let me know if you have any questions.
---