Greetings Fellow Travel Writers and Bloggers!
Editorial: Being Flexible
Travel writing requires a willingness to be flexible in terms of writing styles, topics, and sales & marketing techniques. Flexibility is essential if you want to see your work published in print and to be paid for it.
Travel writing is not for people who expect the freelance world to conform to them.
As freelance writers, we must adapt to the writing environment, rather than the other way around. Writers that refuse to adjust their ways reduce their chances of being published - unless they drastically change their approach.
Here are some real-life examples I've encountered of obstinate habits and beliefs that will hinder your chances of success:
• Insisting on writing your articles before pitching them.
• Refusing to change your writing style to fit the tone of the magazine.
• Believing it will be easy to find a few print magazines to write for regularly, without constantly chasing new work.
• Refusing to create magazine distribution lists to pitch your story ideas.
• Getting into pet projects and creating stories that you hope will sell. Except they don't.
• Believing you're a failure at pitching stories.
• Worrying about becoming a slave to marketing your story ideas.
• Expecting to step straight into high-end magazines rather than working your way up by starting with more modest magazines.
All the problems listed above can be remedied with some flexible thinking and adjusted habits. These rigid beliefs will hold you back.
But if you can identify the problems preventing you from progressing along your travel writing journey, it's much easier to learn, adapt, and change.
That's what I'm all about when I coach clients. I point out where writers are making mistakes, and then provide solutions to help them improve and sell their articles.
One couple that I coach accepts every piece of advice I give them, and then make the changes. And it's not surprising their stories start selling like hotcakes!
If you're flexible in all these areas (and a few more) you won't have any trouble selling your stories. How flexible are you? Are any of the items on this list holding you back?


---
This Week's Featured Post
Is Your Travel Article Ready to Submit?
This Checklist Will Help You Decide
Novice writers and veteran journalists alike have experienced "the moment" - that brief flash of doubt. You're about hit "send" to submit your travel article. But is your story ready?
You don't want to embarrass yourself by submitting sub-standard stories the editor will reject. And you don't want editors to think you're such a poor writer they'll never work with you again. In fact, you're aiming for quite the opposite. You want editors to think your stories sparkle enough for them to commission more work from you.
How do you know when your travel article is ready to submit to a magazine editor?
How can you be sure you've covered everything that should be in the article?
This handy checklist will tell you whether you've missed any of the fundamental items necessary for turning in a nicely finished piece.

READ THE ARTICLE
---
Upcoming Posts
April 2: Break into Travel Writing with Museum Stories
April 9: How to Write Travel Stories that Sell
April 16: Guest Post: Break into Travel Writing With Local Publications
April 23: Query Letter Guide: Seven Tips for Travel Writers


---

There are only 11 days left to sign up for The Complete Travel Writing & Marketing Master Class. Registration closes April 6th.

Get a crash course on breaking into travel writing and marketing and join us in Seattle in April.

There's still time to sign up and book your flights and hotel. We have a handful of seats left – register now and snag one of them.


If you want to supercharge your travel writing career you'll need to act now. Our last few seats always sell out the month before class starts. Hotel rates go up after March 28th, so sign up now to get our group rate.

We believe our master class is the BEST travel writing & marketing workshop in the world. And we can prove it. We have writers coming from five countries! Join aspiring travel writers from Canada, the U.S.A, Grenada, Australia, & Belgium in Seattle, in April.

Learn how to . . .
• Consistently sell your travel stories to paying print media
• Land Press Trips & get complimentary travel
• Improve and accelerate your travel writing career
• Transform your travel blogs into cash by selling them to print magazines



You'll get all this information—and much more—in my three-day intensive workshop for travel writers, The Complete Travel Writing & Marketing Master Class.

The focus is on marketing & selling your articles, and on using your assignments to request complimentary travel - areas where most writers struggle.

Sign Up Here ...

---
Here's what husband and wife team, Pam & Gary Baker, had to say about last year's Master Class:
"We attended Roy's Master Class in Seattle last April. We had just flown in from Europe the night before and I worried I would be too jet lagged to stay awake during the workshop. But the excitement of the class and the tremendous information kept me awake all day long!
You will learn things in the class that you won't get from books. And you'll make friends, too, that have the same goals. You'll continue to stay in touch and encourage each other and cheer your successes. A network is important! If you haven't signed up for Roy's class this April, you need to do it now before it's sold out!"
Pam & Gary Baker, Master Class Attendees, April 2017

Learn more ...

---
We've Been In The News
Read travel writer Martin Laight's Facebook comments about my article A Letter to Myself, Back in Time. It has his comments and a link to the article itself, explaining what I would have done earlier in my travel writing career if I knew then what I know now.

READ THE POST

---
Selling & Reselling Your Articles
Here are links to four articles about how to resell, repurpose, & repackage your travel articles. It's how I stretch my articles into multiple publications by reselling them. I've made good money and greatly expanded my bylines doing this. Try it!

5 Ways to Sell Your Articles
Earn More - Sell Your Articles Around the World
Reselling Your Articles (The Art of Reprints & Rewrites)
Reselling Your Articles - 3 Tricky Situations


---
Inspirational Travel Quote of the Week
Travel Writing Bonus
For some of the finest travel writing ever, read John Steinbeck's article about Positano, Italy, written in 1953 in Harper's Bazaar Magazine.
Download the free PDF:

Link to Download Steinbeck PDF

---
Featured Book of the Week
The Art and Craft of Travel Writing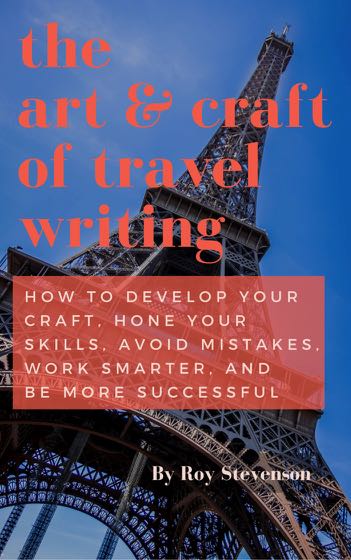 What's in our 21-chapter, 152-page book?

The Art & Craft of Travel Writing has five sections covering . . .
• The Craft of Travel Writing
• Things That Go Wrong in Travel Writing
• Keys to Success in Travel Writing
• Working Smarter
• Goal Setting for Your Travel Writing



This book will help you hone your travel writing skills and get more stories published. We'll show you how to allocate your writing time for maximum efficiency, and exactly what you need to do to break into the competitive travel writing market.

Only $9.95!

Learn more and purchase the book

---
Friend me on Facebook
My Facebook page is about freelance travel writing. I frequently post about:
• travel writing & blogging conferences,
• links to other well produced travel websites and blogs,
• links to my travel articles,
• travel writing themes,
• links to reputable travel writer's groups, associations, and newsletters,
• magazine covers stories and back stories,
• links to resources pages,
• links to travel writing archives,
• links to coaching and mentoring resources,
• and plenty of other useful information to get you up to speed.



Link to Roy's Personal Facebook page
---
Please share the e-zine with friends, family or anyone you know who's interested in travel writing. They can sign up for the newsletter and get free marketing tips each week at this link:

Sign up for my weekly marketing tips

That's all for this week.

Until next week, just keep pitching!

Roy

Roy Stevenson
Pitch Travel Write
www.pitchtravelwrite.com













---