Greetings Fellow Travel Writers!
This past weekend I gave my presentation on "Breaking Into Travel Writing" at the local Bothell Library, and thoroughly enjoyed it.
Twenty-one people turned up, including several subscribers to this newsletter. It was great to finally meet you in person! Thanks for attending and for all your kind comments about my eBooks and this newsletter.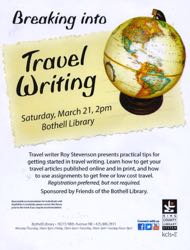 My two-hour presentation covered the different types of travel writing, the advantages and disadvantages of writing for print and online media, and how to dream up publishable travel story ideas. I also touched on how novice travel writers should get their first bylines by querying local and regional magazines.

Then we got into the meat of successful travel writing: where to find magazine leads to pitch your stories to, how to use a query letter and simultaneous submissions, and how to score those money saving comps at hotels, restaurants, and tourist attractions.

A number of you asked how you can get this information since you don't live in the Seattle area and couldn't attend. I've decided to make the 16-page handout available to all my e-zine subscribers as a way of thanking you for subscribing.

I'm in the process of tidying up the handout with a few details. Stay tuned over the next week or two - I'll send out a link to this subscriber list so you can download your free copy of this 16-page summary of the presentation soon.

Travel Writing Coaching Packages
You might have noticed that I haven't yet opened up my travel writing coaching services to the general public. There's a very good reason for this: I already have as many clients as I can handle, while still providing quality service.

Currently I'm working with Jed, Elizabeth, Karen, Marilyn, Tracey, Christine, Christine (yes, two Christine's), Mary, Linda, Kathleen, Kathleen, Kathleen (yes, three Kathleen's), John, Martha, Dave, Barbara, Theresa, Mary Ann, Noreen and Tim.

Because people continue to ask about coaching, we're starting a waiting list. There's no registration and no fee at this point. It's simply a way for you to get your name on the list when an opening occurs.

As my current writer clients complete their packages and assignments and 'graduate', we will offer my coaching to the next person on the list.  

To put your name on the waiting list, please email me at: PitchTravelWrite@gmail.com. Please put "coaching waiting list" in the subject line.

You can find information about my three coaching packages (at reduced subscriber rates) here: Coaching Packages for Travel Writers

---
Featured Article:
What's Your Business Policy for Press Trips?
A previous post discussed why it's important for travel writers to establish business policies for their work. I'm sure it got you thinking about setting up some of your own business practices.

There's one crucial business practice that all travel writers need to consider. It's a big one I'm dedicating this post to it.

How do you decide if your paid travel writing assignment is worth going on the press trip?

I get invited on an average of one or two press trips each week and I'd love to go on them all! And for a while, I did. Until I realized it was sucking up my time and I wasn't getting my work done.

Until I had a business policy in place, I found it really difficult to turn down press trips.

Here's the thing. If you are a freelance travel writer, the only way you get paid for your time is to sell your articles. Even if the press trip covers all your expenses, you aren't getting paid for your time while you're on the road. So, from a business perspective even a "free trip" costs money.

This is how the freelance writing life differs from being an employee. As an employee if you go on a business trip you get paid for your time and expenses. Even if you take vacation time, your vacation benefits pay for your time.

You're not being paid for your time on the road when you're a freelancer - unless you sell your stories. Freelancers need to have paying assignments to cover the time away from your desk.

Every time you take a press trip, you're giving up valuable time you can be using to sell and write stories - your way of producing income. Sure, your time away can be considered research for your stories, but it comes at a high price if you're away for several days.

Don't get me wrong - I love to travel, and it breaks my heart to decline a press trip. That's why I established business policies to help me navigate through deciding to accept a trip or decline the invitation.

It's not rocket science to do this. I simply figure out if the trip will be profitable.

Continue reading the article ...

---

Please share this e-zine with friends, family or anyone who may be interested in travel writing and can benefit from some free marketing and travel writing information.


They can sign up for this e-zine at this link.
---

'Friend' Me!
If you haven't already done so, please 'Friend' me (Roy Stevenson) on Facebook. My posts are generally travel writing-related and I try to keep it fun.

My Saturday morning 'Where's Roy' Facebook post has been particularly popular! I post a travel photo—usually with me in it—and you have to guess where the heck I am. A few friends and subscribers have proved particularly adept at this.

That's all for now.

Until next time, you keep pitching....

Roy

Roy Stevenson
Pitch Travel Write
www.pitchtravelwrite.com


Please note: Some products mentioned in this e-zine may result in my receiving a small referral fee if you decide to purchase the product. I only recommend products and services that I believe are high quality and can help you be more successful as a freelance writer. Please let me know if you have any questions.
---