Greetings Fellow Travel Writers and Bloggers!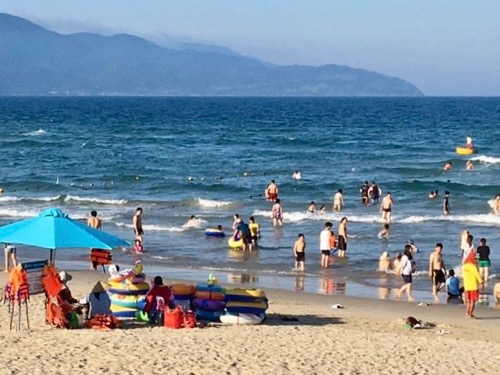 Many of you are curious about how Linda & I spend our time in Vietnam, so this post will give you some insight into our daily lives.

Every day we see things in SE Asia that are so different from our comfortable lives in suburban Seattle. Small motorcycles chug along rough roads with impossibly large loads. Women from the countryside labor on construction sites alongside the men, mixing concrete and laying bricks.

We watch incredulously as Banh Bao (steamed pork buns) vendors drive their motorcycles along the side streets—loudspeakers blaring "Banh Bao". There's a small open fire in a box on the back of the motorcycle to keep the buns warm and steamy! It seems like a big safety hazard to us, but they keep sputtering along and smiling. With sights like these, we don't get bored!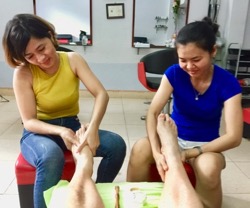 We've made many friends here in Da Nang, from a diverse set of expats and locals. The owner of our local beauty salon, Miss Youm, has invited us to dine at her house with her family during Vietnam holidays.
Once or twice each week, we stroll the three blocks to her salon for foot or body massages. Each one-hour massage costs us the equivalent of $8.78! Miss Youm does my pedicures and haircuts, and I walk out of her salon looking 20 years younger. Okay, 2 years younger!
Miss Hanh, the feisty concierge at our apartments is the closest we've ever come to having a daughter. This 32-year old runs errands and makes phone calls for us. She informs us about local customs, and answers our naïve questions about Vietnamese culture. And she always greets us with a huge beaming white smile. We miss her on Sunday, her only day off.
Our rent is only a fraction of what we would pay for a similar two-bedroom, completely furnished apartment in Seattle. Included in our rent is cleaning, laundry, water and gas (for cooking), and internet.

Three mornings each week, four tiny Vietnamese women come in to clean our apartment, top to bottom, while Linda and I go out to breakfast. And, later that day, our laundry appears miraculously inside our apartment, cleaned, pressed, folded, and smelling like roses. We love it!

After 1 year of shopping at the bustling local market, Cho Bac My An, the fruit & veggie ladies know us. They help us choose the best produce and throw in some extra veggies for being regular customers. They always give us lovely smiles.

Yesterday, Linda bought one kilogram (2.2lbs) of fresh cleaned shrimp for $8.75! We ate them last night in a vegetable stir fry. $7 got us a bunch of bananas, 2 bags of precut mixed veggies, 2 carrots, 2 cucumbers, 1 red bell pepper, 2 mangos, & 10 limes. We used to pay three times more for the same amount of food in a Seattle supermarket.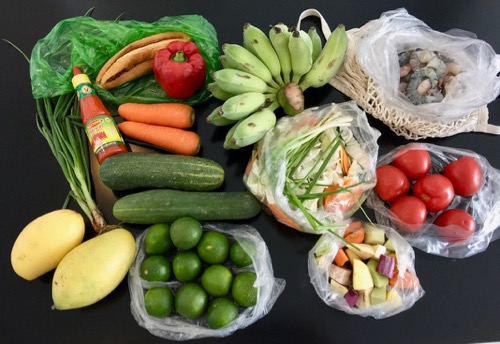 We live only three blocks from one of the world's most gorgeous beaches — Da Nang Beach. It's also known as My Khe Beach, or China Beach, as named by the American and Australian soldiers in the Vietnam War.

Da Nang Beach is a near perfect 6-mile-long crescent of white sand. On our evening walks we see local families wading in the surf after work, Asian tourists (mostly from Korea and Japan taking selfies), and sunburned tourists from western countries. There are luxury resorts stretched out along the beach, tucked behind palm trees.

Vietnam is a haven for foodies! Some of the delicious food we enjoy includes Banh Xeo pancakes (with shrinp and veggies), Mi Quang noodles with pork or chicken, Banh Mi baguettes stuffed with the most divine fillings you can imagine. There's also Bunh Thit Nuong, a noodle dish with a sweet spicy sauce, meat and vegetables. Fresh vegetables are served with everything. The Vietnamese love their food!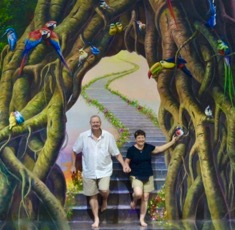 Within three blocks' radius of our apartment we have at least 20 restaurants offering a huge variety of local, Asian and Western food. We'll eat Korean BBQ one night, and Spanish Tapas the next.
Yesterday morning at the market we ate a fried egg dish with a delicious, slightly sweet sauce, mint leaves, sliced and ground pork, sliced cucumber, sliced tomato, and green veggies for $1 each. We sat on tiny plastic stools under a blue tarpaulin on a busy street corner and enjoyed watching the local ladies who always hang out at the next table.
Life is good. For us, this is as close to the idyllic travel writer's life that we've found. We hope you're living your idyllic travel writing life, too.
And if you plan to visit Danang, let us know you're coming – we'd love to meet up with you for coffee or a delicious meal.


---
This Week's Featured Post
Is Your Query Letter is Ready to Submit?
Use This Checklist Before You Hit "Send"
The query letter isn't the only factor that determines your freelance writing success, but it's a critical element to sell your stories. It's where the rubber meets the road. Queries are the flashpoint where we present our story idea and convince an editor it's worthy of being published.
Many new freelance writers fear query letters. There are so many ways you can screw them up! You're never sure if you covered everything. You're unsure of how much (or how little) information to cram into your query letter. You have doubts about whether you're overselling or under-representing your story idea—and yourself.
I've created a valuable tool to quickly assess if your query letter is complete. It ensures you haven't missed any crucial bits and pieces.
After all, those little bits and pieces often make the difference between selling your story or getting rejected by an editor. If you use this list before you hit "send", you'll see your acceptance rate rise noticeably.

Access the Query Letter Checklist
---
Upcoming Posts
March 26: How Do You Know When Your Travel Article is Ready to Submit?
April 2: Break into Travel Writing with Museum Stories
April 9: How to Write Travel Stories that Sell
April 16: Guest Post: Break into Travel Writing With Local Publications


---

Get a crash course on breaking into travel writing and marketing—by sitting through our Complete Travel Writing & Marketing Master Class, in April.

There are six weeks until our Seattle master class. Easily enough time to sign up and book your flights and hotel. We still have a handful of seats left. If you want to supercharge your travel writing career you'll need to act now. Our last few seats always sell out the month before class starts.

We believe our master class is the best travel writing & marketing workshop in the world. And we can prove it. We have writers coming from five countries signed up for our master class! Join aspiring travel writers from Canada, the U.S.A, Grenada, Australia, & Belgium in Seattle, in April.

Attendees are coming from all over the United States, too: Utah, Washington State, Louisiana, Arizona, California, Ohio, New York, & Colorado.  The Complete Travel Writing & Marketing Master Class, Seattle, Washington, U.S.A. April 27-29, 2018:


Learn how to . . .
• Consistently sell your travel stories to paying print media
• Land Press Trips & get complimentary travel
• Improve and accelerate your travel writing career
• Transform your travel blogs into cash by selling them to print magazines



You'll get all this information—and much more—in my three-day intensive workshop for travel writers, The Complete Travel Writing & Marketing Master Class.

The focus is on marketing & selling your articles, and on using your assignments to request complimentary travel - areas where most writers struggle.

Sign Up Here ...

---
Here's what husband and wife team, Pam & Gary Baker, had to say about last year's Master Class:
"We attended Roy's Master Class in Seattle last April. We had just flown in from Europe the night before and I worried I would be too jet lagged to stay awake during the workshop. But the excitement of the class and the tremendous information kept me awake all day long!
You will learn things in the class that you won't get from books. And you'll make friends, too, that have the same goals. You'll continue to stay in touch and encourage each other and cheer your successes. A network is important! If you haven't signed up for Roy's class this April, you need to do it now before it's sold out!"
Pam & Gary Baker, Master Class Attendees, April 2017

Learn more ...

---
We've Been In The News
Roy is interviewed here by Anda Galfy of travelnotesand beyond.com about his life as a travel writer:

Link to Travel Notes and Beyond blog

---
Selling & Reselling Your Articles
Here are links to four articles about how to resell, repurpose, & repackage your travel articles. It's how I stretch my articles into multiple publications by reselling them. I've made good money and greatly expanded my bylines doing this. Try it!

5 Ways to Sell Your Articles
Earn More - Sell Your Articles Around the World
Reselling Your Articles (The Art of Reprints & Rewrites)
Reselling Your Articles - 3 Tricky Situations


---
Inspirational Travel Quote of the Week
Travel Writing Bonus
For some of the finest travel writing ever, read John Steinbeck's article about Positano, Italy, written in 1953 in Harper's Bazaar Magazine.
Download the free PDF:

Link to Download Steinbeck PDF

---
Featured Book of the Week
The Complete Guide to Query Letters for Travel Writers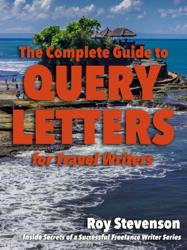 NOW AVAILABLE IN PRINT!
Our best-selling book shows you everything you need to know about crafting compelling query letters to sell your travel articles to magazine editors. Many, (as in hundreds) of aspiring travel writers have used our templates to snag paying assignments in print media.
Most people print this resource guide for convenience and it's now available in print on amazon.com.

Go to amazon to purchase the print book

Well-written query letters convince magazine editors that you have an exciting travel story their readers will absolutely love.
In ten years of travel writing I've had more than 1,000 stories published in 200+ magazines, trade journals, newspapers, in-flights, on-boards, custom & specialty magazines, and travel websites – and they all started with a query letter. 
I know how to write killer query letters that work, and I wrote this eBook to show you how to do it.
This is different from all other query letter books because you get 20 of my sample query letters that work. These are actual query letters that I used successfully to get articles published in reputable, paying print magazines.
Each sample query letter comes with a clear explanation of the key things that sold the idea successfully.  And you can use my samples to create a template for your own query letters, using the same words and layout.
All reviews of our Query Letters for Travel Writers book on Amazon.com are 5-Star!
Also available in PDF format on PitchTravelWrite:

Buy the PDF

Here's renowned travel writer & blogger Chris Backe's review of my Query Letter eBook, on OneWeirdGlobe.com:
"Pitch letters can sometimes feel like the secret sauce of the blogging world. Many folks have a template or two they use, but few share them as openly as Roy has here. Call this what it is – a master-class of sales writing to get into magazines and newspapers."
"The book itself is clean, complete, yet concise enough to be read in a single sitting. Roy's real world experience and credentials underscore the opening chapters, which reads like common sense should – if it were still common sense. It's up-to-date with the way things actually work here in 2015 (not the way we want them to work). A two-page template is the appetizer, with twenty query letters written by him that resulted in an article placement as the main course. You'll soon notice the patterns used, and feel empowered to try it yourself. Note that some lateral thinking is rewarding – and that tailoring your pitch to ensure that magazine's angle is taken care of is paramount. Highly recommended."

---
Friend me on Facebook
My Facebook page is about freelance travel writing. I frequently post about:
• travel writing & blogging conferences,
• links to other well produced travel websites and blogs,
• links to my travel articles,
• travel writing themes,
• links to reputable travel writer's groups, associations, and newsletters,
• magazine covers stories and back stories,
• links to resources pages,
• links to travel writing archives,
• links to coaching and mentoring resources,
• and plenty of other useful information to get you up to speed.



Link to Roy's Personal Facebook page
---
Please share the e-zine with friends, family or anyone you know who's interested in travel writing. They can sign up for the newsletter and get free marketing tips each week at this link:

Sign up for my weekly marketing tips

That's all for this week.

Until next week, just keep pitching!

Roy

Roy Stevenson
Pitch Travel Write
www.pitchtravelwrite.com













---