Greetings Fellow Travel Writers!
It's been raining in Seattle for a few days, and looks like it will keep on doing that for a while. After our mild winter, we can't complain. And, it's easier to stay inside and get some work done, so the next few days will be productive ones.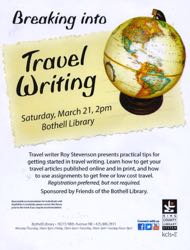 Just a reminder to those of you in the Seattle area:
I'll be doing a free presentations at the Bothell Library, "How to Break into Travel Writing" on Saturday, March 21st at 2 p.m.
Topics include:

- the different types of travel writing articles

- writing for print versus online media (advantages and disadvantages)

- how to dream up viable travel story ideas to pitch to magazines

- different techniques for researching and preparing your travel articles

- what to look for at your destination to make your travel articles enticing

- how photos can earn you extra income

- how to find magazines that will be interested in buying your travel stories

- what magazine genre you should consider to get started in travel writing

- getting complimentary travel perks

I'd love to see you there if you can fit it into your schedule.
In this issue is our featured article about doing research before a trip to generate story ideas and to help plan your travel itinerary. I compare the advantages and shortcomings of using travel guidebooks vs. the internet.
And, we're featuring another travel blogger in this issue, Patrick Johnston and his blog, In Motion.
Scroll down to read more and access the links. Enjoy!


---
Featured Article:
Travel Guidebooks vs The Internet
Sales of travel guidebooks have declined significantly in the past few years, but you can still find hundreds of them in bookstores. Obviously, someone still finds them useful.

But with so much information available on the Internet these days, are travel guidebooks necessary?

One of my favorite activities before planning a major international trip, is to pore over all the information I can get my hands on about the destination. As a travel writer, I'm looking for story ideas to pitch in advance of my trip, and help in planning my travel itinerary.

I use guidebooks and the Internet for this purpose. There are advantages and shortcomings to both sources of information. Here's how I use the information - or ignore it - while researching story ideas and planning my travel itineraries:

Continue reading the article ...

---
Featured Travel Blogger: Patrick Johnston
In Motion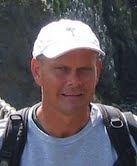 Patrick Johnston has been blogging for less than a year with his In Motion site. He emphasizes travel, health and fitness, writing about travel experiences that include physical activity.

He believes in getting something mentally, physically and spiritually out of his travels by being fully engaged, getting out of the car or bus and instead moving at a slower pace. His stories include hiking, cycling, water sports, walks and other "in motion" travels to fully experience a place, along with quality photos to help tell his stories.

Read more about Patrick and his advice to aspiring bloggers ...



---
Please share this e-zine with friends, family or anyone who may be interested in travel writing and can benefit from some free marketing and travel writing information.


They can sign up for this e-zine at this link.
---

'Friend' Me!
If you haven't already done so, please 'Friend' me (Roy Stevenson) on Facebook. My posts are generally travel writing-related and I try to keep it fun.

My Saturday morning 'Where's Roy' Facebook post has been particularly popular! I post a travel photo—usually with me in it—and you have to guess where the heck I am. A few friends and subscribers have proved particularly adept at this.

That's all for now.

Until next time, you keep pitching....

Roy

Roy Stevenson
Pitch Travel Write
www.pitchtravelwrite.com


Please note: Some products mentioned in this e-zine may result in my receiving a small referral fee if you decide to purchase the product. I only recommend products and services that I believe are high quality and can help you be more successful as a freelance writer. Please let me know if you have any questions.
---