Greetings Fellow Travel Writers and Bloggers!
Are you just launching your travel writing career?
Have you been sending your queries out and receiving . . . dead silence like they went into a black hole?
Are you receiving a constant stream of rejections from editors?
Half the battle to freelance success is simply knowing what is necessary to succeed. Once you know what is necessary to get your stories published, and be paid for them, you can start taking measures to boost your skills and talents. Then, if you go about it right, you should be able to sell your work. No more black holes. Fewer editor rejections.
We're well into the third month of 2018, and no doubt some of your new year's resolutions for self-improvement have already fallen by the wayside. I urge you to consider the fact that the new year is but an arbitrary calendar point in time. It's never too late to learn about the writing trade and put new plans into action.
Even if you just change or improve one or two of your writing skills and habits, you're going to sell more stories.
Here's a great example: most writers I work with have difficulty with spending hours of quality time creating magazine distribution lists to query.
Yes, I know, this is an onerous task. Yet, this element of freelance writing is so critical for success that we're doomed to failure if we skip or skimp on it. It's common sense: the more magazines we pitch, the greater the statistical chance we have of editors picking up our stories for their publication.
Perhaps you can spend more time creating your distribution lists this year? Just one small change like this will boost your publication rate, big time!
And, perhaps you could spend less of your valuable effort on time sucks like social media, leaving more time for your writing?


---
This Week's Featured Post
The Secret to Travel Writing Success
I receive emails every week asking, "What is the secret to your travel writing success?"

This request often is worded differently like, "How can I get to where you are now, in the shortest possible time?", or, "How can I get lots of articles published and get paid for them, like you do?"

These aspiring writers are looking for that ONE key to immediate success. News flash: all successful writers put in years of hard grind from the first time we put our pens to paper until we achieve success.

But there are some basic components to achieving success, and they're laid out in this post.

READ THE ARTICLE
---
Bonus Post
The Ultimate List of Travel Writing Groups, Meetings & Events
---
Upcoming Posts
March 19: How Do You Know When Your Query Letter is Ready to Submit?
March 26: How Do You Know When Your Travel Article is Ready to Submit?
April 2: Break into Travel Writing with Museum Stories
April 9: How to Write Travel Stories that Sell


---

Get a crash course on breaking into travel writing and marketing—by sitting through our Complete Travel Writing & Marketing Master Class, in April.

There are eight weeks until our Seattle master class. Easily enough time to sign up and book your flights and hotel. We still have a handful of seats left. If you want to supercharge your travel writing career you'll need to act now. Our last few seats always sell out the month before class starts.

We believe our master class is the best travel writing & marketing workshop in the world. And we can prove it. We have writers coming from five countries signed up for our master class! Join aspiring travel writers from Canada, the U.S.A, Grenada, Australia, & Belgium in Seattle, in April.

Attendees are coming from all over the United States, too: Utah, Washington State, Louisiana, Arizona, California, Ohio, New York, & Colorado.  The Complete Travel Writing & Marketing Master Class, Seattle, Washington, U.S.A. April 27-29, 2018:


Learn how to . . .
• Consistently sell your travel stories to paying print media
• Land Press Trips & get complimentary travel
• Improve and accelerate your travel writing career
• Transform your travel blogs into cash by selling them to print magazines



You'll get all this information—and much more—in my three-day intensive workshop for travel writers, The Complete Travel Writing & Marketing Master Class.

The focus is on marketing & selling your articles, and on using your assignments to request complimentary travel - areas where most writers struggle.

Sign Up Here ...

---
Here's what husband and wife team, Pam & Gary Baker, had to say about last year's Master Class:
"We attended Roy's Master Class in Seattle last April. We had just flown in from Europe the night before and I worried I would be too jet lagged to stay awake during the workshop. But the excitement of the class and the tremendous information kept me awake all day long!
You will learn things in the class that you won't get from books. And you'll make friends, too, that have the same goals. You'll continue to stay in touch and encourage each other and cheer your successes. A network is important! If you haven't signed up for Roy's class this April, you need to do it now before it's sold out!"
Pam & Gary Baker, Master Class Attendees, April 2017

Learn more ...

---
We've Been In The News
We're very pleased to have our website, PitchTravelWrite, listed on Moira Allen's Writing-World site:

Writing World listing - Moira Allen

---
Selling & Reselling Your Articles
Here are links to four articles about how to resell, repurpose, & repackage your travel articles. It's how I stretch my articles into multiple publications by reselling them. I've made good money and greatly expanded my bylines doing this. Try it!

5 Ways to Sell Your Articles
Earn More - Sell Your Articles Around the World
Reselling Your Articles (The Art of Reprints & Rewrites)
Reselling Your Articles - 3 Tricky Situations


---
Inspirational Travel Quote of the Week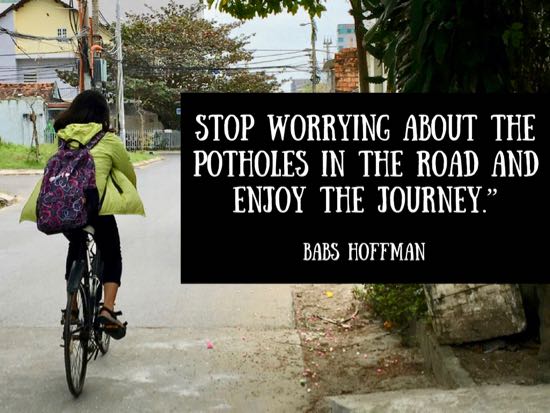 Travel Writing Bonus
For some of the finest travel writing ever, read John Steinbeck's article about Positano, Italy, written in 1953 in Harper's Bazaar Magazine.
Download the free PDF:

Link to Download Steinbeck PDF

---
Featured Book of the Week
The Complete Guide to Query Letters for Travel Writers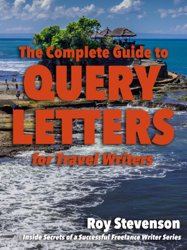 NOW AVAILABLE IN PRINT!
Our best-selling book shows you everything you need to know about crafting compelling query letters to sell your travel articles to magazine editors. Many, (as in hundreds) of aspiring travel writers have used our templates to snag paying assignments in print media.
Most people print this resource guide for convenience and it's now available in print on amazon.com.

Go to amazon to purchase the print book

Well-written query letters convince magazine editors that you have an exciting travel story their readers will absolutely love.
In ten years of travel writing I've had more than 1,000 stories published in 200+ magazines, trade journals, newspapers, in-flights, on-boards, custom & specialty magazines, and travel websites – and they all started with a query letter. 
I know how to write killer query letters that work, and I wrote this eBook to show you how to do it.
This is different from all other query letter books because you get 20 of my sample query letters that work. These are actual query letters that I used successfully to get articles published in reputable, paying print magazines.
Each sample query letter comes with a clear explanation of the key things that sold the idea successfully.  And you can use my samples to create a template for your own query letters, using the same words and layout.
All reviews of our Query Letters for Travel Writers book on Amazon.com are 5-Star!
Also available in PDF format on PitchTravelWrite:

Buy the PDF

Here's renowned travel writer & blogger Chris Backe's review of my Query Letter eBook, on OneWeirdGlobe.com:
"Pitch letters can sometimes feel like the secret sauce of the blogging world. Many folks have a template or two they use, but few share them as openly as Roy has here. Call this what it is – a master-class of sales writing to get into magazines and newspapers."
"The book itself is clean, complete, yet concise enough to be read in a single sitting. Roy's real world experience and credentials underscore the opening chapters, which reads like common sense should – if it were still common sense. It's up-to-date with the way things actually work here in 2015 (not the way we want them to work). A two-page template is the appetizer, with twenty query letters written by him that resulted in an article placement as the main course. You'll soon notice the patterns used, and feel empowered to try it yourself. Note that some lateral thinking is rewarding – and that tailoring your pitch to ensure that magazine's angle is taken care of is paramount. Highly recommended."

---
Friend me on Facebook
My Facebook page is about freelance travel writing. I frequently post about:
• travel writing & blogging conferences,
• links to other well produced travel websites and blogs,
• links to my travel articles,
• travel writing themes,
• links to reputable travel writer's groups, associations, and newsletters,
• magazine covers stories and back stories,
• links to resources pages,
• links to travel writing archives,
• links to coaching and mentoring resources,
• and plenty of other useful information to get you up to speed.



Link to Roy's Personal Facebook page
---
Please share the e-zine with friends, family or anyone you know who's interested in travel writing. They can sign up for the newsletter and get free marketing tips each week at this link:

Sign up for my weekly marketing tips

That's all for this week.

Until next week, just keep pitching!

Roy

Roy Stevenson
Pitch Travel Write
www.pitchtravelwrite.com













---