Greetings Fellow Travel Writers!
I hope you're looking forward to longer days with our "spring ahead" time change. I slept in today and am getting a late start, but I'm sure I'll adjust quickly.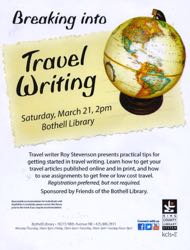 For those of you in the Seattle area, I'd like to invite you to join me at the Bothell Library for a free presentation, "How to Break into Travel Writing" on Saturday, March 21st at 2 p.m.

Here's what I'll be talking about:


- the different types of travel writing articles


- writing for print versus online media (advantages and disadvantages)


- how to dream up viable travel story ideas to pitch to magazines


- different techniques for researching and preparing your travel articles


- what to look for at your destination to make your travel articles enticing


- how photos can earn you extra income


- how to find magazines that will be interested in buying your travel stories


- what magazine genre you should consider to get started in travel writing


- getting complimentary travel perks


That's a lot to cover in a short time, but I'd love to see you there if you can fit it into your schedule.

One of my Facebook travel writing friends asked if we could record a video of the presentation for people who don't live in Seattle. Unfortunately, we don't have the right equipment to do a good job of it on the 21st, but we're looking into alternatives to get it recorded and posted online. I'll let you know what we come up with.

Also in this issue is our featured article, where I weigh in about what I like about guided tours and why they should be part of your itinerary in a new destination.

And, we're featuring another travel blogger in this issue, Harry Singh and his blog, Harry's Lenz.

Scroll down to read more and access the links. Enjoy!


---
Featured Article:
Guided Tours: What's Good About Them?
Taking a guided tour when you're visiting a new city is an option for every traveler - and there are so many tours available it's sometimes mind staggering.

For travel writers, guided tours seem to get a bad rap. I have some travel writer friends who do all their travel independently. They would never consider taking a tour, and this camp of writers look down on guided tours with disdain.

On the flip side, I know some travel writers who only go on guided tours when they travel, without doing any exploration on their own.

I've read travel articles by writers in both camps. Strangely enough, I've enjoyed all the travel stories. What's more, I can't tell which of their travel stories were written from independent exploration of a place versus a guided tour. Perhaps the successful telling of a travel tale lies with the skill of the writer, not how they traveled.

I'd like to weigh in on the guided tour versus self-guided tour issue, because I use both methods of exploring to good effect. I believe each method has its advantages.

For the travel writers who hold guided tours in contempt, I'd like to point out the advantages of taking these types of tours. They have more benefits than you might imagine!

Here are the reasons I love guided tours and why (and when) I use them when visiting new destinations:

Continue reading the article ...

---
Featured Travel Blogger: Harry Singh
Harry's Lenz
Harry Singh started his blog, Harry's Lenz, in 2014. He combines photography and writing to present travel information to his readers in a visually fun and informative way.

Originally started as a photography blog to share with family and friends, he has developed it way beyond this. With his blog he takes the many delightful locations around the world where he has traveled and describes them with his own unique vision, using his fine art images and words.

Read more about Harry and his advice to aspiring bloggers ...



---
Please share this e-zine with friends, family or anyone who may be interested in travel writing and can benefit from some free marketing and travel writing information.


They can sign up for this e-zine at this link.
---

'Friend' Me!
If you haven't already done so, please 'Friend' me (Roy Stevenson) on Facebook. My posts are generally travel writing-related and I try to keep it fun.

My Saturday morning 'Where's Roy' Facebook post has been particularly popular! I post a travel photo—usually with me in it—and you have to guess where the heck I am. A few friends and subscribers have proved particularly adept at this.

That's all for now.

Until next time, you keep pitching....

Roy

Roy Stevenson
Pitch Travel Write
www.pitchtravelwrite.com


Please note: Some products mentioned in this e-zine may result in my receiving a small referral fee if you decide to purchase the product. I only recommend products and services that I believe are high quality and can help you be more successful as a freelance writer. Please let me know if you have any questions.
---