Greetings Writers!
In this issue:
- Fifty Websites that Want to Publish Your Travel Stories - new eBook and distribution list
- Multiple Story Ideas: How to Multiply Your Income
- Writing Assignments: When Editors Come Calling


In the last issue I talked about how to create your own distribution lists. I hope you checked out some of the resources that I mentioned in the article to help you build your lists.

In the meantime, I've just published a new eBook for those of you who want to get your stories published online, on travel websites.

This new eBook and distribution list,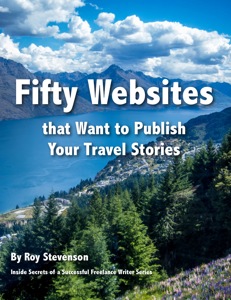 Fifty Websites that Want to Publish Your Travel Stories, gives you a list of 50 quality travel websites, the writer's guidelines, and the contact details of the editors. I've also included my own personal comments if I've worked with the editor.

Plus, I added a ten page introduction with my best advice about getting published online.

There are a variety of reasons why every freelance writer needs to get published online at least some of the time.

For beginning writers, writing for websites is a fast and easy way to build your bylines and gain confidence.

For experienced writers and beginners, if you want to get into print publications - guess what? The editor will go online to research your background and check out your bylines. So having a few articles online gives you instant credibility and a set of ready-made "clips".

I've noticed in the past year or so that CVB's and PR agencies are often happy to host you on press trips and familiarization tours if you have an online assignment. So getting those coveted press trip invitations is one more reason to get familiar with some quality websites and post a few articles.

A lot of time and research went into finding these fifty websites. Hundreds of websites didn't make the grade. Some travel websites just sell stuff and don't post travel stories, others prefer to write their own stories, and some are content mills. These types of websites are NOT on my list.

The sites that made it onto this list are quality websites where you can feel proud to be published. And having this list at your fingertips will save you hundreds of hours of research time because you can use it over and over again each time you want an online article published.

For subscribers to this e-zine, I'm offering $2 off the regular price of this eBook.

It usually sells for $7.95 - with the discount you'll pay $5.95 when you use the discount code "2BUCKSOFF" at checkout.

This discount offer is good until midnight on June 30th, so order now to get the discount.

Thanks again for being a loyal subscriber to this e-zine.

(If you have any problems at checkout, please let me know at roy@pitchtravelwrite.com. I'll fix any problems as fast as I can.)

Now for the articles in this issue …

First up is an article about putting multiple story ideas into a single query to an editor. Also known as "multiple submissions", this is one of my best methods for making more money with less effort.

The article discusses when it's right to include several story ideas in a query - and when it's not. It also gives you insight into what different editors think. I surveyed some of my editors on this topic and included their perspectives. I think you'll find it enlightening.

Recently I received a rush request from an editor in Arkansas who I had never met. She found me on the internet and needed an article on classic cars - fast. A younger writer had failed to deliver the right kind of article, so she contacted me.

So the second article is about how to handle writing assignments when an editor calls you. Besides being able to command higher fees for your writing, this can also lead to repeat business. Learn about what makes editors go looking for writers, how to make sure editors can find you, and how to handle the business end of the negotiations.


---
June Marketing Tips:
Multiple Story Ideas
to Multiply Your Income


Once you've built up some bylines and know a few editors, there's a sales technique that you can try.  It involves sending out multiple story ideas in each query letter to editors who know you.




If applied wisely, it multiplies your chances of having more stories accepted for publication.


Let's backtrack for a moment.  When you're starting out as a travel writer, I recommend that you pitch only one idea at a time in each query letter.  In the beginning you need to get to know the editors and give them a chance to get to know you and your work.




But sending out one query at a time is like a retail business offering only one product to a customer in each visit.  The retail business wouldn't last very long with this approach! 


It's more profitable to offer multiple products with each customer visit.  And, it's better for the customer, too.


In a similar way, as a freelance writer you are offering multiple products to an editor with one query letter.  Some writers may look at this as a radical approach, but it's not any different than the retail store described above.


Offering multiple story ideas in one pitch, to editors who know your work, is good for the writer from a profit and efficiency standpoint.  It's also good for the editor who wastes less time and can plan out his editorial calendar with your stories.


Once an editor is accepting your stories consistently, it's a good sign that the editor likes your work.  At this point you can start sending the editor two or more story ideas in the same query letter.


I've struck the jackpot a few times with this form of multiple submissions.

Continue reading article...

---
Writing Assignments:
When an Editor Comes Calling


Now and then, writing assignments drop into your lap, like manna from heaven.


Last week, the editor of an Arkansas lifestyle magazine emailed, asking me to write a cover story about American nostalgia for classic cars.  A younger writer had failed to deliver this article so the editor was in a panic. 
She found me through an internet search.  

Naturally I jumped on the assignment, cranked the article out in a day, and am several hundred dollars better off for my labors.




A couple of years ago, the editor of Beer Connoisseur Magazine emailed, asking me to write an article about Scottish beers and microbreweries.  The result — a nice article published in a prestigious magazine, for which I was paid twice my usual rate.




Another time, the editor of a national classic car magazine called, requesting an article about a car museum in Sacramento, California.  The payout was substantial and included a pleasant three days, on assignment, exploring Sacramento in style, all expenses paid.


In another example, the editor of a northwest regional magazine called asking for a roundup article about team running relays in the region.  This assignment led to another roundup assignment about recreated historic forts around the Pacific Northwest, then another roundup about luxury lodges in the Pacific Northwest, and most recently, a piece about romantic fall getaways.  Plus a dozen other stories…and we're still going strong.


I can go on and on with more examples of writing assignments, but you get the idea.


As you become published more frequently, you will find this happening to you.  There are a variety of reasons that an editor goes looking for freelance writers, and there are ways to make sure that they find you.


To keep it in perspective, writing assignments (without queries) don't happen frequently enough that you can stop sending out queries for your story ideas.  And you can't depend on a steady income from these lightning strikes because they occur so randomly.


But you do need a strategy for when this happens. 


And you need to make sure that your work is visible enough to attract an editor's attention – so they can find you and hire you.

Continue reading the article ...

---
Please share this e-zine with friends, family or anyone who may be interested in travel writing and can benefit from some free marketing information.

That's all for now.

Until next time, you keep pitching....

Roy

Roy Stevenson
Pitch Travel Write
www.pitchtravelwrite.com


Please note: Some products mentioned in this e-zine may result in my receiving a small referral fee if you decide to purchase the product. I only recommend products and services that I believe are high quality and can help you be more successful as a freelance writer. Please let me know if you have any questions.
---