Greetings Fellow Travel Writers and Bloggers!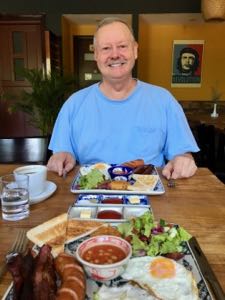 ... and welcome to all new subscribers!

Living over on the "beach side" of Da Nang has plenty of advantages, as Linda and I are discovering. In the two weeks we've been here, we've discovered dozens of small restaurants within a 3-block radius of our apartment, ranging from Vietnamese to Korean, to Chinese to Japanese, and from Pizza joints to burger bars.
There's also no shortage of spas, hair salons, and massage parlors, for our creature comforts—with prices so ridiculously low that you wouldn't believe me if I told you!
Best of all, we're only a 15-minute stroll from Cho Bac My An - our favorite Da Nang market, and definitely for the locals. We get there early — around 7:30am — to get the freshest produce.
I love watching the fruit and vegetable ladies, the butcher ladies, the fish ladies, and the chicken ladies selling their wares - always gracious and friendly when I take photos.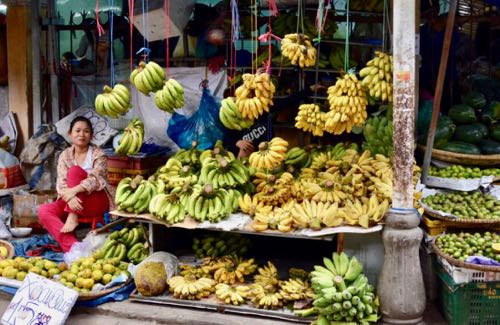 ---
This Week's Featured Post:
Six Guidelines for Higher Paying Assignments

In my ten years' travel writing, I've read countless complaints from novices about how they can't break away from writing short FOB articles into better paying feature writing—and how they can't break into higher paying print magazines. These writers want to move up into feature writing and better paying publications, but for some reason they remained trapped on the FOB treadmill.

Even worse off than the FOB writers are the travel bloggers who write for other people's blogs and websites, for free. A new perspective is needed for writers who've been slaving away on low paying FOBs—or non-paying magazines and websites.

If you want to move up to higher paying magazines and feature story writing, here's how to go about it. . . . .

READ THE ARTICLE: Six Guidelines for Higher Paying Assignments

---

We believe that our week-long, 16-hour, Travel Writing & Marketing Master Class is the best of its kind in the world.

That's a bold claim!

But, it's the only travel writing workshop that actually shows you, step-by-step, how to package and sell your story ideas to print magazines. Most novice writers can string their travel stories together without too much difficulty, but they're woefully under-equipped to sell their stories to magazine editors.

The goal is for our workshop graduates to be able to sell almost every story they dream up, and get paid for their articles.

We even go one step further; we show you exactly how to parlay your assignments into complimentary travel and free accommodation at nice hotels, luxury resorts, and high-end spas.

We show you how to get free tours, free entry into museums and other tourist attractions, and free meals in fine restaurants. These are all perks I've been enjoying for the past ten years, and I couldn't even begin to add up how much money I've saved with these freebies.

Our next Travel Writing & Marketing Master Class is in Siem Reap, Cambodia, in October 2017. Siem Reap is the home of the World Heritage sites of the Angkor Wat and Angkor Thom Temples.

Our small group of aspiring travel writers will be touring these amazing temples, and others like them, that date back more than 1,000 years to a grand era and civilization almost beyond our imagination.

Our Master Class is limited to the first ten people to sign up, and we're half full already! To guarantee a place in our class, follow this link and put down your $500 deposit. You can then pay the rest of your workshop and tour and resort fees in three equal, easy payments.

Reserve your space here ...

Want to know more about our Master Class?

Learn more here


---
Inspirational Travel Quote of the Week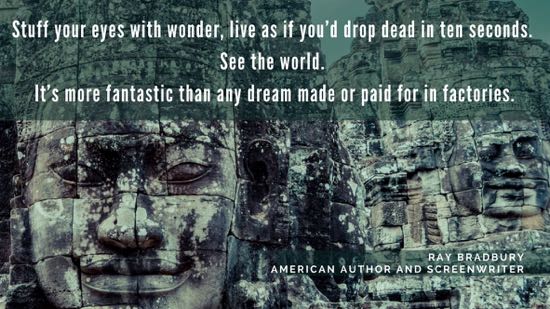 ---
Have You Planned Your Travel Calendar for 2017?
Have you planned your travel writing calendar for 2017 yet? We at PitchTravelWrite.com spent days preparing lists of:


24 Travel Writing and Blogging Conferences
11 Travel Writing and Blogging Workshops
11 Special Travel Writing Groups, Meetings & Events
5 Travel Shows (and a link to access many more)

Get organized now: Use these lists to plan your travel writing & blogging events for 2017.


---
Resources for Travel Writers

Books and Reference Guides:
Beginner's 3-pack Reference Guides

The Complete Guide to Query Letters for Travel Writers

100 Print Magazines that Want to Publish Your Articles

Fifty Websites that Want to Publish Your Travel Stories

Advanced Travel Writing 2-Pack Reference Guides

How to Land Press Trips and FAM Tours

How to Break Into the Luxury Travel Writing Market

The Complete Guide to Marketing and Selling Your Travel Articles

Digital Bookstore - Guides, Manuals and Special Reports

---
Friend Me on Facebook:
If you haven't 'friended' me yet on Facebook, please feel free to do so here:
Link to Roy's Personal Facebook page

---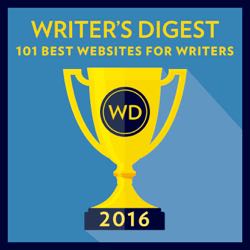 PitchTravelWrite.com was named in 2016's Writer's Digest 101 Best Websites for Writers list.

We're the ONLY travel writer's website on the list! We urge you to forward our newsletters on to your friends that might be interested in taking up travel writing.

PitchTravelWrite.com Testimonials

"I think you should know that I have been sending your link to many a travel journalist as your site is one of the most helpful I've seen to date. I even sent it to my sister who writes mostly about gardens and she was totally blown away by the amount of information you are giving away for free." —Karin Leperi, Freelance Travel Writer

"This site is more like a book than a website. It is one of the best (if not THE best) travel-writing sites I've seen in a long time. It is packed! And most of the articles will be useful to any freelancer, not just travel writers." —Moira Allen Anderson, Writing- World.com


---
Please share this e-zine with friends, family or anyone you know who is interested in travel writing. They can get free marketing and travel writing information by signing up for my e-zine at this link:

Sign up for my weekly marketing tips ...

That's all for this week.

Until next week, just keep pitching!

Roy

Roy Stevenson
Pitch Travel Write
www.pitchtravelwrite.com

---