Greetings Fellow Travel Writers and Bloggers!
What Novice Travel Writers Need to Learn . . . Fast!
Some people seem to think freelance travel writing is easy. I'll be the first person to tell you that breaking into paying print media is way harder than it looks.
I've had more than 1,000 articles published in 200+ regional, national, and international magazines, newspapers, trade journals, custom publications, specialty magazines, in-flights, on-boards, and online travel magazines. So you might get the impression that it's easy. But the truth is, I work really hard at it. All successful travel writers work hard at getting their work published in print media.
To get published in print magazines, you need to pay attention to every one of the steps in the freelance writing process. The process starts with dreaming up a saleable story idea and creating an enticing query letter and ends with delivering a quality article.
Your writing must meet the magazine editor's publication standards. You need to know the subtleties of working with magazine editors and how to get repeat assignments with them.
Even today, I'm still picking up tips to further refine my journalism and marketing skills. There's always something new to learn.
It takes time to break into print media. And your success in getting your stories published is directly related to the number of pitches you send out.
You need to treat your travel writing as a business, and put in the time to improve your writing and learn how to sell your stories. It's okay to be a hobbyist, but understand your progress will be much slower if you don't spend the time learning how to do these things.
Beginners also need a healthy dose of resilience. I'm always surprised when I hear from other travel writers how downhearted they feel when their queries are rejected. It's not personal. Rejection is part of the freelance process. You should doggedly continue to send out more queries.
Closely allied to resilience is self-discipline. You have to be willing to work at this regularly. If you don't sit down every day to pitch your articles and write them, you're not going to meet much success in freelance travel writing. Working as a freelancer requires self-discipline.
Finally, you need to be flexible with your approach. You're writing to serve the magazine editors and readers, not yourself. Some writers get upset when the editor rewrites or changes their stories. Your writing looks better as a result of good editing. Even the finest authors have professional editors revise their work. Read the acknowledgements in any book and you'll see how the writers are grateful to their editors.
Also, you can't always write what you want to write about and expect it to get published. Not every story idea is publishable. The publisher needs to sell advertising, the editor needs to slot articles to fulfill his editorial needs and the readers want to be entertained. You have to provide something appropriate for all these people. If you can't dream up stories that editors want to publish for their readers, you're going to find it difficult selling your stories. Flexibility is key.
Which of the above attributes do you need to focus on to improve your travel writing game?


---
This Week's Featured Post
Five Marketing Mistakes That Travel Writers Make
There are several marketing mistakes that will mess up your chances of getting your articles published.  And travel writers just starting out tend to make all of these mistakes.

Of course, mistakes are inevitable when you start something new.  It happens to all of us.  I certainly made lots mistakes when I was getting started in freelance travel writing.  And when I coach new travel writers, I see them making the same errors. 

Here are 5 marketing mistakes I see travel writers making, and my advice on how to avoid making them.

READ THE ARTICLE

---
Coaching Registration is Open
Hire an Expert to Help You Break Into Travel Writing
This is the last week to enroll in my Travel Writing & Marketing Coaching program. I only have one (1) slot remaining, so grab it now if you're interested in starting with my July 1st intake.

You can learn more at the link below:

REGISTER HERE

Here's what Tracy Schultz, one of my past travel writing clients has to say about my coaching program.

"Roy Stevenson's mentoring service is the perfect solution for an aspiring travel writer.  After attending a travel writing workshop I knew this was the career path for me. Flexible work schedule, the ability to experience my local area and tropical destinations in a way I never had before, AND get paid to do it?  PERFECT!  But . . getting started is tricky.  It can be intimidating... It's overwhelming figuring out where to start.  

This is where Roy comes in. A seasoned, well-published Travel Writing Guru willing to share his knowledge for a nominal fee?  Sign me up!  

First, I came up with a list of story ideas.  Roy gave me his opinions and I wrote my first query.  Roy critiqued it. I followed his suggestions, researched my topic more thoroughly and sent him my changes.  Then Roy tasked me with creating my distribution list.  He supplemented my efforts with a copy of his personal distribution list and other ideas of where to find suitable venues for my story.   With Roy's query approval and a hefty distribution list, I sent off my first query.  I got my first paid assignment (3 stories!) from Canoe and Kayak the next day.  I repeated this process for my next story idea and the next. And I'm thrilled to say I have 5 assignments with three different magazines for an upcoming trip this April.

Roy also showed me how to use my assignments for comps, and I've got freebies for meals and activities lined up for my trip!!  I'll have my first print bylines, and I'm finally starting to feel confident calling myself a Travel Writer.  Roy's mentoring has put me light years ahead of where I was just a month ago.  I highly recommend his programs!!"

--Tracey Schultz, Travel Writer
---
Upcoming Posts
July 2: Writing Historical Travel Articles
July 9: Adding Spice & Life to Your Travel Articles
July 16:Our Latest Success Story: Chuck Warren
July 23: The Five Most Common Novice Travel Writing Mistakes



---
We've Been In The News
In this short piece in TravelWritersExchange I share a few home truths that novices need to know about travel writing.

Link to article on Travel Writers Exchange

---
How to Build Your Travel Writer's Platform
In today's competitive travel writing arena, building your brand and your writer's platform are essential elements for your success.

Here are three articles in which I address the steps you need to start building your platform.


Building a Professional Website for Freelance Writers
Four Reasons to Get Published on Travel Websites
How to Get Testimonials from Editors and CVBs

---
Inspirational Travel Quote of the Week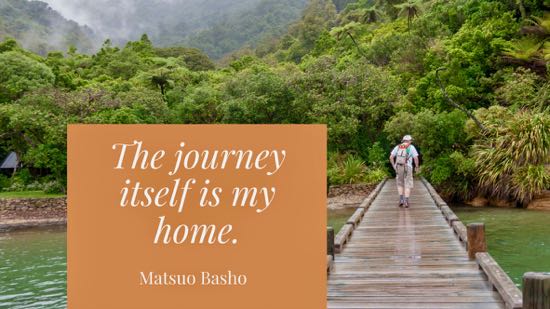 ---
Get on the interest list for The 2019 Complete Travel Writing & Marketing Master Class
We've just wound up our 2018 master class, in Seattle. We believe our Travel Writing & Marketing Master Class is the BEST of its kind, ANYWHERE.

Many of our participants had previously taken other travel writing workshops yet felt that these workshops fell short in preparing them to enter the freelance travel writing arena and get their stories published and be paid for them.

Even by the second day, several of our participants commented to me that our master class "took it to a whole new level."

I'd like to share with you a couple of comments from participants in last month's class:

"This weekend was one for the books! It was an incredible honor to be a part of Roy's world-class marketing conference and I'm eager to see how my fellow classmates and I crush it!" Jessica Pickett

"Home and ready to go to Barnes & Noble bookstore this morning. Thanks so much to Roy & Linda for this amazing weekend and thanks to all the participants for your support and generosity with advice. Looking forward to your success stories!" Mary Lou Osmond

If you want a no-fluff, no-hype class that walks you through the steps necessary to pitch and write for reputable paying print magazines, you should seriously consider attending our April 2019 Seattle class.

To see the rest of the comments from this year's participants and to sign up for the 2019 Master Class Interest List, click on the link below:

SIGN UP FOR THE INTEREST LIST
---
Featured Book of the Week
The Art and Craft of Travel Writing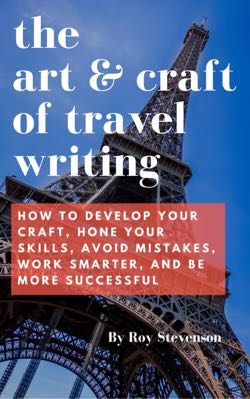 What's in this 21-chapter, 152-page book?

The Art & Craft of Travel Writing has five sections covering . . .
• The Craft of Travel Writing
• Things That Go Wrong in Travel Writing
• Keys to Success in Travel Writing
• Working Smarter
• Goal Setting for Your Travel Writing


Here are some of the chapters . . .
• Creating a Sense of Place and Ambiance
• Turning Your Destination into a Compelling Read
• How to Write Like a Seasoned Professional
• Five Travel Writing Blunders and How to Avoid Them
• Why Some Travel Writers Have More Success
• How to Plug into the Travel Writing Community
• Seven Ways to Take Control of Your Writing Time
• Set Up Systems to Create More Writing Time


This book will help you hone your travel writing skills and get more stories published. We'll show you how to allocate your writing time for maximum efficiency, and exactly what you need to do to break into the competitive travel writing market.

BUY THE BOOK: The Art & Craft of Travel Writing

---
Friend me on Facebook
My Facebook page is about freelance travel writing. I frequently post about:
• travel writing & blogging conferences,
• links to other well produced travel websites and blogs,
• links to my travel articles,
• travel writing themes,
• links to reputable travel writer's groups, associations, and newsletters,
• magazine covers stories and back stories,
• links to resources pages,
• links to travel writing archives,
• links to coaching and mentoring resources,
• and plenty of other useful information to get you up to speed.



Link to Roy's Personal Facebook page
---
Please share the e-zine with friends, family or anyone you know who's interested in travel writing. They can sign up for the newsletter and get free marketing tips each week at this link:

Sign up for my weekly marketing tips

That's all for this week.

Until next week, just keep pitching!

Roy

Roy Stevenson
Pitch Travel Write
www.pitchtravelwrite.com













---