Greetings Fellow Travel Writers and Bloggers!
A few weeks ago, I sat down at the grand opening of a new restaurant with a fellow travel writer who had fallen on hard times. Depressed because he had to take a job selling suitcases in a travel store, he told me he couldn't sell enough of his stories to make a living.
He's well known in the area and has a reputation as a good travel writer—in fact, I'd say he's a better writer than me.
I've met plenty of other travel writers like him. Their travel articles are really captivating and well written, but for some reason these writers can't sell enough articles to make ends meet.
Conversely, I know many 'average' travel writers whose bylines are everywhere. But, when I read their articles, they don't paint a particularly exciting picture of the destination or describe its ambiance very well—and they certainly don't compel me to visit the place.
Yet these 'average' writers still manage to sell several articles every week and make a good income.
We could put this inequity down to that old saw, "Life isn't fair", but I know there's more to it than that.
Invariably, good writers who can't sell their articles lack marketing and sales skills. They don't know how to build their writer's platform or establish their brand, and they really struggle with the myriad techniques required to sell their stories.
So, how do those 'average' writers manage to sell their so-so travel stories like hotcakes, while many better writers have to close up shop and get a job?
They have excellent marketing skills. They know how to sell themselves and their story ideas.
I unabashedly place myself in this category (although I hasten to add that my travel writing has improved significantly over just 'average' after writing so many articles!).
When I first started travel writing, I estimated that about 20% of my travel writing success would be attributable to marketing, and about 80% of my success would be due to exemplary writing skills. After 9 years in the game, I've drastically revised this estimate. Today, I firmly believe marketing skills account for more than 80% of my success.
Beginning with my first week in travel writing, back in the fall of 2007, I had no problem selling my travel articles.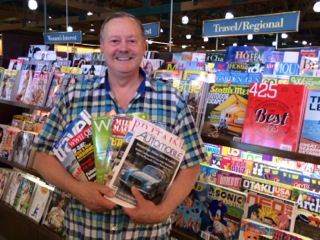 In the nine years since I started I've had well over 900 articles published in 190 different regional, national, and international magazines, trade journals, airline in-flights, cruise line on-boards, newspapers, specialty magazines, and travel websites and blogs.

Even my freelance writing comrades who've been in the game longer than me are surprised at my productivity.

Just today I read a newsletter about a freelance writing expert who has sold 750 articles to 50 publications in his 15+ -year freelance journalist career. That's considered really good going.

I've outsold this writer by 150 articles in half the time — and I've been published in 140 more publications. I figure I'm doing something right!

I want to teach you what I know how to do - get published!

I'm excited to announce that I've just completely rewritten and updated my 2011 bestselling book, Marketing Your Magazine Articles: Inside Secrets of a Successful Freelance Writer.

Now retitled The Complete Guide to Marketing and Selling Your Travel Articles: Inside Secrets of a Successful Freelance Writer", my book has almost doubled in length from 80 pages to 150 pages. And it tells you everything about selling and marketing travel stories that I've learned in my entire freelance writing career.

My book has been updated and expanded to reflect the dozens of new sales lessons I've learned over the last four years. Don't worry — all of my original information is still there, but there's also a ton of new material that I've learned and incorporated since I first wrote this book in 2011.

This is sales material that I've used to get assignments to visit dozens of countries . . . and stay at hundreds of resorts, villas, spas, lodges, mansions, castles, and other luxury properties around the world.

My new manual has every technique, trick, and tip that I use to pitch, sell, and then resell my travel stories. These are the exact sales and marketing techniques I still use today.

I hold nothing back in my book. Reading this manual is like looking inside my marketing brain.

We normally sell this book for $99. When we release it this Thursday, we'll be selling it at a huge discount for the first few days only.

We're also going to offer a bundle - the book and 30 minutes of one-on-one coaching - again at a huge discount. Watch your Inbox for a special announcement on Thursday for the details - you will need to act fast to get in on the special offers.

If you've been wondering what it's like to be coached by one of the most prolific travel writers in the U.S., this will be a good opportunity to try it out, and work one-on-one with me to get your latest travel story published.

What can we accomplish in 30 minutes? I can work with you on your latest query letter, help you market your latest article, or let you pick my brain and answer all those questions swimming around in your brain including how to work with tourism agencies to get those cool comped trips.

Watch your email for the announcement on Thursday morning about my latest book, The Complete Guide to Marketing and Selling Your Travel Articles along with all the information you will need to purchase it.

(Readers who have already purchased the 2011 version will receive a free link to the upgraded version. No need to repurchase! Be watching your email this week.)

Our featured article this week answers the question "what's your secret to getting published so often?"

Read the article to find the answer.

Enjoy!
---
Featured Article:
How to Get Your Articles Published - and Earn Money
Read the article: How to Get Published and Make Money
---

Please share this e-zine with friends, family or anyone who may be interested in travel writing and can benefit from some free marketing and travel writing information.


They can sign up for this e-zine at this link.
---

'Friend' Me!
If you haven't already done so, please 'Friend' me (Roy Stevenson Freelance Writer) on Facebook. My posts are generally travel writing-related and I try to keep it fun.

My Saturday morning 'Where's Roy' Facebook post has been particularly popular! I post a travel photo—usually with me in it—and you have to guess where the heck I am. A few friends and subscribers have proved particularly adept at this.

That's all for now.

Until next time, you keep pitching....

Roy

Roy Stevenson
Pitch Travel Write
www.pitchtravelwrite.com


Please note: Some products mentioned in this e-zine may result in my receiving a small referral fee if you decide to purchase the product. I only recommend products and services that I believe are high quality and can help you be more successful as a freelance writer. Please let me know if you have any questions.
---