Greetings Fellow Travel Writers and Bloggers!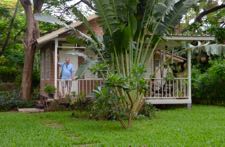 I write this newsletter from a small guest bungalow in the private, exotic grounds of a charming couple in Chiang Mai, Northern Thailand. Our lovely Thai hosts also own a curry restaurant a mere 20 paces from our front door. Life is good.
If you're reading this from Chiang Mai, you should catch a tuk tuk over here to Hinlay Curry Restaurant on Soi 1 in the Wat Ket district, and try their Indian curries. It's next door to the Floral Chiang Mai Condominiums, which will help your tuk tuk driver locate it.
In the four days we've been here, we have breakfast & coffee ($5 per person) at the restaurant in the mornings, served by two very shy young Thai women.
After breakfast, Linda & I work online for a few hours - or I'll do a Skype consultation with one of the travel writers I'm coaching. Then we venture out into the bustling city for lunch and a little sightseeing.
Yesterday we had a manicure and pedicure for less than ¼ of what they cost in Seattle—and this was at a beautiful luxury spa. Although my toes have never looked prettier, I just couldn't bring myself to have my toenails painted masculine purple! I failed this metrosexual test dismally.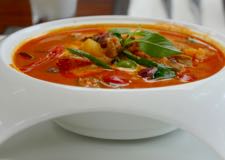 The food in Chiang Mai is super cheap and delicious. Thai curries are our favorite food group, and we've paid as little as $1.25/plate, although in the touristy restaurants we'll pay $4 to $5 per entree.
Our favorite dishes (so far) are shrimp cakes, grilled duck red curry, Burmese pork curry, or chicken green curry, washed down with sweet Thai ice tea, Thai ice coffee, or sweet lime juice.
As we settle in to our new Chiang Mai lifestyle, we'll be eating more like the locals, but for now we're enjoying everything from the cheap food stalls to the high end, trendy restaurants. It's all good.

---
Featured Post
This week's post, "Marketing Yourself on the Road" shows five ways you can establish your travel writing marketing platform and promote yourself while you're on the road.

Today, it's all about marketing yourself and creating a solid foundation for selling your name, your articles, your blogs, and your books.

Are you using all five of these techniques? If you're not, you should be. They're not difficult and doing all five of these things gives you a basic foundation for your brand.

Read the article and find out what you're missing …

---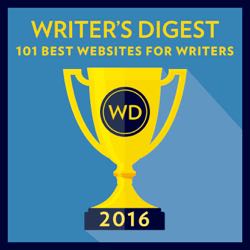 ---
Please share this e-zine with friends, family or anyone you know who is interested in travel writing. They can get free marketing and travel writing information by signing up for my e-zine at this link:

Sign up for my weekly e-zine ...

That's all for this week.

Until next week, you keep pitching.

Roy

Roy Stevenson
Pitch Travel Write
www.pitchtravelwrite.com

---