Greetings Fellow Travel Writers and Bloggers!
... and welcome to all new subscribers!



It's been a busy week here in Da Nang, Vietnam. Part of our long stay, slow travel routine is to do the tourist thing, so I took three days off my writing to explore the nearby World Heritage town of Hoi An.
This place is amazing! We were absolutely blown away by how much historic Old Town Hoi An has changed! We last visited this small, well preserved Vietnamese World Heritage village 13 years ago, when it was still a work in progress. 
Fast forward to today and it's like walking through a Disneyland prop. This is the slickest tourist town I've seen in S.E. Asia, and I say that in the best possible way.
The town's 1100 buildings—some several hundred years old—have been carefully restored. The streets are clean. The original Chinese clan houses offer brief tours. The iconic Japanese Bridge is packed with gawking tourists and tour groups, and mysterious Chinese temples abound, foggy with incense smoke. And skinny rickshaw drivers still charge exorbitant fees to pedal you around Hoi An's Bougainvillea-lined streets.
Hoi An's immaculate shops offer quality bags, clothing, souvenirs, and much more. The restaurants are upscale, and offer marvelous Vietnamese, Asian, and western fusion dishes. Small boats carry tourists gently along the river, and the markets are tidy. We love this place! We're already planning another trip to this beautiful lantern city next month.
To add to our excitement, this weekend Linda and I moved from our downtown Da Nang apartment on Tran Phu Street to the beach area, across the river. After living downtown amongst the locals for 4 months, even the shopkeepers and workers recognize us. There aren't many westerners living here, so we're still somewhat of a novelty. We're well known at the restaurants—the head chef at Retro Kitchen & Bar often sits with us to chat.
Now we're over on the "beach side" where there's less traffic and the lifestyle is more laid back. Evening beach strolls, lazy beach days in hammocks under thatched cabanas, and taste-testing new restaurants are our new priorities. And my writing, of course.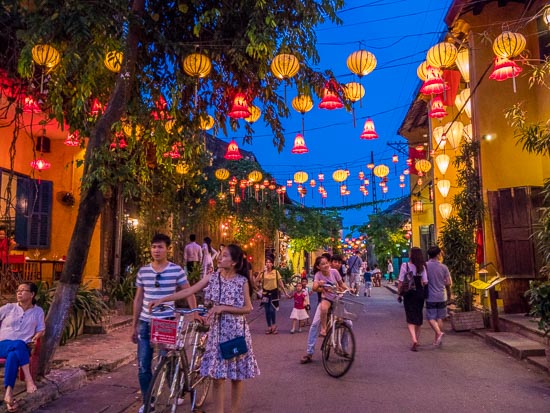 With our upcoming Travel Writing & Marketing Master Class in Cambodia, we think we've put together the best travel writer's course ever offered, anywhere. Seriously!

If you are coming to our master class, you'll need to plunk down your $500 deposit to hold your place in the class—and fast! This class is filling, so avoid disappointment by reserving a spot now.

Please Note: We cannot guarantee there will be any spaces in the class past June 30. We also cannot guarantee you a room at the gorgeous Shinta Mani Resort past June 30. The Shinta Mani is our master class headquarters.

Place your $500 deposit to hold your space here

What does our Master Class offer that other travel writing classes don't?

You'll get to learn the best inside secrets, tips, and techniques for getting your travel stories published in glossy print magazines — and get paid for your work — while you visit some of the most memorable and haunting temples on the World Heritage List. Cambodia's bustling Siem Reap is the gateway to the ancient, world-renowned Angkor temples—including atmospheric Angkor Wat and Angkor Thom temples. They're on the World Wonders List and listed as the #1 sight on Lonely Planet's Ultimate Travel List of Top 10 Sights.

The Angkor temples rank near the top of every serious traveler's bucket list.

The town of Siem Reap is the epicenter of chic Cambodia, with world class dining and lavish upscale resorts, blended with a laid-back river town ambiance. You'll find rice paddies and silk farms in the countryside, just outside the city.

For travel photographers, Siem Reap is a dream come true. You can capture food vendors at the local market and the ever present decorative tuk-tuks sputtering around town, heaped with interesting cargo from overdressed tourists to huge sacks of rice. And the temples provide some truly breathtaking photo opps. Siem Reap boasts photogenic colonial and Chinese-style architecture in the Old French Quarter and around the Old Market.

Register here:



---
Inspirational Travel Quote of the Week
Totally agree with this week's quote:


---
This Week's Featured Post:
Three Key Success Traits in Travel Writers
Every week I receive "The Question" from aspiring travel writers:" What does it take to get my travel stories published in print magazines, and get paid for them?"

There's no one single answer. There's no magic bullet. 

But if you define freelance travel writing success as getting published, getting paid, and scoring those cool all expenses paid press trips to exotic places – here's what I think those traits are . . .

Read the article: Travel Writers Success Traits


---
Have You Planned Your Travel Calendar for 2017?
Have you planned your travel writing calendar for 2017 yet? We at PitchTravelWrite.com spent days preparing lists of:


24 Travel Writing and Blogging Conferences
11 Travel Writing and Blogging Workshops
11 Special Travel Writing Groups, Meetings & Events
5 Travel Shows (and a link to access many more)

Get organized now: Use these lists to plan your travel writing & blogging events for 2017.


---
Resources for Travel Writers

Books and Reference Guides:
Beginner's 3-pack Reference Guides

The Complete Guide to Query Letters for Travel Writers

100 Print Magazines that Want to Publish Your Articles

Fifty Websites that Want to Publish Your Travel Stories

Advanced Travel Writing 2-Pack Reference Guides

How to Land Press Trips and FAM Tours

How to Break Into the Luxury Travel Writing Market

The Complete Guide to Marketing and Selling Your Travel Articles

Digital Bookstore - Guides, Manuals and Special Reports

---
Friend Me on Facebook:
If you haven't 'friended' me yet on Facebook, please feel free to do so here:
Link to Roy's Personal Facebook page

---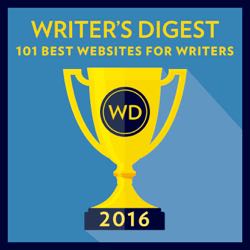 PitchTravelWrite.com was named in 2016's Writer's Digest 101 Best Websites for Writers list.

We're the ONLY travel writer's website on the list! We urge you to forward our newsletters on to your friends that might be interested in taking up travel writing.

PitchTravelWrite.com Testimonials

"I think you should know that I have been sending your link to many a travel journalist as your site is one of the most helpful I've seen to date. I even sent it to my sister who writes mostly about gardens and she was totally blown away by the amount of information you are giving away for free." —Karin Leperi, Freelance Travel Writer

"This site is more like a book than a website. It is one of the best (if not THE best) travel-writing sites I've seen in a long time. It is packed! And most of the articles will be useful to any freelancer, not just travel writers." —Moira Allen Anderson, Writing- World.com


---
Please share this e-zine with friends, family or anyone you know who is interested in travel writing. They can get free marketing and travel writing information by signing up for my e-zine at this link:

Sign up for my weekly marketing tips ...

That's all for this week.

Until next week, just keep pitching!

Roy

Roy Stevenson
Pitch Travel Write
www.pitchtravelwrite.com

---