Greetings Fellow Travel Writers and Bloggers!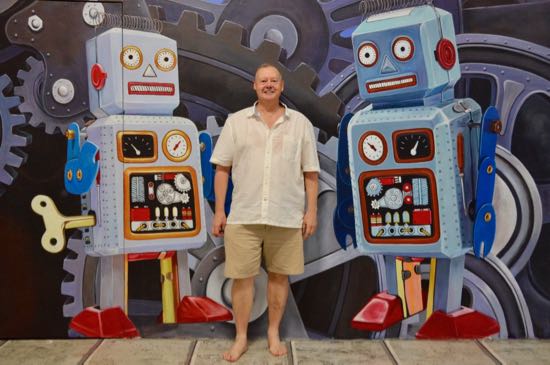 A mantra you'll often hear me repeat in my posts and at my Travel Writing & Marketing Master Class is, "The only consistent thing about freelance travel writing is its complete lack of consistency."
There are no gold standards in freelance travel writing.
For example:
• There's no set pay rate for our articles.
• Some magazines don't even pay for articles while others pay $1/word.
• There's no standardization or consensus of how editors assess our queries.
• No two magazine's writer's guidelines are the same.
• Some editors prefer articles written in the first person, while other editors will not accept first person stories.
• Some editors prefer to work with a "stable" of established writers, while other editors like to work with beginners.
• Some editors issue contracts to their writers, and many do not.
• Destination Marketing Organizations often require different criteria to qualify writers for complimentary travel assistance.

And these are just a few of travel writing's wondrous inconsistencies. It's no wonder novice travel writers are so bewildered about what they "should" be doing! There are no rules!
To add to this confusing milieu, contemporary travel writers are faced with a turbulent ever-changing field, much like rafting on whitewater rapids. We can be floating gently along on calm waters one day, and the next, our regular magazine clients have disappeared in chaos. Editors move on, magazines and publishers fold, and the Internet continues to test print travel magazine publishers.
As advanced sentient beings, we crave stability and consistency. I get this. This is a normal reaction to the rapidly changing world around us.
But, if you enter freelance travel writing expecting it to be neatly and uniformly standardized, you're setting yourself up for disillusionment.
If you expect it to all go your own way and that you'll immediately bring in a regular and stable income, you'll quickly become disheartened. If you're expecting your queries to be snapped up as soon as you fire them out, you're in for a shock. Even elite travel writers operate at about a 40% acceptance rate.
If you expect every editor to adhere to the same rules, you'll soon be frustrated.
So how do you overcome these inherent inconsistencies?
You can be prepared for inconsistency. Understand that you're on a learning curve that could take you several years to ascend.
Enter the mysterious world of freelance travel writing with your eyes wide open. Deal with the problems rationally and professionally as you encounter them. Expect the unexpected, and you'll be fine.
If you have the patience to persevere and ride it out with a healthy dose of flexibility and creativity, you'll find a whole universe of mind-blowing travel opening up to you.
I've been on more than 90 press trips and Fam Tours to wonderful destinations in several dozen countries. And I've never regretted my decision to become a travel writer!
When standing at an exotic or exciting destination or attending a special festival, I've had to pinch myself to believe I'm there. And that I had free entry, personal guided tours or VIP treatment - and I'm getting paid to write about this event!
Getting to this level isn't easy. But I'm sure glad I stuck with it! I urge you to stick with it too. Don't be impatient. Give it a chance.


---
This Week's Featured Post
Why You Need a Travel Writing & Marketing Coach
Are you excited about your future potential as a travel writer?

Is this the year that you finally start landing paid assignments with print magazines?

Is something holding you back? Do you know how or where to start in the freelance writing game?

To kick start and accelerate your travel writing into the stratosphere—like the many successful travel writers who all seem to make it look easy—you need a secret weapon.

Want to know what the secret weapon is? Smart novices hire themselves a mentor or coach.

Here's how—and why—an expert will help you break into travel writing

READ THE ARTICLE

---
Coaching Registration is Open
Hire an Expert to Help You Break Into Travel Writing
Just a reminder that coaching registration is open starting on July 1. I only take five new clients, so if you're thinking about signing up, don't delay.

REGISTER HERE


---
Upcoming Posts
June 18: Advantages & Disadvantages of Blogging for Free
June 25: The Five Most Common Novice Travel Writing Mistakes
July 2: Writing Historical Travel Articles
July 9: Adding Spice & Life to Your Travel Articles



---
We've Been In The News
Travel writers frequently ask, "How long before I travel should I be lining up assignments and requesting complimentary stays at resorts, hotels, comped meals at restaurants, comped tours, guides, transport, and entry to tourist attractions?"

Here's my definitive answer to this, in TravelWritersExchange.com

READ THE ARTICLE AT Travel Writers Exchange

---
Landing Press Trips and Fam Tours
I field frequent emails from novice and intermediate level freelance travel writers who desperately want to land press trips and Fam Tours. I'm not surprised at these requests because "freebie" travel is the second most important perk of travel writing, after being paid for our work.

To learn more about scoring press trips & fam tours & covering your expenses when on assignment, here are some links to articles on my website:

Press Trips and Low Cost Travel
Press Trips for Travel Writers
5 Rules for Selling Articles and Getting Travel Perks
Quid Pro Quo and Press Trips
How to Land Regional Press Trips and Fam Tours

---
Inspirational Travel Quote of the Week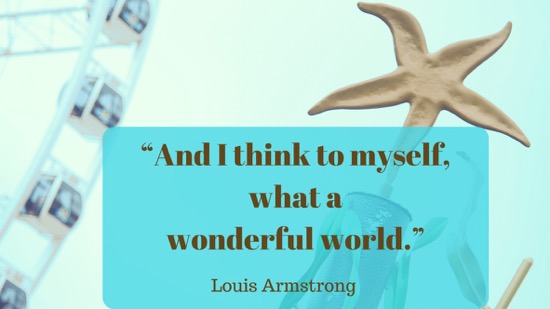 ---
Get on the interest list for The 2019 Complete Travel Writing & Marketing Master Class
We've just wound up our 2018 master class, in Seattle. We believe our Travel Writing & Marketing Master Class is the BEST of its kind, ANYWHERE.

Many of our participants had previously taken other travel writing workshops yet felt that these workshops fell short in preparing them to enter the freelance travel writing arena and get their stories published and be paid for them.

Even by the second day, several of our participants commented to me that our master class "took it to a whole new level."

I'd like to share with you a couple of comments from participants in last month's class:

"This weekend was one for the books! It was an incredible honor to be a part of Roy's world-class marketing conference and I'm eager to see how my fellow classmates and I crush it!" Jessica Pickett

"Home and ready to go to Barnes & Noble bookstore this morning. Thanks so much to Roy & Linda for this amazing weekend and thanks to all the participants for your support and generosity with advice. Looking forward to your success stories!" Mary Lou Osmond

If you want a no-fluff, no-hype class that walks you through the steps necessary to pitch and write for reputable paying print magazines, you should seriously consider attending our April 2019 Seattle class.

To see the rest of the comments from this year's participants and to sign up for the 2019 Master Class Interest List, click on the link below:

SIGN UP FOR THE INTEREST LIST
---
Featured Book of the Week
The Art and Craft of Travel Writing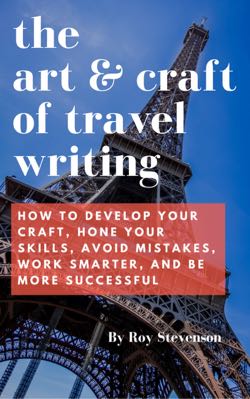 What's in this 21-chapter, 152-page book?

The Art & Craft of Travel Writing has five sections covering . . .
• The Craft of Travel Writing
• Things That Go Wrong in Travel Writing
• Keys to Success in Travel Writing
• Working Smarter
• Goal Setting for Your Travel Writing


Here are some of the chapters . . .
• Creating a Sense of Place and Ambiance
• Turning Your Destination into a Compelling Read
• How to Write Like a Seasoned Professional
• Five Travel Writing Blunders and How to Avoid Them
• Why Some Travel Writers Have More Success
• How to Plug into the Travel Writing Community
• Seven Ways to Take Control of Your Writing Time
• Set Up Systems to Create More Writing Time


This book will help you hone your travel writing skills and get more stories published. We'll show you how to allocate your writing time for maximum efficiency, and exactly what you need to do to break into the competitive travel writing market.

BUY THE BOOK: The Art & Craft of Travel Writing

---
Friend me on Facebook
My Facebook page is about freelance travel writing. I frequently post about:
• travel writing & blogging conferences,
• links to other well produced travel websites and blogs,
• links to my travel articles,
• travel writing themes,
• links to reputable travel writer's groups, associations, and newsletters,
• magazine covers stories and back stories,
• links to resources pages,
• links to travel writing archives,
• links to coaching and mentoring resources,
• and plenty of other useful information to get you up to speed.



Link to Roy's Personal Facebook page
---
Please share the e-zine with friends, family or anyone you know who's interested in travel writing. They can sign up for the newsletter and get free marketing tips each week at this link:

Sign up for my weekly marketing tips

That's all for this week.

Until next week, just keep pitching!

Roy

Roy Stevenson
Pitch Travel Write
www.pitchtravelwrite.com













---